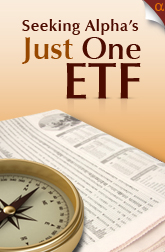 Several times a week, Seeking Alpha's Jason Aycock asks money managers about their single highest-conviction position - what they would own (or short) if they could choose just one stock or ETF.
---
David Vomund is founder and president of Vomund Investment Management, a fee-only RIA focused on ETF investing. He has more than 20 years of experience in investing and portfolio management.
Which single asset class are you most bullish (or bearish) about in the coming year? What ETF position would you choose to best capture that?
My favorite asset class is equities. Stock prices track corporate profits, and the latter is increasing in an improving economy. There are other positives for stocks as well, including the lack of good alternatives and attractive valuations. Stocks are only trading for 13 times next year's earnings.
Yes, there are negatives, but they are well known: debt, deficits, slow growth, unemployment, etc. That's old news and already in the market. As these known negatives become less negative, stocks will move higher. As the market moves higher, trillions in cash on the sidelines will be put to work.
Within the overall market, energy is my favorite sector. To take advantage, my top ETF pick is iShares Dow Jones U.S. Oil Equipment Index (NYSEARCA:IEZ).
How does IEZ fit into your overall investment approach?
Our Reduced Risk income portfolio is designed to meet each client's needs through stocks and income investments. When clients indicate that they want some growth along with income investments, then iShares Oil Equipment & Services is included.
We are beginning a more aggressive sector rotation portfolio. For these accounts, the iShares IEZ ETF will be a much bigger holding.
Tell us a little more about this area. What makes it your top pick?
Simple supply and demand. On the demand side, the world is addicted to fossil fuels (coal, oil, and natural gas). The fast-growing emerging markets will put upward pressure on oil prices. That's why JPMorgan expects oil to reach $120 a barrel within two years.
What about supply? The low-hanging fruit, so to speak, has been picked and the world's largest oil fields are old and depleting. Literally trillions of dollars must be spent to find and extract oil in the harshest environments, some many miles beneath the deepest oceans and others above the Arctic circle. Due to the depletion of older fields, the world must find, develop and have on line by 2020 the equivalent of seven to 10 Saudi Arabias, depending on global growth. That's a tall order. Some say it's an impossible goal to meet.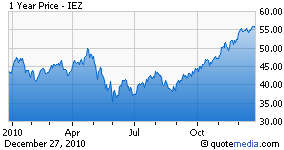 Then there's natural gas. Unlike oil, which is a world commodity, gas is a North American asset. It's clean, it's cheap, and it's here. Due to the prolific finds in shale and other tight formations, we have at least a 100-year supply of natural gas, which along with coal is the primary fuel for generating plants. At some point, gas will be used to fuel transportation, starting with the truck and bus fleet, then powering cars.
For investors there are few industries quite like energy where demand can only increase and supply will be hard pressed to keep up, and won't begin to keep up unless the price is right. That's a formula for rising stocks, which should see a long-term bull market unrelated to how other stocks are faring.
Equity investors could invest in the largest companies (ExxonMobil (NYSE:XOM), Chevron (NYSE:CVX), etc.), all of which produce both oil and gas. Another way is to focus on natural gas producers (EOG, Chesapeake (NYSE:CHK), Anadarko (NYSE:APC), etc.), which are also in the oil business to some extent. Many companies provide services and products to producers (Halliburton (NYSE:HAL), Schlumberger (NYSE:SLB), Weatherford (NYSE:WFT), Baker Hughes (NYSE:BHI) and others). Some merely pipeline oil or gas, which makes them akin to toll takers (El Paso (EP), Spectra Energy (NYSE:SE), Williams Companies (NYSE:WMB)).
What I like about iShares Oil Equipment & Services is that it holds the companies that service the sector. These companies benefit from increased capital spending, especially overseas. The stocks of these companies are more volatile than the top oil producers and have greater profit potential. The top 10 holdings are Schlumberger (SLB), Halliburton (HAL), National Oilwell (NYSE:NOV), Baker Hughes (BHI), Weatherford (WFT), Cameron International (NYSE:CAM), FMC Technologies (NYSE:FTI), Noble (NYSE:NBL), and Pride (NYSE:PDE).
Are there alternative ETFs that could be used to capture the same theme? What makes this IEZ your first choice?
There are several ETFs that focus on energy. The S&P 500 Energy Select Sector SPDR (NYSEARCA:XLE) invests in all the U.S. energy stocks in the index. There are others, like Vanguard Energy (NYSEARCA:VDE), with low expense ratios. Both these ETFs hold the largest oil companies and underweight the service providers, however.
IEZ has a higher expense ratio of 0.47%, but I like its stock holdings more.
Does your view differ from the consensus sentiment in this area?
Our energy future is a topic for much discussion these days. Some believe that wind turbines and solar panels are the answers. They are fine, but only when (and where) the wind blows and the sun shines. Electric cars need electricity, which will be mostly generated using coal or natural gas.
The alternatives will not supply more than a small percentage of our energy for decades. Some say otherwise; I disagree. How much oil remains to be found is, of course, unknown. I'm a "peak oil" guy. Due to high depletion rates (5-8% annually) the world will be hard pressed to increase production. It will take a massive investment, and that won't happen unless the rewards are worth it.
What catalysts, near-term or long-term, could move the sector significantly?
My argument is a long-term story. With the growth in emerging markets, that story is already being played out. What could speed it up? It needn't speed up for the stocks to be rewarding, but an extended Arctic blast that keeps much of the country in the deep freeze could sharply reduce supplies. That is unlikely.
So while on one hand peak oil arguments suggest constrained supply and continually rising prices, on the other hand there's regulatory risk and drilling limits that have a direct effect on the equipment side. Do you think the industry is out from under the shadows of the BP spill? For its part, IEZ is up 44% since Sept. 1.
Regulatory risk and drilling limits affect U.S. operations only, and the impact has been and will be modest even in the Gulf of Mexico. Drilling for oil in the Bakken shale in North Dakota/Montana is booming. The Niobrara (Wyoming to New Mexico) could be an even larger oil find. Companies are scrambling to nail down acreage in both, with leases soaring to as much as $6,000 an acre. Demand for services will be strong for years.
Oil is an international commodity, and governments overseas are eager to generate revenue and less concerned about environmental issues. The drilling boom offshore West Africa and Brazil, and in east Asia, is just beginning. China and Europe are anxious to explore unconventional (read: shale) gas plays and are learning how to do it from U.S. companies like Chesapeake Energy. Service companies will have pricing power. This up cycle for energy service companies has legs, long legs.
While crude prices have been going up, natural gas inventories are swelling and prices plummeting. If domestic gas production increases on the shale plays, prices are low and demand for equipment frees up on that side, will it relieve any pressure on equipment/services demand on the oil side? With any effect on IEZ?
No, inventories are not swelling. They are in fact shrinking as you would expect this time of year. And prices are not plummeting. They are down and going sideways. They plummeted the past two years. Past tense.
Demand for oilfield services and equipment is a global story on land (in Asia and elsewhere) and offshore (Africa, Brazil, etc.). To the extent low demand for rigs and services in conventional gas fields here frees up equipment and personnel, the effect on pricing for oil work would be negligible, if any. Equipment and rigs used in often shallow conventional fields may not work in shale areas where companies drill horizontally at much greater depths.
Bottom line: a non-event for demand and pricing in the world's oil fields.
What could go wrong with your pick?
Energy-service stocks are more tied to the demand for oil and gas than to commodity prices. What could go wrong? If global growth slows or the U.S. and others slip back into recession, energy demand would suffer. While that always is a risk (anything is possible), it is unlikely now. GDP probably grew at close to 4% in the fourth quarter and will grow at 3% or more in 2011. Demand for energy is rising, not falling.
Thank you, David, for sharing your thesis with us.
Disclosure: Long positions in IEZ.
Read more Just One ETF interviews »
If you are a fund manager and interested in doing an interview with us on just one stock or ETF position you'd hold, please email us at Just One Stock.