The day ahead for the S&P 500 is one that appeared to be clear of obstacles, so passive investment interests in the SPDR S&P 500 ETF (NYSE: SPY) would seem set to strike higher. However, at 6:30 AM ET when I surveyed the wire, S&P 500 futures were fractionally lower and volatility measures like the iPath S&P 500 VIX ST Futures ETN (NYSE: VXX) were higher in premarket trading by 1.1%. My resulting survey of the geopolitical wire found nothing that seemed especially threatening to stocks this morning, though the news of an Islamic State beheading of an American journalist raised my blood pressure and led to a headache from the clenching of my teeth in anger. Also, fighting resumed in Israel, and Ukraine continues to bear down on rebels in Russian separatist held strongholds. You know, it's the usual "end of world" sort of terror we've grown accustomed to, including Ebola news, but nothing especially extraordinary to affect stocks in these extraordinary times. Europe was lower, but since when does the U.S. take the lead from European markets? Not today anyway. So I'm going to go ahead and call this a technical test, which seems to be also supported by the 6-month chart of the SPDR S&P 500 ETF here. Therefore, it would appear that we are our own worst enemy today.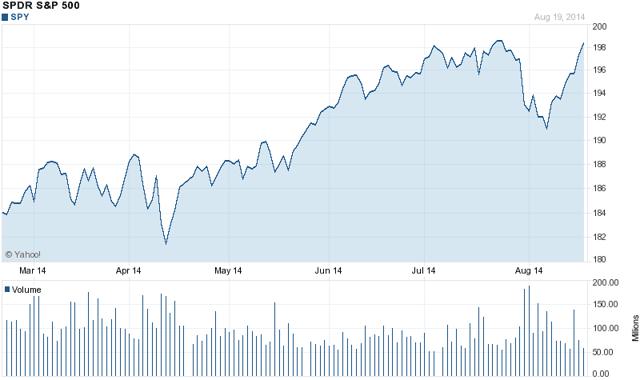 6-month Chart of SPY ETF at Yahoo
The economic report schedule is especially light today, though including the shadow of the recent Fed meeting. The FOMC meeting minutes will be released at 2:00 PM ET, and always carry the risk of revealing something we do not want to know about how the Fed discussed important matters related to its plans for interest rates. Out of sight, out of mind is kind of the way traders would like it, but the Fed will be in our face today, haunting us with this shadow of a meeting now past.
Otherwise, the regular Mortgage Application Data is due. The MBA's report on applications has not been especially fiery lately, though housing stocks have been. That is thanks to two strong data measures showing builders are really happy these days and that housing starts are on the rise. I recently asked if builders had any right to be popping corks and toasting the future given the Fed's rate outlook for a creeping higher Fed Funds Rate sometime in 2015; I'm on the record calling for it in the first quarter of 2015, which is too soon for unsettled market stomachs. Meanwhile, the SPDR Homebuilders (NYSE: XHB) is up 3.9% over the last two trading sessions. You better check yourself before you wreck yourself homebuilders, and maybe that is exactly what is happening today for stocks broadly speaking as well.
The EIA's Petroleum Status Report should garner a ton of attention today, given the catalysts and potential catalysts for volatile energy prices in play today. Let's list them shall we?
European economic issues could weigh on demand
Rub-off from the EU to the Far East and the U.S. is possible
A radical group of terrorists united under a black flag seems capable of threatening long standing nations in the oil rich Middle East
Energy rich Russia, which supplies Europe, is acting aggressively toward Ukraine sovereign territory, and an economic war seems to be in progress
Iran is still developing nuclear energy and/or weapons
If I've forgotten anything, please feel free to remind and frighten us all via the comment tab below. Oil prices have been weakening, in my opinion on the dollar strength resulting from the flight to quality arising from Ukraine / Russia fear. The iPath S&P GSCI Crude Oil TR Index (NYSE: OIL) is markedly lower of late as the dollar buys more of the commodity. I know, I know, domestic energy supply gut as well needs to be mentioned.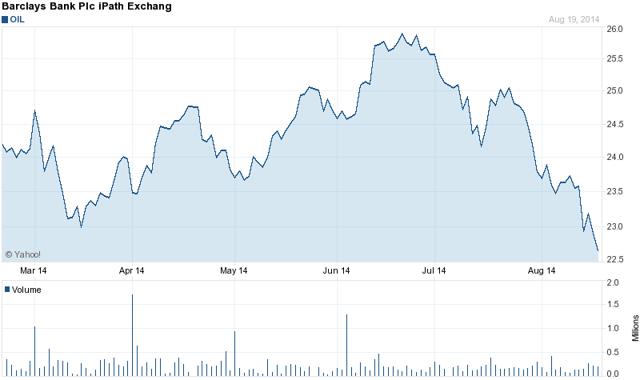 The earnings front is serving as a positive driver for the market these days, with Home Depot (NYSE: HD) supporting the S&P 500 yesterday on its solid EPS report. Apple (NASDAQ: AAPL) excitement has provided uplift as well, as the heavyweight stock surges to highs on anticipation of new products. Today's corporate drivers show Lowe's (NYSE: LOW) down in the premarket after reporting its results, but traders will call out company specifics given the latest housing data and HD report, so Lowe's is no broader threat to stocks today. Surveying my weekly accounting of events, we see that a handful of companies are scheduled to report today, including Target (NYSE: TGT), Hewlett-Packard (NYSE: HPQ), and J.M. Smucker (NYSE: SJM) , but none of them are relevant to the broader market trade today in my view.
In conclusion, I think the coast is clear for a successful test of the historical high here for the S&P 500, but the market will worry intraday about geopolitical issues, Thursday's Leading Economic Indicators data and Janet Yellen's keynote speech scheduled for Friday's Jackson Hole event. However, I see no threat from any of these issues, save the ever present danger from Russia's Putin in Ukraine. So, with an eye on Donetsk, you're probably free to buy the SPY on the dip today in anticipation of good news Thursday and Friday. Enjoy, and feel free to follow along for more fodder from this freelancer.
Disclosure: The author has no positions in any stocks mentioned, and no plans to initiate any positions within the next 72 hours.
The author wrote this article themselves, and it expresses their own opinions. The author is not receiving compensation for it. The author has no business relationship with any company whose stock is mentioned in this article.