Recently trading around $4.50 per share, New Resource Bank (OTCQB:NWBN) is still at a significant discount to its tangible book value of $5.26 per share. While this represents an excellent bargain on its own merits, we expect the stock price to pop as we believe book value will jump to $7.00 in the near term. NWBN has a unrecognized deferred tax asset (DTA) of $1.80 per share due to Net Operating Losses (NOLs) in prior years stemming from the financial crisis. We expect the DTA to be recognized so that it will be added to book value in this quarter. We believe it likely that they will announce the DTA release on the next quarterly earnings call.
NWBN has unrecognized DTA dating back to the financial crisis. Accounting regulations do not allow recognition of the DTA by a bank until it has 8 consecutive quarters of profits. NWBN now has 9 consecutive quarters of profits so we believe DTA recognition is imminent. Here is what happened to the stock price of some other banks when their DTAs were released:
Preferred Bank (NASDAQ:PFBC) announced the release of their DTA in April 2012. Notice the stock price pop (circled). But then also notice the continued increase in price after the announcement.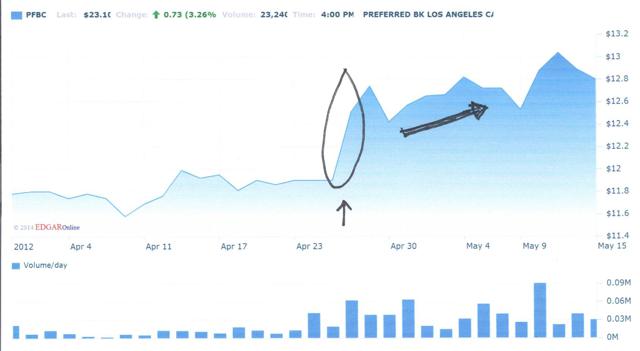 Americas United Bank (OTCQB:AUNB) announced their DTA release in January 2014. Again, a pop followed by continued price increases.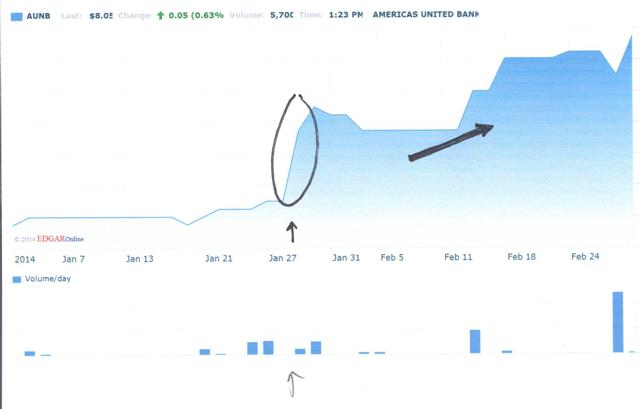 Sierra Vista Bank (OTCQB:SVBA) announced in January 2014. Same pattern.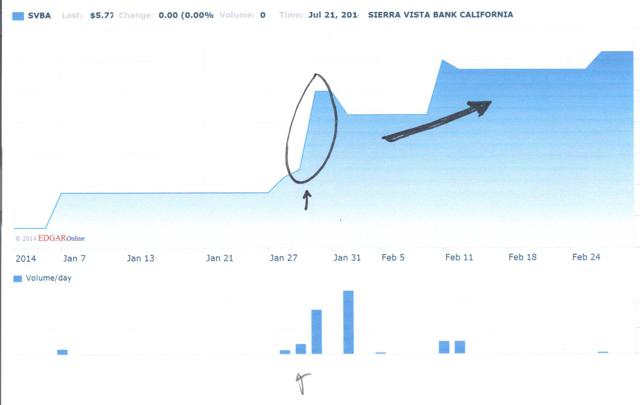 Central Pacific Bank (NYSE:CPF) announced in April 2013. Same pattern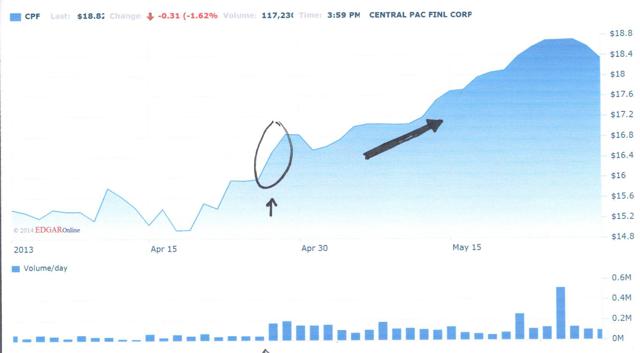 Riverview Bank (NASDAQ:RVSB) announced in late April 2014. Again, the price pops. It doesn't immediately run up further like the others, but it does hold the price jump.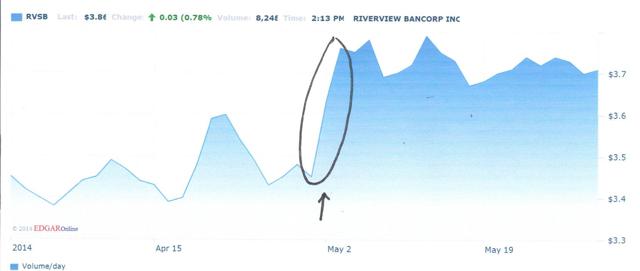 But the NWBN story isn't only about the DTA release. NWBN is an excellent value at 86% of tangible book value (TBV). While there were losses in 2008-2011, NWBN reported $1 million of profit in 2013. In the first quarter of 2014, NWBN reported net income of $346,000, compared with $187,000 for 1st quarter of 2013, an 85.6 percent increase. In the second quarter, NWBN reported net income of $466,000, a 25.4% year-over-year increase. 1st quarter gross loans increased 23.8 percent year over year, and 2nd quarter loans increased 26.8% year-over-year. Deposit growth was 7% in the first quarter and 20% in the 2nd. Total assets, 7% and 18%, respectively.
NWBN also improved on its already strong credit quality. Non-performing loans as a percentage of total loans dropped to 0.13 percent on June 30, 2014 from 1.42 percent on June 30, 2013. Loan loss reserves to non-performing loans now stands at an astounding 1517%. We definitely expects some release of reserves adding to future earnings.
Not only is NWBN a healthy bank - with 13% equity to assets, 17.2% total risk-based capital ratio and no TARP - but it has a fertile green niche in lending to environmentally sustainable businesses.
There's something very appealing about successful one-branch banks. They're so easy to buy because they are so much easier to manage. They make excellent acquisition targets. With $205mm in deposits in just one branch, NWBN is one of the most attractive franchises for any competitor wanting to play bigger in Silicon Valley. An acquirer willing to pay a 10% deposit premium for NWBN would generate $8.40 per share in value, about double today's share price.
Each of the first three of these banks already has branches in San Francisco and should find appealing the $2051mm in deposits it could get by acquiring the one-branch NWBN. And SVB Financial would both fill a hole in its branch network with this San Francisco bank, and get a big Green business boost for its Cleantech Group.
We have met with the bank management and came away believing that they will not be independent for long. They are cleaning up the bank for an eventual sale, reducing rent cost, improving efficiency. We do not expect to own this position as an independent one branch bank in the next year. NWBN represents an ideal investment - the current valuation means little downside risk, and the potential and probable catalysts provide significant upside potential.
Author's Note: This is a microcap stock and investors should be aware of the risks of investing in microcaps. The stock is thinly traded so we recommend that you put a price limit on any purchase orders if you choose to buy it.
Disclosure: The author is long NWBN, PFBC. The author wrote this article themselves, and it expresses their own opinions. The author is not receiving compensation for it. The author has no business relationship with any company whose stock is mentioned in this article.
Additional disclosure: In the past, the author has been long CPF, AUNB and RVSB. This article was written by two authors working together. Both are long NWBN and neither has received any compensation for writing this article.
Editor's Note: This article covers one or more stocks trading at less than $1 per share and/or with less than a $100 million market cap. Please be aware of the risks associated with these stocks.