Shares in Ralph Lauren (NYSE:RL) have dropped by 6.35% year to date and are now trading at $165.36. The company recently released the results for its first fiscal quarter of 2015, which were better than expected. EPS for Q1 2015 came in at $1.80, which is lower than last year's $1.94, but higher than the average analyst estimate of $1.76.
Operating income for the first quarter was $244 million, which is 12% lower than it the same quarter last year. This is due to higher operating expenses, which are a result of the company's expansion.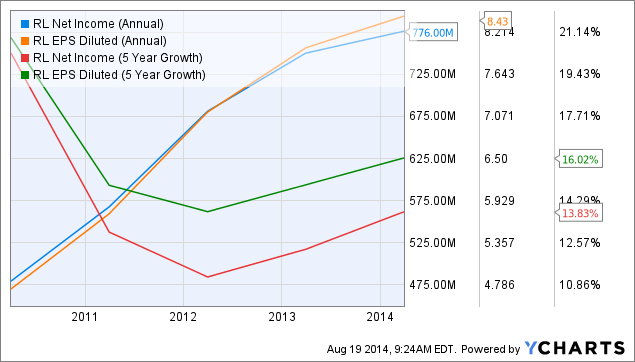 RL Net Income (Annual) data by YCharts
In recent years, Ralph Lauren has seen both its net income and EPS grow at double digit rates. EPS in the most recent fiscal year was $8.43, giving the company a price to earnings ratio of 19.6, which is slightly below the company's 5 year average p/e ratio of 19.9. For the current fiscal year, the company is expected to have earnings per share of $8.68, which would be an increase of only 3.0%. However, analysts expect the company's EPS to reach $9.99 next year, which means the company is currently trading at only 16.5 times next year's expected earnings. Ralph Lauren has beaten analyst estimates for EPS in each of the last 4 quarters, as can be seen in the next table.
| | | | |
| --- | --- | --- | --- |
| Quarter | Analyst estimate | Actual EPS | Difference |
| Q1 2015 | $1.76 | $1.80 | +2.3% |
| Q4 2014 | $1.63 | $1.69 | +3.7% |
| Q3 2014 | $2.51 | $2.57 | +2.4% |
| Q2 2014 | $2.20 | $2.23 | +1.4% |
As we can see from the graph above, earnings per share have grown at a higher pace than net income. This is due to the fact the company buys back large amounts of its own stock. The number of outstanding shares has been reduced from over 100 million at the end of FY2010, to only 88 million today. In the most recent fiscal quarter, the company bought back 1.2 million shares.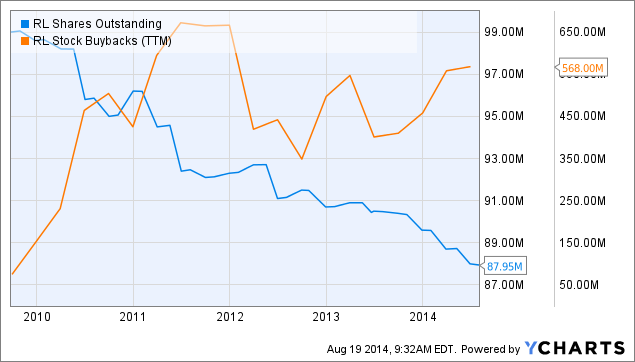 RL Shares Outstanding data by YCharts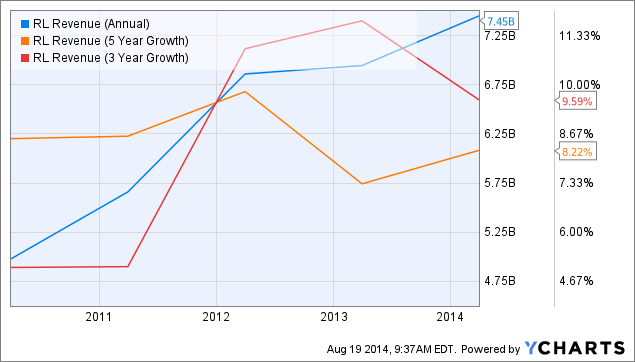 RL Revenue (Annual) data by YCharts
Revenue growth has been very impressive in recent years and analysts expect this to continue. The company has a 3 year revenue growth rate of 9.59% and a 5 year revenue growth rate of 8.22%. Analysts expect the company will have $7.95 billion in revenues in the current fiscal year, which would be 6.70% higher than last year. At the current market cap of $14.54 billion, Ralph Lauren has a price to sales ratio of 2.0, and a forward p/s ratio 1.8. The 5 year average p/s ratio stands at 2.0.
Currently paying a dividend of $0.45 per quarter, RL is not a stock for investors in need of dividend income. At the current price per share, the dividend yield stands at only 1.09%. However, I would not be surprised to see the dividend double within the next 5 years, considering the high expected EPS growth and the low payout ratio.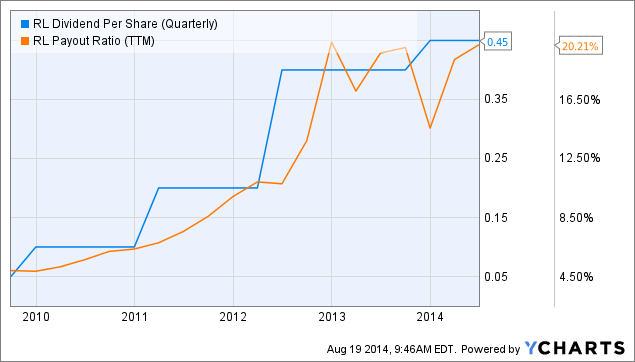 RL Dividend Per Share (Quarterly) data by YCharts
Ralph Lauren's balance sheet looks very good. The company has only $300 million in long term debt, and $1.369 billion in cash and short term investments, a number I consider to be very high, considering the market cap of only $14.54 billion. The current ratio stands at 3.13, while the quick ratio stands at 2.02, indicating great short term financial health.
Conclusion:
Higher operating expenses have lowered Ralph Lauren's EPS for the first quarter of this fiscal year. However, these higher expenses are due to the company's rapid expansion. The company has increased its revenues at a high pace in recent years, and analysts expect this growth to continue. EPS growth has been very impressive, thanks to growth in net income and a reduction of the number of shares outstanding. For the current fiscal year, year on year EPS growth won't be very high, due to costs related to the company expanding. For next year however, analysts expect earnings per share to go up to $9.99. RL has cash and short term investments of $15.56 per share, allowing for more stock buybacks and dividend increases in the near future. The p/e and p/s ratios are near their 5 year averages, despite high expected growth, indicating now might be the time to buy RL.
Disclaimer: I am not a registered investment advisor and do not provide specific investment advice. The information contained herein is for informational purposes only. Nothing in this article should be taken as a solicitation to purchase or sell securities. Before buying or selling any stock you should do your own research and reach your own conclusion. It is up to investors to make the correct decision after necessary research. Investing includes risks, including loss of principal.
Disclosure: The author has no positions in any stocks mentioned, and no plans to initiate any positions within the next 72 hours.
The author wrote this article themselves, and it expresses their own opinions. The author is not receiving compensation for it (other than from Seeking Alpha). The author has no business relationship with any company whose stock is mentioned in this article.