Shares of PetSmart (NASDAQ:PETM) are on the move, after the company beat consensus earnings and revenue estimates and after (perhaps more material to the price action) it was announced that the company was going to actively explore a sale to private equity. Though no sale is guaranteed at this point, it's almost being conceded as inevitable, and is being widely regarded as a net positive for the company and its shareholders. From the Reuters link:
PetSmart has faced mounting investor pressure at a time when fierce competition from large retailers including Wal-Mart Stores Inc and Amazon is squeezing specialty stores.

Jana Partners, which has reported a 9.8 percent stake in PetSmart, has been calling on the company to pursue a sale after what it calls years of financial underperformance. It has been joined in its push by other investors, including Longview Asset Management.
That announcement probably had a lot to do with this: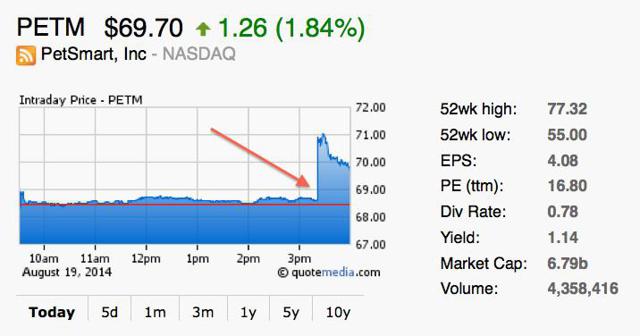 And that doesn't even include the after-hours action. As of this writing, shares were up an additional 5.4% before trading was halted. So what are PETM shareholders like me to make of all this? Should we hold onto our shares? Sell into the strength? Cross our fingers and wait for a sale?
And what are we to make of a recent disclosure by Jana Partners that suggests that guinea pigs and hamsters might not be the only rodents hanging out at PetSmart?
WHY I'M HOLDING ON:
Obviously, I don't have any insight as to whether or not a sale of the company is likely, or what price might be paid for the company if the sale really did occur. David Trainer, one of the contributors I follow, has suggested a 25% premium to its fair valuation, suggesting $88/share (or approximately $8.8B in total). This comports with other estimates I have read, which, let's face it, I have no way of confirming or denying. If the sale and that price holds up, investors could be looking at an additional 20% upside from here, thereabouts-- not bad for sitting and waiting. That the company is now officially conceding the possibility of a sale certainly ups the odds of it happening, but I can't speculate as to an absolute probability or a likely price/share if it did occur.
At times like this, as a novice investor, I have to go by what I know: valuing the company on its fundamentals. And in that regard, I think PETM is about fairly valued after the recent move, and I think I'm going to hold onto my shares. Here's why.
SECOND QUARTER RESULTS WERE ON TARGET. In the second quarter, PetSmart logged $0.98 / share in net earnings, a 10.1% year-over-year increase, and besting consensus estimates:

Comparable store sales actually declined mildly by about half a percentage point, and overall net income only increased by 5.1%, suggesting that the majority of earnings growth was derived from the company's recently initiated cost-saving efforts and stock repurchases in prior quarters (the company did not buy back any stock this quarter). Service sales increased slightly by about 4.7%. Overall, gross margins were flat y/y, coming in 20 basis points lower at 34.3%, and operating margins came in slightly lower by about 70 BPS at 23.4%. Equity income from Banfield contributed about an additional $2 million to the bottom line.
Overall, though early returns on efforts to boost brick-and-mortar merchandise sales are still anemic, the company's cost-cutting efforts appear to be bearing fruit, and its high-margin services products appear to be running well. So far, so good.
THE COMPANY ISN'T GOING TO IGNORE ONLINE RETAIL. Without getting into the details of the deal (a lot of which isn't available to me anyway), I'm personally pleased with the company's announced purchase of pet360.com. Though it remains to be seen how well the company will integrate the site's strengths, I view this as an evolutionary, bolt-on acquisition that strengthens the company's economic moat. Though a significant portion of pet products aren't well suited to online sales (think gigantic bags of dog food, which you need RIGHT NOW because you totally ran out), a significant portion of those products are. The move signals to me that management is aware of some of the secular factors that are holding down its same-store comps, and that it intends to aggressively address them. There are several risks of course-- from cannibalizing brick-and-mortar sales, to overpaying for the acquisition and a write-down of goodwill-- but I think the move will dovetail nicely with the aspects of PetSmart's offerings that can't be reproduced online (services, lower margin bulk commodities, etc).
GUIDANCE REMAINS THE SAME. Even ignoring the effects of the company's cost-cutting measures and the effects of likely additional revenue from online sales with the pet360 acquisition, PetSmart guided to stable performance for the remainder of the year. EPS are expected to show in-line growth, even as comps are expected to remain flat.
THE COMPANY STILL HAS A QUANTITATIVE AND QUALITATIVE ECONOMIC MOAT. As I mentioned above, as a retailer, PetSmart has some advantages over other retailers. It benefits from scale and logistical advantages, but perhaps more importantly, its products are-- like those of hardware stores and purveyors of other heavy items-- difficult to ship and often in demand on short timelines, a problem which online retailers have yet to solve. Its focus on higher margin in-store services also buttresses its brick-and-mortar sales, in a fashion not easily replicable by online retailers. Switching costs between retailers may be nonexistent, but the company's branding for services is a very real, though intangible, asset in this regard. As the anthropomorphism of pets is a very real phenomenon, people are still going to come into PetSmart to buy hair color for their dogs.
Quantitatively, the company's moat is seen when we look at excess economic returns. Overall, the trend is negative, so I would be concerned about both secular trends (online retailers) in addition to management execution, but so far, the company's ROIC has consistently exceeded its cost of capital over the past decade.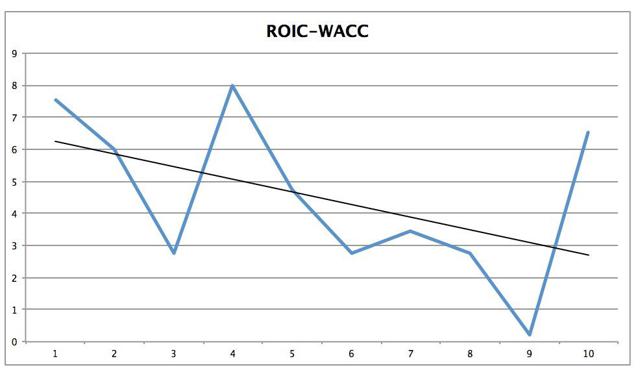 Source: self produced. 10-year financial data from Morningstar, historical price data from Yahoo! Finance, and Treasury yield curves from Treasury.gov.
VALUATION: With all that in mind, I feel that PETM is fairly valued now, after the recent spike, even without taking into account the possibility of a sale to private equity. After updating my discounted cash flow model to account for PETM's recent performance and outlook, my fair value estimate for the company remains unchanged at $73 / share. I use a multi-stage, base/bear discounted cash flow model informed by an analysis of trading multiples. The model suggests continued single-digit revenue and EPS growth over the next few years, in line with recent history. This does not take into account the effect of share-buybacks, additional cost-saving measures, or increased positioning in online retail. Projected data are reproduced below.
Projected Cash Flow
2014
2015
2016
2017
2018
2019
2020
2021
2022
2023
Revenue
$6,556,571,943.20
$6,793,791,143.16
$7,039,712,593.53
$7,320,747,562.78
$7,613,016,505.07
$7,917,537,126.00
$8,234,238,570.67
$8,563,608,073.15
$8,906,152,353.67
$9,262,398,408.57
COGS
$4,433,405,732.95
$4,593,677,632.57
$4,759,951,651.57
$4,949,970,045.65
$5,147,584,966.14
$5,353,488,338.18
$5,567,627,844.34
$5,790,332,930.84
$6,021,946,219.14
$6,262,824,041.22
Gross Profit
$2,123,166,210.25
$2,200,113,510.59
$2,279,760,941.97
$2,370,777,517.13
$2,465,431,538.93
$2,564,048,787.82
$2,666,610,726.33
$2,773,275,142.32
$2,884,206,134.53
$2,999,574,367.35
OPEX
$1,369,789,100.39
$1,419,252,969.78
$1,470,667,362.44
$1,529,376,985.24
$1,590,429,132.05
$1,654,046,289.05
$1,720,208,132.11
$1,789,016,448.66
$1,860,577,097.47
$1,935,000,173.18
Operating Income
$753,377,109.86
$780,860,540.81
$809,093,579.52
$841,400,531.89
$875,002,406.88
$910,002,498.77
$946,402,594.22
$984,258,693.65
$1,023,629,037.06
$1,064,574,194.17
Interest
$56,158,800.75
$58,151,058.46
$60,054,147.42
$62,449,001.83
$64,943,982.05
$67,541,740.87
$70,243,410.02
$73,053,145.90
$75,975,271.59
$79,014,281.76
Pretax Income
$697,218,309.11
$722,709,482.35
$749,039,432.10
$778,951,530.05
$810,058,424.83
$842,460,757.90
$876,159,184.20
$911,205,547.75
$947,653,765.47
$985,559,912.41
Taxes
$260,795,582.01
$270,337,945.29
$280,185,718.01
$291,374,131.14
$303,010,999.80
$315,131,438.28
$327,736,694.31
$340,846,160.64
$354,480,005.54
$368,659,204.33
Net Income
$436,422,727.10
$452,371,537.06
$468,853,714.09
$487,577,398.91
$507,047,425.03
$527,329,319.62
$548,422,489.89
$570,359,387.11
$593,173,759.92
$616,900,708.08
DA
$256,267,050.68
$265,458,892.79
$275,190,243.67
$286,181,644.00
$297,606,719.02
$309,510,986.17
$321,891,423.97
$334,767,079.63
$348,157,761.18
$362,084,070.20
Operating Cash Flow
$692,689,777.78
$717,830,429.85
$744,043,957.77
$773,759,042.91
$804,654,144.05
$836,840,305.79
$870,313,913.86
$905,126,466.75
$941,331,521.11
$978,984,778.28
CAPEX
$206,211,100.91
$213,853,776.56
$221,499,578.90
$230,338,604.12
$239,533,145.83
$249,114,469.97
$259,079,046.73
$269,442,207.39
$280,219,893.97
$291,428,687.77
FCF
$378,032,067.77
$391,674,316.55
$406,487,923.35
$422,736,043.12
$439,633,911.71
$457,219,266.64
$475,508,035.99
$494,528,355.87
$514,309,488.44
$534,881,867.64
I calculate a cost of equity of 8.31%, and use a WACC of 7.3% to discount future cash flows.* The model projects forward revenues to be flat to slightly less than prior years, with a forward EPS estimate at the high end of management projections at $4.37, and implies a forward P/E of 16.9, and a free cash flow yield of 5.4%. In combination with the company's current dividend yield of 1.14%, total return in the high single digits is possible even without further capital appreciation.
CONCLUSION: All this, of course, does not take into account the very real possibility of a sale of the company, which is what most of the recent price action has been fixated on. As a retail investor, I can't speak to that knowledgeably. What I can speak to is that the company remains on target, and is a reasonable hold given the prospect for continued high-single digit total returns even without the prospect of a buyout. At these levels, downside risk is still very real-- overpaying for or failing to execute with Pet360, continued weakness in brick-and-mortar retail, for example-- but the stock is reasonably priced for that possibility. Though the shares aren't a screaming bargain right now, I'm willing to hold onto them, as I think the risk is outweighed by the potential reward.
*The original version of this article mis-stated the Weighted Average Cost of Capital utilized to discount future cash flows. The WACC utilized is 7.3%. There is no material change to the Fair Value Estimate or other tabulated data.
Disclosure: The author is long PETM.
The author wrote this article themselves, and it expresses their own opinions. The author is not receiving compensation for it (other than from Seeking Alpha). The author has no business relationship with any company whose stock is mentioned in this article.