Ventas Inc. (NYSE:VTR), a leading health care REIT, has recently acquired five Class A medical office buildings in Wisconsin for $36.6 million. The acquisition was made through Lillibridge Healthcare Services Inc., a wholly-owned subsidiary of Ventas.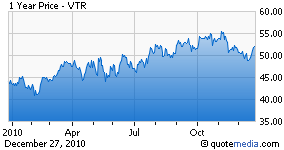 The medical office portfolio spanning 225,000 square feet of space is located on the campuses of ThedaCare hospitals in Appleton and Neenah, Wisconsin. With the deal, Ventas has further strengthened its market-leading MOB portfolio in the U.S. The acquisition was funded through available cash in hand.

Ventas is one of the top-performing healthcare REITs in the U.S., having one of the largest and most diversified portfolios in the healthcare sector exposed to nearly all types of facilities. The product diversity of the company allows it to capitalize on opportunities in different markets based on individual market dynamics, and provides a hard-to-replicate competitive advantage over its peers.

Ventas is primarily engaged in the business of financing, owning and leasing healthcare related and senior housing facilities. The company leases some of its owned healthcare-related and senior housing facilities to third-party operators under "triple net" leases, under which the tenant pays all taxes, insurance, and maintenance for the properties, in addition to rent. Ventas also owns healthcare-related and senior housing facilities that are managed by third-party operators.
We presently have an 'Outperform' rating on Ventas, which currently has a Zacks #2 Rank that translates into a short-term 'Buy' recommendation indicating that the stock is expected to outperform the overall U.S. equity market for the next 1–3 months. However, we have a 'Neutral' rating and a Zacks #3 Rank (short-term 'Hold' recommendation) for HCP Inc. (NYSE:HCP), a competitor of Ventas.