Perfect World (NASDAQ:PWRD) reported 2Q14 results in which non-GAAP earnings beat consensus by 19%. Q3 guidance was also higher than consensus by 4%. However, shares dived 12% intraday as the market is concerned on the shortened time spent by PC gamers due to the transition to mobile games. I would remain constructive on the name on the back of mobile game strength and partnership with Xbox One.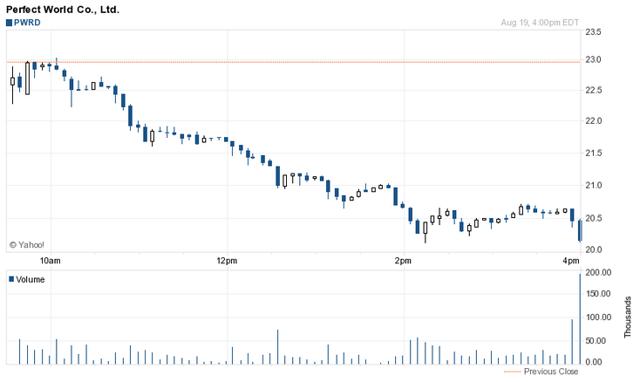 Click to enlarge
Solid quarter driven by mobile
Revenue of RMB 928m (US$150m) (+31% y/y) was 2% ahead of consensus with strength in mobile games thanks to the hit title "Return to the Condor Heroes" and PC games showing stability with "Swordsman" and "DOTA2." Operating margin was down 6ppt q/q on higher marketing expense from promoting "DOTA2" and the mobile game franchise. Non-GAAP earning of RMB 172m (+76% y/y) was solid and ahead of consensus by 19%. In my view, the transition from PC to mobile has been well executed by the management with the introduction of "Cross Gate" and "Forsaken World," as well as franchise hit such as "Condor Heroes." Regarding "Cross Gate," it is one of top 10 most popular games on the App Store and data from Gamelook suggest that daily active player has surpassed 1m.
Xbox One and mobile to be 2H catalysts
The lift on game console ban in China is positive to the overall gaming industry, in my view, and PWRD's "Neverwinter" will likely be a hit on the Xbox console given its success on the PC. Although I must acknowledge that the success will be highly dependent on Xbox console sales. However, two things are worth noting: 1) R&D development cost for "Neverwinter" will likely be lower in that the Xbox version is only a redevelopment from the PC version, and 2) the freemium model will drive the initial adoption, with revenue coming in later on from in-game purchases, a positive for 2H revenue growth.
Mobile side will also see a busy pipeline in the latter half of the year with Swordsman Mobile, Touch, and Forever Mars lining up to hit the market.
Shortened PC time spent is a key concern
The company acknowledged that time spent on PC has shortened due to the mobile transition, which is still a concern in that >85% of the revenue are generated from the PC side. Management has indicated that they will revise the PC format to ensure longer time-spent without elaborating on the details. I see this as a key concern going forward but I expect management to execute.
At 9x consensus forward P/E and a 2.5% dividend yield, the share looks attractive after yesterday's pullback. I would get constructive on the name as PC time spent shows signs of recovery.
Disclosure: The author has no positions in any stocks mentioned, and no plans to initiate any positions within the next 72 hours.
The author wrote this article themselves, and it expresses their own opinions. The author is not receiving compensation for it (other than from Seeking Alpha). The author has no business relationship with any company whose stock is mentioned in this article.