On July 14, 2014, the FBI issued a RFP to upgrade its land mobile radio equipment and infrastructure. The five-year contract is expected to have a base minimum purchase of $100 million, with upside potential to $500 million over the life of the contract. In the RFP, the FBI notes that it began using Motorola Solutions, Inc. (NYSE:MSI) equipment in the early 1980's and that it desires to award the entire contract to MSI as "Choosing to an alternate equipment manufacturer will require a substantial investment is a system design, site development, implementation, optimization and retraining." (See Justification and Approval for Brand Name Solicitation.)
With regards to training, the FBI notes in the RFP that it has 420 Electronic Technicians, each of whom would require a minimum of 200 man-hours of training for just the basic land mobile radio equipment (40 hours for portable and mobile radio classes, 40 hours for base station training, and 80 hours for console/system training.) Beyond the training requirements for users and technicians, the FBI also states that "accessory incompatibilities" and the associated funding costs for all of this have created a situation whereby it is in the government's best interest to continue working with a sole vendor.
On July 29, 2014, RELM Wireless Corp. (NYSEMKT:RWC) filed a formal protest with the U.S. Government Accountability Office (NYSE:GAO) against the FBI's solicitation on the grounds that it unduly restricts competition in two ways. It is RWC's belief that the FBI incorrectly asserts that only MSI radio equipment is compatible with MSI infrastructure. RWC states that it and other manufacturers offer radio units that are compatible with MSI infrastructure, meet the FBI's technical requirements, and cost significantly less than the MSI units. Secondly, RWC asserts that the FBI has improperly bundled two sets of distinct hardware (subscriber units and infrastructure equipment) in the RFP in a manner that improperly extends MSI's sole-source position. With regards to Electronic Technician training, RWC asserts that the 80 hours of console/system training doesn't apply for subscriber units, and that users who are familiar with MSI radios could be trained in less than eight hours. Additional user training would be minimal, and RWC would provide this training to the government at no cost. (Source: Copy of RWC's formal protest, redacted for public release.)
Subsequent to RWC's protest, Harris Corporation (NYSE:HRS) also filed a formal protest against the FBI's efforts to award the no-bid contract to MSI. In the articles linked here, it is also noted that "Harris, Motorola's biggest rival in the domestic market, claims that the contract in question would allocate up to $170 million to eleven other agencies within the Justice and Homeland Security departments for the purchase of Motorola equipment over the next five years."
According to RWC management, EF Johnson Technologies Inc., now owned by JVC Kenwood (OTCPK:JVCZY), has also joined the list of companies filing a formal protest against the FBI. This is not the first time competitors to MSI have filed GAO protests, and it has been very difficult for these firms to gain share against MSI's dominant position in both infrastructure and equipment sales. I also acknowledge that I have my biases as a long-term shareholder of RWC, but I believe the competitors to MSI have a significant chance of a favorable ruling from the GAO. Over the past several years, the land mobile radio industry has seen a continued push towards developing standards that allow radios and other components to interoperate regardless of manufacturer. RWC demonstrated nearly three years ago that its KNG P800 Digital Portable Radios were interoperable with the infrastructure of four competitors, including MSI. RWC's Vice President of Sales, Ken Klyberg, stated in a recent article that RWC could sell "radios with the same functions specified by the FBI for about $1,700, compared with Motorola's average price of $4,200."
It is my understanding that the GAO generally will respond within 30 calendar days once it receives a formal protest on a government bid and will make a final decision on the protest within 100 calendar days. I would expect that the GAO will respond to RWC's protest before the end of August.
With regards to the investment opportunity around this event, I continue to like the risk/reward for RWC. With trailing twelve month revenue of $30.6 million and EPS of around $0.12, RWC may not appear inexpensive on traditional P/E metrics. However, with incremental operating margins in excess of 50% in recent quarters and the manufacturing capacity to significantly grow the business, RWC could transform its business model if the GAO helped pave the way for the company to win even a small portion of a large opportunity like the FBI contract. I continue to think $6 is a reasonable near-term price target, but this could go much higher if we are truly approaching a turning point with MSI's dominance in the industry. In contrast, it's hard for me to be very enthusiastic about MSI's stock price at current levels. Management noted on its most recent earnings call that it expects a low- to mid-single digit decline in sales for 2014, after adjusting for the sale of its enterprise division. With a continued focus on the company's dominant market position and the potential for the GAO and others to weigh in on MSI's business strategies, I believe the downside risks outweigh the upside opportunity at this time. I remain long RWC and look forward to hearing an update from the GAO later this month.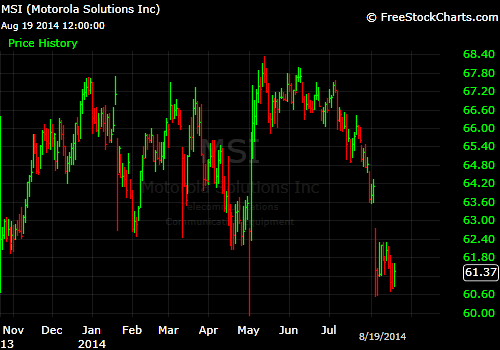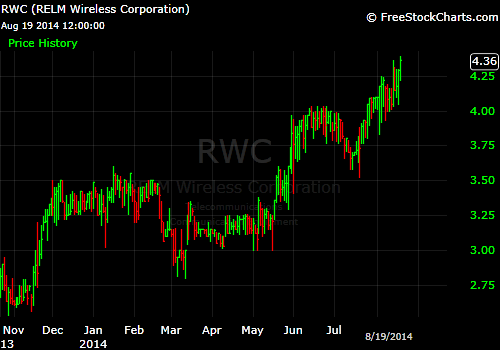 Disclosure: The author is long RWC. The author wrote this article themselves, and it expresses their own opinions. The author is not receiving compensation for it (other than from Seeking Alpha). The author has no business relationship with any company whose stock is mentioned in this article.
Editor's Note: This article covers one or more stocks trading at less than $1 per share and/or with less than a $100 million market cap. Please be aware of the risks associated with these stocks.