Shares of 1-800-Flowers.com (NASDAQ:FLWS) jumped over the past week, thanks in part to mention on CNBC's Fast Money program last Thursday. Here's the five-day chart from Yahoo Finance: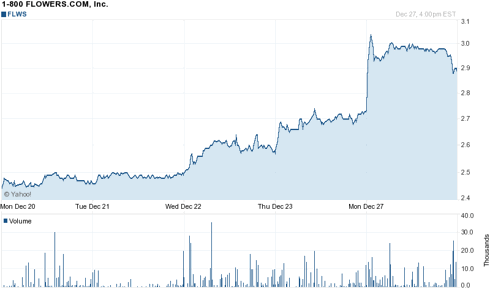 Prior to the recent move, two recent articles called out the poor share price performance of 1-800-Flowers.com (FLWS). The first, Why 1-800 Flowers.com Trades Low from 11/18, provided several positives and negatives, notably emphasizing low historic operating margins and reasonably asking whether very profitable fiscal 2007-08 results were outliers or are again attainable. Indeed, a paramount question. The second post, Decade in Review: Dot-Com Winners and Losers from 12/10, pointed out that shares of 1-800-Flowers.com were one of the worst dot-com performers over the past decade.

Likewise, following our October CommonStock$ense post Why Buy More 1-800-Flowers.com (FLWS)? Consider an Owners' Perspective, a friend and former colleague posed critical questions after his brief review, similar to the questions raised in Why 1-800 Flowers.com Trades Low:
Seems like revenues and EBITDA have been pressured... So, it begs the question of how sustainable that free cash flow stream really is and also questions the sustainability of any remaining "moat" around the business. A rising tide will lift all boats for sure, but the company seems to have struggled long before the financial/consumer spending downturn.
Again, fair questions that are worthy of nearly all retailers since the viability and vitality of these businesses can change dramatically over time. Let's briefly address these concerns.

The high level answer was included in our April post, Why 1-800-Flowers.com Should Quadruple: "shares continue to trade near a ten-year low despite being a much larger and diverse business than ever before." More explanation:
1-800-Flowers.com had pretty solid results through Fiscal 2008 until the recession took hold -- see operating income history for Fiscal 2007 and Fiscal 2008 following the inclusion and growth of new business units -- from Google Finance, click to enlarge: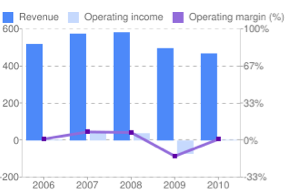 We also recommend reviewing the Fiscal 2008 Annual Report for more perspective - here's a summary snapshot of financial results (click to enlarge):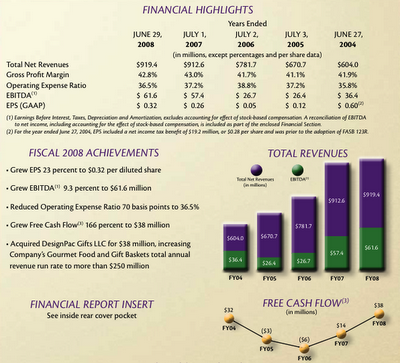 Since Fiscal 2008, the Consumer Floral segment has been especially hard hit and competition intensified as all stripes of consumer businesses fought (and continue to fight) for market share through the recession. Yet, we believe the company still has number one market share (*formerly around 20% -- uncertain of latest share data) and the "flowers.com" business drives tremendous Web traffic to the company's other branded businesses, including cookie and chocolate businesses (Cheryl's Cookies, Fannie May and Harry London).
The cookie and chocolate segments, acquired in March 2005 and May 2006, respectively, materially changed the mix of the business. Further, both have been growing through the recession and have better margin profiles than the floral unit. In our recent Nestlé Kit Kat series, we alluded to the strength of 1-800-Flowers.com's growing chocolate business, Fannie May. and we recommend reading this 11/27 AP article: Sweet success: Fannie May back after bankruptcy. While somewhat counter to our Weight Watchers (NYSE:WTW) thesis and general emphasis on healthy living, we're not shy in recommending Fannie May chocolates because we like the product and believe quality is high.
Next, 1-800-Flowers.com's home grown BloomNet floral wire network, launched in January 2005, has been well received by florists over the past five years. BloomNet is now a fantastic line of business that extends the company's significant economies of scale across products and services to benefit all network participants.
Finally, the company is leveraging its April 2008 acquisition of DesignPac Gifts to take on Harry & David in the gift basket marketplace. Notably, 1-800-Flowers.com's brand, products, and capabilities (e.g. skills and scale) provide a strong springboard for growth in this category. For reference, we recommend this 12/22/09 NYTs article, Bringing Bouquets and Gift Baskets Together. Like the floral segment, the wholesale basket business (e.g. sales to large retail stores like Target (NYSE:TGT) ) suffered over the past two years as consumers retrenched, but the company should soon face easier Y/Y comparisons on the wholesale side and the retail 1-800-Baskets.com business should begin to contribute more meaningfully to the revenue mix over time. Harry & David -- which admittedly has a great brand -- remains under pressure, with revenue for the September 2010 quarter down 13% Y/Y. We see potential for 1-800-Flowers.com -- via 1-800-Baskets.com -- to garner meaningful market share.
HENCE, the key is to understand how the mix of 1-800-Flowers.com's business shifted over the past five years, both via acquisition and organic initiatives. The result is a more stable and durable franchise capable of reasonably consistent excess cash generation.
For insight into recent results, the shifting business mix, operating strategies, and future direction, we recommend reviewing 1-800-Flowers.com's recently released Fiscal 2010 Annual Report. The letter to shareholders provides a worthwhile summary and details management's plans to grow the business and enhance shareholder value. Summary financial snapshot (click to enlarge):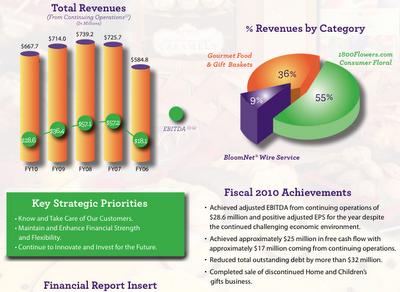 Importantly, rather than a shallow, shrinking, or non-existent moat, we see a strengthening moat for the business and believe our core thesis holds (from our January presentation):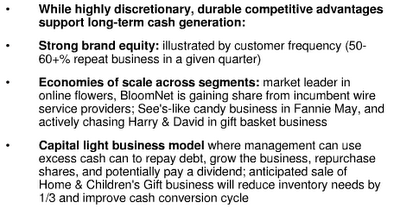 Near-term, we're not sure if shares will contiue to power ahead to $4.00-5.00 or retrace back to $2.00. However, given all of the above, we believe intrinsic value is meaningfully higher than current levels.

We can also again relay that, by the time fundamentals turn positive and we see broker upgrades along with funds clamoring for a piece of FLWS, the stock will probably already be back at $3-4 on the way to $5-6. For this reason, we've been adding to our position in recent months and expect forward performance may be significantly better than what we've seen over the past decade.


Disclosure: I am long FLWS, WTW.