Zhaopin's (NYSE:ZPIN) FY4Q14 wrapped up the Chinese HR service provider sector's reporting period and my conclusion is that I continue to favor 51Jobs (NASDAQ:JOBS) over ZPIN given JOB's larger scale, better quality of customers and pricing power.
ZPIN's FY4Q14 revenue of RMB283m (US$46.7m) (+18% y/y) and non-GAAP EPS of RMB1.26 (US$0.20) both beat consensus of RMB257m and $0.97 EPS. Guidance of RMB270-280m was above consensus. Despite the beat, I continue to see ZPIN facing a combination of macro and micro headwinds with macro headwind being the uncertainty over the Chinese economy and micro headwind from competitive pressure on all of its business verticals. Reiterate my bearish view on the stock.
Non-online recruitment revenue driving near-term growth
ZPIN's consolidated FY4Q14 revenue was mainly driven by non-online recruitment services revenue of RMB42m (US$6.8m), +23% y/y. Specifically, campus recruitment services revenue (+41% y/y) and assessment service revenue (+69% y/) reflects the ongoing placement challenges in China as young grads pay a premium to stand out in the competitive job market.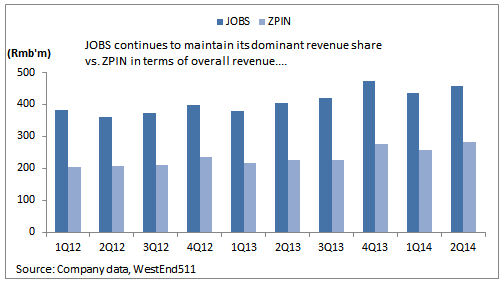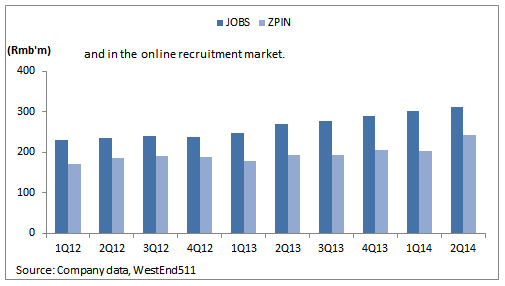 ARPU facing downward pressure from lower-tier city expansion
Online recruitment services revenue growth of 15% was a function of increased number of unique customers (+30%) and -10% decline in ARPU due to ZPIN's decision to expand into lower tier cities, where incumbents already have a strong foothold in the market. In order to win over the local SME clients, ZPIN had to compete on price to make its product and service attractive.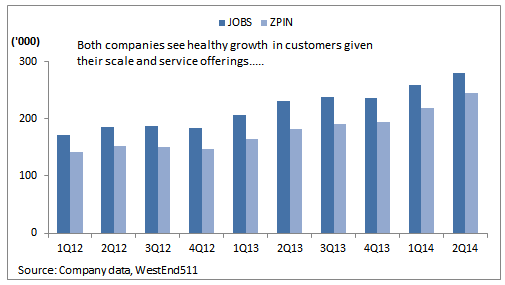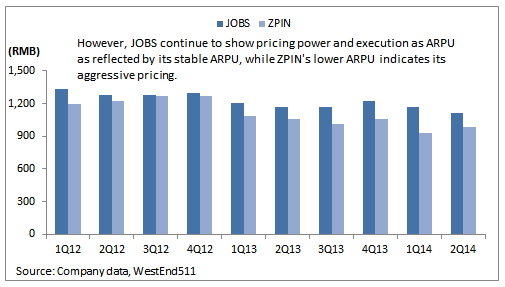 Margin pressure persists
Operating margin fell 130bps y/y on higher SG&A cost and this should come as no surprise given the increasing amount of sales compensation and business development expense as ZPIN attempts to accumulate its unique customer base among the local SMEs. I expect operating profit to remain pressured in the long run on higher investments.
In conclusion, I continue to favor JOBS over ZPIN given ZPIN's smaller scale and current investment into lower tier cities, which is likely to further pressure ARPU and margins going forward.
Disclosure: The author has no positions in any stocks mentioned, and no plans to initiate any positions within the next 72 hours.
The author wrote this article themselves, and it expresses their own opinions. The author is not receiving compensation for it (other than from Seeking Alpha). The author has no business relationship with any company whose stock is mentioned in this article.