The first trading day of the week was a somewhat dreary affair, not unlike the weather in the Northern hemisphere. Following the Christmas day rate hike in China, most major U.S. stock market indices managed to reverse earlier losses and close in the black, albeit only marginally. However, the Dow Jones Industrial Average bucked the trend and remained in the red in a thinly-traded market.
I yesterday posted an article entitled "Chinese stocks – finely balanced", showing a chart of the Shanghai Composite Index trading above its key 200-day moving average but below the 50-day average. "The Index is also squeezed into a triangle, indicating a point of resolve could be expected over the next week or so," I commented.
We may not have to wait a week: The Shanghai Composite Index is down again this morning by a massive 3.6%, causing considerable technical damage. In addition to breaking trend support, the Index (2,733) has breached its 200-day average (2,779) (not yet shown on the chart). This is a rather ominous picture for Chinese stocks and could also be spelling danger for global stock markets.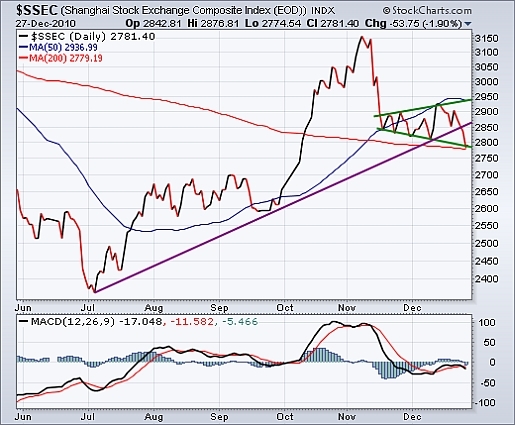 Source: StockCharts.com
Regarding the U.S. stock markets (and pretty much most other world bourses), Raymond James's Chief Investment Strategist Jeff Saut summarized the situation as follows:
The Volatility Index (VIX/16.47) is down to the 'complacency levels' seen last April right before a 17% correction. Ditto, Investors Intelligence data shows advisory sentiment approaching the bullish extremes of October 2007. Meanwhile, stock market leadership is narrowing, internal momentum is waning, and every macro sector except Utilities is overbought. Additionally, correlations between various asset classes are decreasing, implying that investors are becoming increasingly selective.

All of this suggests more caution as we enter the new year. That cautious January strategy is reinforced in a report from Citigroup's technical analyst Tom Fitzpatrick, who chronicles previous dramatic multi-year declines, like we experienced between 2007 – 2008, followed by strong rallies like 2009 – 2010, and what tends to occur in the succeeding January (see table below).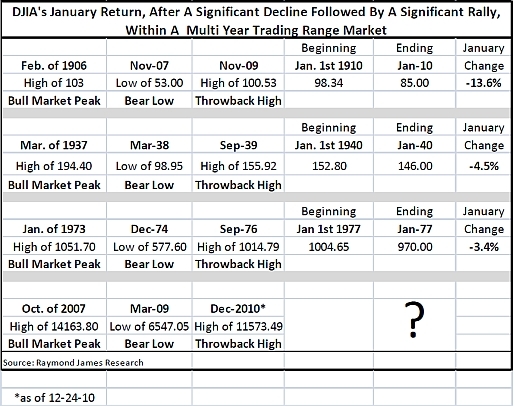 Saut concluded: "However, don't get too bearish because any correction should be for 'buying' and not for 'selling' because the primary trend remains 'up'. Indeed, last week, for the first time in 22 months, Lowry's Buying Power Index rose above Lowry's Selling Pressure Index confirming the bullish trend. Still, I think the strategy of hedging select stock positions, which have accrued large profits, makes sense in the short/intermediate-term."