Fuel Systems Solutions, Inc. (NASDAQ:FSYS) announced its quarterly earnings yesterday. The company reported revenue of $87.4 million and a net loss of $44.2 million, or net loss per share of $2.20. The loss included an impairment charge of $44.4 million primarily related to goodwill. Analysts were expecting revenue of $89.5 million and loss per share of $0.02. Below are the historical financial results for the company: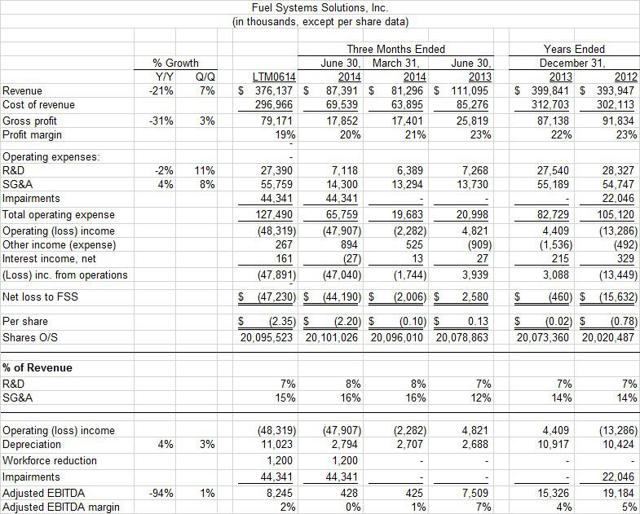 Click to enlarge
Revenue
The following chart illustrates revenue by segment - FSS Industrial and FSS Automotive: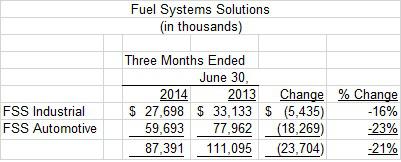 Revenue declined 21% annually to $87.4 million. However, it increased 7% sequentially.
FSS Industrial declined 16% to 27.7 million from $33.1 million a year ago. The decrease was primarily attributable to a decrease in demand in North American markets for mobile kits and components of approximately $3.2 million, as well as a decrease in heavy duty business in Asia of about $2.3 million.
FSS Automotive revenue declined due to lower DOEM sales of about $12.7 million, primarily due to a loss of customers in the European (primarily Italian) and North American markets, in connection with their change in product strategies, and decreases in OEM sales of approximately $7.1 million affecting most geographic areas.
OEM and aftermarket sales decreases were the result of an increasingly competitive environment, as well as weak economic conditions which may not abate in the near term.
My previous article described how the company [i] has been facing increasing competition, [ii] lost its largest customer in 2013 and [iii] faced stiff headwinds due to the declining economy in Europe.
Earnings
Gross margin declined to 20% from 23% a year ago, driven by a change in product mix to lower margin products.
R&D and SG&A expense as a percentage of revenue increased to 24% of revenue from 19% at the same time last year. The company continues to invest in research to enhance current products and look for new ways to expand product offerings.
SG&A costs were negatively impacted by facility closing expense, as well as work force reduction costs.
Earnings declined from $2.6 million a year ago to a $44.2 million net loss in the current quarter. The net loss was negatively impacted by a $44.2 million write-down of goodwill and long-lived assets.
Valuation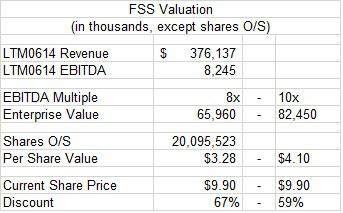 Fuel Systems' $199 million market capitalization equates to 24x adjusted EBITDA through last 12 months ended June 2014 ("LTM0614") of $8.2 million.
For a company with declining revenue and declining margins, I would apply an EBITDA multiple of 6x - 8x. However, I applied an 8x - 10x multiple for Fuel Systems. I assumed that once it stabilizes its customer base, it has the potential to stabilize its EBITDA margins and potentially grow earnings again.
That said, I value the company at $66 to $82 million or $3.30 - $4.10 per share.
Conclusion
Fuel Systems Solutions' revenue declined 21% Y/Y due to tough economic conditions and a loss of clients. At 8x - 10x LTM adjusted EBITDA, which is appropriate for a company with its business prospects, the company is worth $3.30 to $4.10 per share. I am currently short the stock.
Disclosure: The author is short FSYS.
The author wrote this article themselves, and it expresses their own opinions. The author is not receiving compensation for it (other than from Seeking Alpha). The author has no business relationship with any company whose stock is mentioned in this article.