By Stoyan Bojinov
The holiday cheer that's been lifting the markets this month seems to be tapering off, with the Dow Jones Industrial Average taking a pause from its December surge and falling off its multi-month highs on Monday. Equities across the globe tumbled lower as a whole, with markets reacting negatively to China's decision to increase interest rates over the weekend. Likewise, gold enjoyed a small gain to start the week, with the hot yellow-metal looking to get back on track to its upward trend. This week investors will have a round of economic indicators to digest before the year comes to a close with a shortened trading day on Friday, including the S&P/Case-Shiller home price index, consumer confidence, and jobless claims.
The release of the consumer confidence level today at 10:00 am (ET) later today will be closely watched by investors and traders alike. The figure is released on a monthly basis and is a compilation of surveys which reflect consumer attitudes regarding present economic conditions and expectations of future conditions. Patterns in consumer confidence can provide insight into equity and bond markets, since consumer spending makes up about two-thirds of the economy. Consumer confidence is closely correlated with with consumer spending, and for that reason the SPDR S&P Retail ETF (NYSEARCA:XRT) should be active in Tuesday trading. While retail sales and consumer confidence typically do move in tandem, the relationship is not necessarily perfect. The consumer confidence level came in at 54.1 last month, and analysts are expecting a marginal improvement to 57.4 for this month.
XRT tracks the S&P Retail Select Industry Index, which represents the retail sub-industry portion of the domestic equity market. The fund has 66 holding and it allocates about 44% to mid-cap equities, 30% in small-cap, and 23% in large-cap [see XRT Holdings]. XRT has posted an impressive return of about 35% year to date, outpacing the SPDR S&P 500 ETF (NYSEARCA:SPY) by over 20%. The fund is the most liquid in the Consumer Discretionary Equities ETFdb Category, and seasoned investors can surely take advantage of XRT's liquid options market as well.
Also, investor sentiment for retailers is already taking a small hit due to the East coast blizzard, as severe weather conditions are surely putting a dent in holiday sales. "While we believe the holiday to date can be called a success, the severe and widespread storms will likely take a bite out of 4Q sales," said UBS analyst Roxanne Meyer.
click to enlarge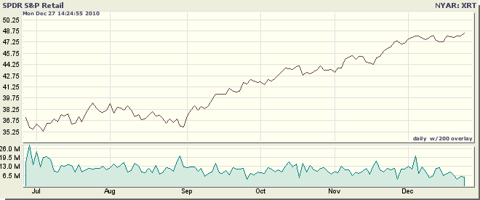 Click to enlarge
For those expecting a significant market reaction in the retail sector tomorrow, Direxion offers two ETF's with leveraged exposure to the Russell 1000 RGS Retail Index. Experienced investors can choose to trade either the Daily Retail Bull 2X Leveraged ETF (NYSEARCA:RETL) or the Daily Retail Bear 2X ETF (NYSE:RETS).
Disclosure: No positions at time of writing.
Disclaimer: ETF Database is not an investment advisor, and any content published by ETF Database does not constitute individual investment advice. The opinions offered herein are not personalized recommendations to buy, sell or hold securities. From time to time, issuers of exchange-traded products mentioned herein may place paid advertisements with ETF Database. All content on ETF Database is produced independently of any advertising relationships.