Boulder Brands (NASDAQ:BDBD), the owner of emerging food brands like Smart Balance, Glutino, Udi's, Earth Balance and Evol, is an attractive investment at its current price level. This article explains how this growing food company is expected to continue growing at healthy rate that would produce a significant amount of value for its investors.
Strengthening its Foothold in Growth Category
Boulder Brands is strengthening its foothold in the natural gluten-free food category. Gluten-free food is one of the fast growing food categories. Awareness about the benefits of gluten-free food is increasing among masses. In the US, there is a huge addressable market for natural food products and BDBD's natural gluten-free brands, namely Glutino and Udi's, have the potential to capitalize on this opportunity.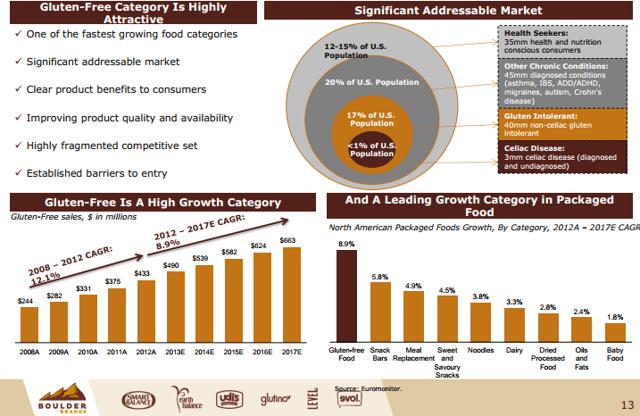 Source: Boulder Brands Investor Presentation
It is estimated that about 12-15% of the US population is comprised of individuals that are nutrition conscious. About 20% of the US population are diagnosed with conditions like asthma, IBS, ADD/ADHD, migraines, autism and Crohn's disease. About 17% of the US population is gluten intolerant and as awareness regarding the health benefits of gluten-free increases, BDBD's Glutino and Udi's brands are expected to reap growth in the top and bottom lines. The gluten-free food category is expected to grow at a CAGR of 8.9% from 2012 to 2017. If we look at the North American growth category of packaged food, we see that growth in gluten-free food is expected to exceed other food categories like snack bars and meal replacements.
Leveraging Growth With Strong Brands
BDBD already occupies a strong competitive position among gluten-free food brands. Udi's has become the market leader with the number one position among gluten-free food brands in North America. Glutino Food Group has been one of the pioneers and leaders in the gluten -free category since 1983. In the previous financial year both brands showed very healthy growth in consumption. Udi's managed to generate a consumption growth of 49% and Glutino managed to generate a 33% growth in consumption. It is also worth noting that BDBD owns and operates the world's largest gluten-free facility. With an already strong foothold in the gluten-free growth category, BDBD is well positioned to leverage from this growth category.
Transforming to Reap Growth
BDBD's is transforming its Smart Balance (NYSE:SB) products to capitalize on the healthy growth in non-GMO food category. Smart Balance faced a 7.5% decrease in consumption in the quarter ended December 2013. Responding to changing demand trends, BDBD is transforming its Smart Balance brand to focus on products with healthy growth potential. BDBD is tranforming the Smart Balance business to a Non-GMO food producing business. However, the company is planning to exit certain categories as the Chairman and Chief Executive Officer Stephen Hughes stated;
"We completed our initiative to exit certain categories that are not strategic, such as Bestlife Spreads and Smart Balance Butter Blends, and implemented a licensing agreement for Smart Balance Milk with Byrne Dairy. In addition, we concluded the transition to space saver packaging during the quarter and expect to gain points of distribution on spreads as we move through the remainder of the year. These strategies demonstrate our commitment to further strengthen Smart Balance's profitability and its core portfolio of products which we expect will result in a more stable and profitable Smart Balance portfolio".
Riding the Non-GMO growth trend
The non-GMO (non-genetically modified organism) food category attracted a lot of attention from consumers in the US. According to a study, 87% of consumers asked companies to label GMOs on products sourced from genetically modified organisms. About 53% of consumers said that they would not buy GMO-based products if they have knowledge that products are GMO-based. In another survey, about 43% of consumers rated non-GMO as the number one in importance on labels. BDBD's expansion into the non-GMO food category can help it to capitalize on the changing trend in consumer preferences and this would provide BDBD with growth in its top and bottom lines in the coming years.
Healthy Top-line Growth
BDBD has managed to increase its top line by a healthy double digit growth rate. In 2013, BDBD's sales grew by 17.5%. According to the company's guidance, its top line is expected grow by 15.5% in the current year. Consensus analyst estimates for BDBD's top line growth is 18.70%, which is higher than the company's guidance.Boulder Brands owns brands that have good growth prospects. The company's investment to promote its brands is expected to fuel its top and bottom lines in the coming years.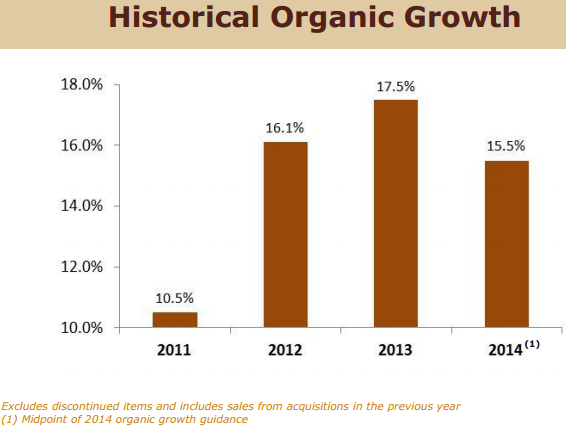 Source: Boulder Brands Investor Presentation
Portfolio Diversification will Create More Value
Boulder Brands has diversified its portfolio of brands over the past six years. During2007, BDBD had two brands in its portfolio, Smart Balance and Earth Balance. The Smart Balance brand offered food designed for heart health and Earth Balance brand offered plant-based food. By 2013, BDBD diversified its brand portfolio and added more food categories. BDBD added another three brands to its portfolio, Udi's, Glutino and Evol. Udi's and Glutino offer food for a gluten-free diet and Evol offers frozen food. Among the new brands, Udi's made up 31% and Glutino made up 21% of the sales from BDBD's portfolio of brands. The Evol brand made up less than one percent of the total brand portfolio sales.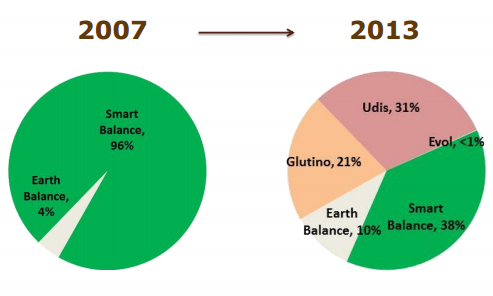 Source: Boulder Brands Investor Presentation
A Look at Historical Financials
From 2007 to 2013, the top line grew at a CAGR of 27%. Gross margins showed a declining trend from 47.1% in 2007 to 41.6% in 2013. The operating margins showed volatility but have remained relatively stable since 2011. During the period from 2008 to 2013, the operating profit grew at a healthy CAGR of 50%. Net income is volatile but has been positive since 2011. Cash flows also showed volatility but remained usually positive. In my opinion, the historical financials of this new company are indicating strength and BDBD has a sound financial footing that will allow it to continue to capitalize on growth opportunities.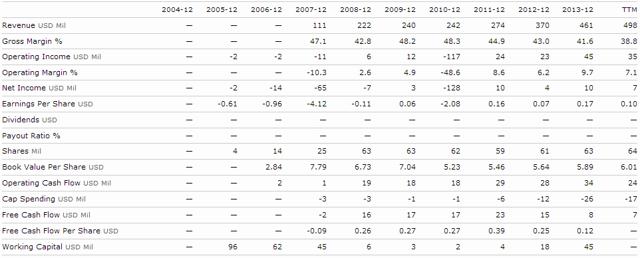 Enticing Upside Revealed by Consensus Target Price
Boulder Brands is valued by 8 brokers. The analyst consensus estimate reveals upside potential at its current price. If realized, the mean target estimate presents an upside of 35% on the current price of around $13.50. The median target price presents an upward potential of 37% on the current price. If realized, the most optimistic price estimate presents an upside of 70%. Even the most conservative price estimate expects an upside of 11%. On the basis of the analyst estimates BDBD is a very attractive investment with enticing upside.

Relative Valuation
BDBD's stock is trading at 32.5 times its forward earnings. The price to sales ratio compared to the sector and S&P 500 show that it is relatively overvalued. However, after incorporating future growth to the P/E ratio, the PEG ratio reveals the company is undervalued. BDBD has a PEG ratio of 1.35 which is lower than the sector and S&P 500.Hence relative valuation shows upward potential at its current price.

Conclusion
Boulder Brands is a very good investment opportunity as revealed by analyst estimates and relative valuation. Its strong presence in the growing categories of gluten-free and non-GMO foods is expected give its top and bottom lines healthy growth in the coming years. BDBD is a stock worth investing in.
Disclosure: The author has no positions in any stocks mentioned, and no plans to initiate any positions within the next 72 hours.
The author wrote this article themselves, and it expresses their own opinions. The author is not receiving compensation for it (other than from Seeking Alpha). The author has no business relationship with any company whose stock is mentioned in this article.