Shares of the high-end accessory retailer Kate Spade (NYSE:KATE) cratered after posting earnings earlier this month. This isn't a huge surprise given the Michael Kors (NYSE:KORS) weakness; due to quarterly results, the shares fell 7% in a day. However, Kate Spade's 25% single-day pullback is sure to attract some "bottom feeders." But even with the sell-off, the shares are still outperforming their peers Kors and Coach (NYSE:COH) on a year-to-date basis.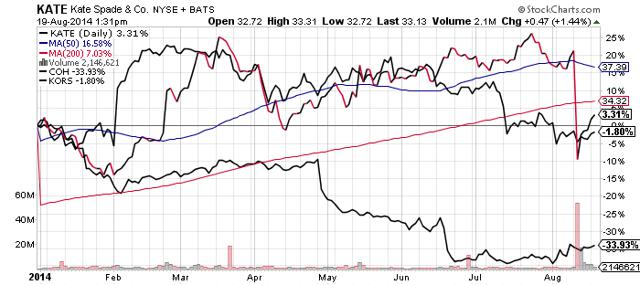 Click to enlarge
Why the big pullback?
Kate posted stronger-than-expected Q2 earnings, with EPS of $0.05 a share, besting the consensus of break-even. Net sales were up 48.7% y/y, excluding Lucky and Juicy Couture - and bested the consensus by 16%. The company soared some 10% on this news, hitting half-decade highs. However, management's tepid long-term outlook frightened investors.
The company noted that it might take longer than expected to reach its 2016 goals. The company had hoped to hit an EBITDA margin of 25% by 2016, but this will be delayed until at least 2017. Its long-term store opening plans were also revised from 125 down to 100.
Margins reveal longer-term concerns
Much like we noted with Kors, margins in the high-end accessory space are being hit by markdowns. Kate is no different, with margin pressure being created by discounting in the industry, which overshadowed its revenue growth. This comes as the North American market is being saturated by the major players.
Q2 gross margin was down to 58.6% from 61.6% in the same quarter last year. The company upped its discounts in an effort to rid itself of excess inventory, namely in the Kate Spade Saturday brand. We look for margin pressure to continue for the rest of 2014. It's also worth noting that Kate's gross margins remain below its top peers.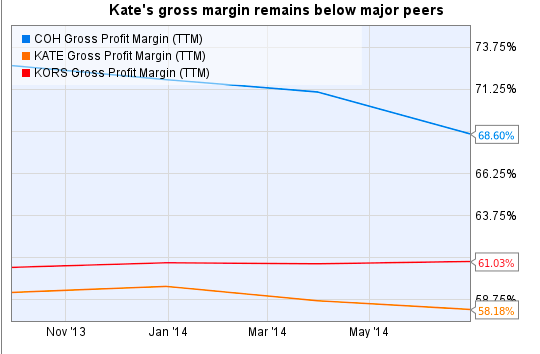 The company notes that it's trying to move away from promotions, but notes that it can't be idle while there is substantial promotional activity among the competition.
Better investments elsewhere?
Kate looks to be more than fairly valued. Shares are trading at 50x next year's expected earnings, and its 26x EV/EBITDA is well above the comps.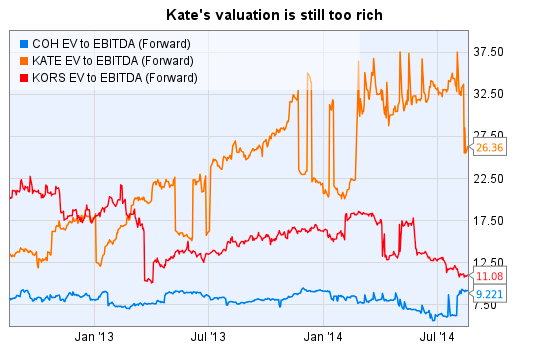 For value investors, when a stock falls some 25% in a day, it's hard not to take notice. But it looks like the best strategy is to take a pass on Kate. We'd go as far as to say that Kors might be a better buy given its recent pullback. Coach is an interesting turnaround story whose dividend is yielding nearly 4%.
Despite the pullback, the risk/reward for Kate Spade isn't all that compelling. The company still has room to increase its retail presence, and already has a men's merchandise offering via Jack Spade. These are a couple positives, but they don't yet justify the company's valuation.
Disclosure: The author has no positions in any stocks mentioned, and no plans to initiate any positions within the next 72 hours.
The author wrote this article themselves, and it expresses their own opinions. The author is not receiving compensation for it (other than from Seeking Alpha). The author has no business relationship with any company whose stock is mentioned in this article.