A recent report from The Information asserts Activision Blizzard (NASDAQ:ATVI) has plans to launch a film and TV studio in order to create small and big screen adaptations of its wildly popular gaming franchises.
There has already been a lot of speculation and comparisons to the Marvel franchise, although there aren't near the characters available for Activision to justify that comparison.
With the attempt to produce a World of Warcraft movie going on for about eight years, it points to the high probability if it has plans to introduce films and TV shows based upon its franchises, it is going to do it in-house.
Reportedly that's why in the early stage of the project producer Sam Raimi left apparently because he resisted the stringent oversight of Activision.
With CEO Bobby Kotick saying this: "Movies based on video games rarely please devoted fans and could taint the brand." You can see Activision isn't going to allow its franchises get damaged from the creative types of Hollywood that can't resist putting their own spin on things, which can totally disrupt the series for serious fans whom can be very unforgiving.
(click to enlarge) source: StockCharts.com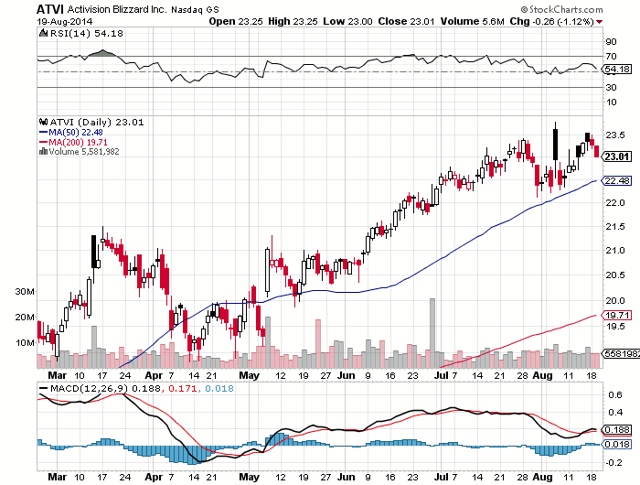 Click to enlarge
Recent Performance
Another challenge for Activision is it has been doing very well lately, up over 37% over the last 12 months. If it makes and releases films that don't pan out, it would take a big hit.
The company sees the strong potential for its franchises, but it's very cautious, maybe too cautious in going forward.
Bringing everything in-house is the answer, but then there can be no excuse if it flops. There are a lot of variables to consider when releasing films, including time of year, competition and the number of screens to have the film released on, along with the size of the marketing budget. All of this takes experienced people, and they, for the most part, don't exist at this time at the company.
Evidently the company is attempting to put together a team for that purpose, and that will be the key metric for investors to delve into as it would give the best hint at the chances for success.
In its most recent quarterly report, the company beat with revenue of $970 million. It also had an operating margin of 32% with earnings per share of $0.28. All on a GAAP basis. Non-GAAP it generated $658 million in revenue, with an operating margin of 17% and earnings per share of $0.06.
Operating cash flow in the latest quarter was $106 million, with free cash flow of $81 million. On a trailing 12-month basis, it generated almost $1.1 billion in operating cash flow. Cash and investments at the end of June were $4.2 billion. This is the major reason the company doesn't want to make any mistakes with its franchises if it takes on the very different film and television markets.
Management and its Outlook
There are a couple of important things to note about this possible venture, and that is the management has some strengths and weaknesses concerning launching into this, as evidenced by how cautious - almost to a fault - it has been with the World of Warcraft project, although that isn't under its direct control, so maybe it's an anomaly because of that.
What it's attempting to balance is the protection of its brands and the potential revenue and earnings a hit film franchise specifically could generate. Even a hit TV show could be a huge producer, especially if it has legs to it.
This is why I tend to think this is a true story, and the company is trying to put together a team it can trust with its franchises. As Marvel has already proven, when it's done right you can release hit after hit. Of course there is always a miss in there, but if a studio launches the right franchise in a quality way, it can gain momentum, and can take an occasional underperformer, as long as the major franchises perform as expected.
In other words, by not releasing films or TV shows, Activision is leaving potentially billions on the table. But as mentioned earlier, gamers are a fickle bunch, as are many readers, where a book or book series is made into a film. If they like it, it's a big plus for the company. If not, it not only results in potential film losses, but could damage the brand and bring about lower sales for the games.
At this time with Call of Duty sales dropping, it could be pressing management to take another step to boost interest in the franchise to a wider audience. On the other hand, Skylanders is doing very well, and would probably be targeted for a TV series if the company is in reality moving in this direction.
Franchise Strength
While sales have been down some with Call of Duty, it still remains a strong franchise that will do well for some time. As a matter of fact, its Call of Duty: Ghosts has done very well on the next-generation consoles, as has Skylanders SWAP Force.
What's even more exciting concerning Activision is its ability to create new franchises that provide it continuity and longevity. Among them are Destiny, Hearthstone, Diablo and Toys for Bob, among others.
The point is, whether it's in gaming, film or TV, the success in entertainment is the ability to produce a high percentage of hits to offset the occasional miss, or to add new impetus when a former popular franchise is slowly dying. I think of American Idol in that regard for 21st Century Fox, which has yet to find something to replace it.
So if Activision can perform at the levels it has with its games in film and TV, it will generate some serious earnings in the years ahead.
Conclusion
With about 140 million units of Call to Duty sold worldwide, and even though sales have slipped a little, it is still a powerful franchise you can see why management doesn't want to take steps which dilute the brand and cause it to slump by their own doing. The same goes with other franchises.
But it has a decision to make, and one that it is apparently working on, if we're to believe the reports.
I do like the way management is approaching the matter, maintaining a very cautious attitude as it attempts to put a team together it can trust with the brand. I would watch for who the creative types are, as I've been covering entertainment for years, and one thing I know, if a creative type is allowed too much latitude, that person will almost always take it in a direction fans and those who understand the franchise wouldn't want it to go. The creative people have to be willing to work in a more controlled and managed atmosphere than they're used to, otherwise it could become a disaster.
As for potential, both film and TV offer a lot, and even when measured against the risk, comes out on top to me.
And if it's able to successfully release a film or TV series, it offers potential for spin-offs and product sales that probably wouldn't have been available to it before.
My concern is if the company does take the step to create a studio, it may be so fearful that its interference could become a self-fulfilling prophecy, bringing about a disastrous film or TV series because it micro-managed to the point of taking the life out of the story.
Either way, this is an interesting story, although I wouldn't take any position in the company based upon it yet. I think it's probably true, but the cautious manner in which management is approaching the initiative could mean it could take several years for it to come to fruition, if it does at all.
There's no doubt to me it won't green light it if it can't bring the right people in. Again, to me that's the key once this is made pubic, assuming it goes forward. If the right people are brought in and it looks like a go, at that time I believe the share price will get a nice boost.
However it works out, it looks like shareholders are going to enjoy a solid second half of 2014, as the company expects potential records to be set, which will continue to be a strong catalyst over the next five months.
Disclosure: The author has no positions in any stocks mentioned, and no plans to initiate any positions within the next 72 hours.
The author wrote this article themselves, and it expresses their own opinions. The author is not receiving compensation for it (other than from Seeking Alpha). The author has no business relationship with any company whose stock is mentioned in this article.