JPR market research data came out today, and there were some encouraging data points leaning in AMD's (NYSE:AMD) favor, paired with news of AMD entering into the SSD market place.
The added uptake in GPU market share was driven by gains in APUs, which are both a CPU and GPU combined. APUs dominate the mid to low-end of the laptop market. APUs will continue to take up more share, as the combined packaging is much more efficient, and it helps to drive performance. While APUs aren't designed for intensive graphics applications, they're more than sufficient for casual gaming.

Source: JPR
AMD's market share increased from 16.7% to 17.9% between Q1 and Q2, which was driven by unit growth of 11.1% q-o-q. The growth was driven by the Kaveri APU, which has pretty outstanding performance specs when compared to current Intel (NASDAQ:INTC) generation APUs. Also, the discrete graphics saw meaningful improvements on the laptop spectrum, according to JPR:
AMD's shipments of desktop heterogeneous GPU/CPUs, i.e., APUs increased 16.7% from the previous quarter, and increased 10.3% in notebooks. AMD's discrete desktop shipments decreased 10.7% and notebook discrete shipments increased 30.6%. The company's overall PC graphics shipments increased 11%.
The discrete shipment growth was somewhat surprising, however APU acceleration was in-line, as AMD refreshed its product line-up.
However, what disappointed was the decrease in discrete desktop shipments, which was partially driven by faltering demand from crypto-currency miners. Nvidia's (NASDAQ:NVDA) discrete shipments also fell by 21% year-over-year. The decline in shipments from Nvidia was worse than AMD, however on a year-over-year basis, AMD has lost the most market share among the three companies. The longer-term trend still indicates that AMD is still struggling to hold onto the traditional PC market.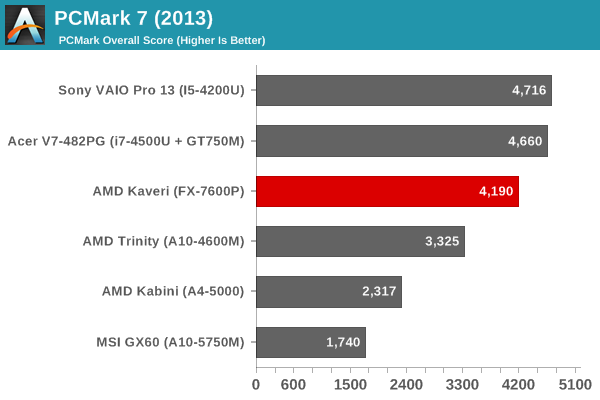 Source: Anandtech
When looking at CPU oriented benchmarks like PCMark7, the performance gets fairly close to i5-4200U, which is fairly impressive. The Kaveri is fairly price competitive.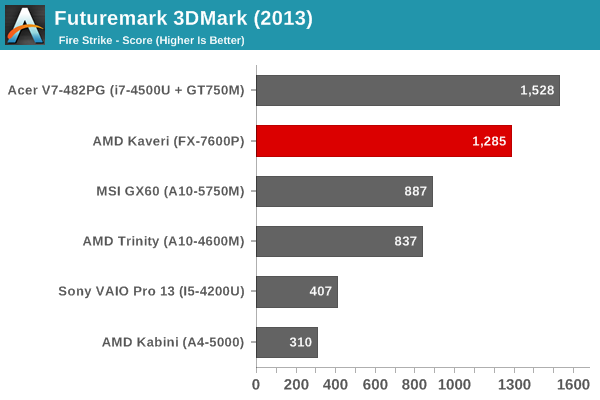 Source: AnandTech
When it comes to graphics, AMD Kaveri gets near the performance of the Acer i7 4500U that also comes bundled with the discrete GT 750M graphics card. Therefore, performance wise AMD is outdoing Intel on graphics. However, I anticipate that the transition to Broadwell will allow Intel to come up with a more superior GPU and CPU solution that also will be much more power efficient.
Therefore, I still lean in favor of Intel, and I reiterate my negative stance on AMD. I think the uptick in demand will be temporary, and if history has shown anything, AMD tends to get marginallized as Intel moves to lower nm-nodes.
Disclosure: The author has no positions in any stocks mentioned, and no plans to initiate any positions within the next 72 hours.
The author wrote this article themselves, and it expresses their own opinions. The author is not receiving compensation for it (other than from Seeking Alpha). The author has no business relationship with any company whose stock is mentioned in this article.