Grand Canyon Education, Inc. (NASDAQ:LOPE) provides post-secondary education services online, on campus, and onsite at third party locations. The University is accredited by a regional commission.
Education Expenses and Company Performance
The cost of tuition and fees at public universities in the U.S. has increased 27% since 2009 according to the College Board. Total expenses including tuition, fees, room and board rose 3.2% over the past year, the highest in 20 years. This increase is opening growth opportunities for lower tuition universities, such as Grand Canyon University which has not raised rates for on ground programs in four years. This strategy has paid off in a 12.7% increase in enrollment over last June compared to an overall decline in university enrolment of .8 percent, according to the National Student Clearinghouse Research Center. The company shares, as a result, have performed well in regards to its industry and compared to the S&P 500 (Exhibit 1).
Exhibit 1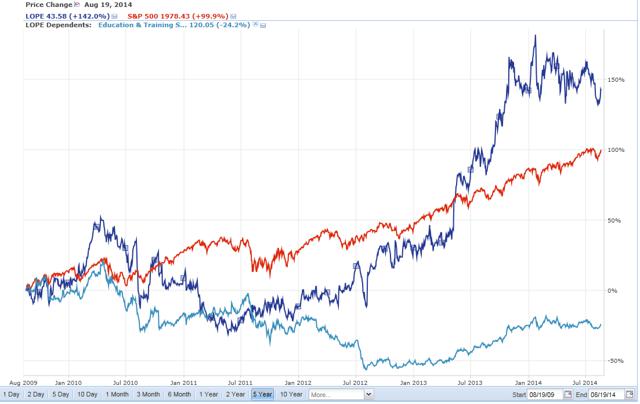 Click to enlarge
Source: Stock Rover
Fundamentals
Company fundamentals are acceptable on a historical basis. Operating margins remain stable and are at highs (Exhibit 3). Free cash flows continues to be positive, yet not as stable as I would like to see (Exhibit 4). Additionally, the company is adding value through operational efficiency (Exhibit 5) leading to 42.47% Cost of Sales to Sales ratio, down from 46.37% in 2010. This has contributed to annualized equity growth of 17% over the past 5 years. However, the recent decline in efficiency metrics is somewhat concerning and may indicate internal investment of capital is not rewarding investors with relatable returns.
Exhibit 3

Click to enlarge
Source: Stock Rover
Exhibit 4

Click to enlarge
Source: Stock Rover
Exhibit 5

Click to enlarge
Source: Stock Rover
Valuation
Industry Analysts have raised their opinion on the company (Exhibit 5) and hold an average target price of $51.67 (Exhibits 6). Price to earnings is attractive, albeit somewhat higher, but remains 25% lower than its peers. Price to sales, however, is unappealing at 3.3 (Exhibit 7).
Exhibit 5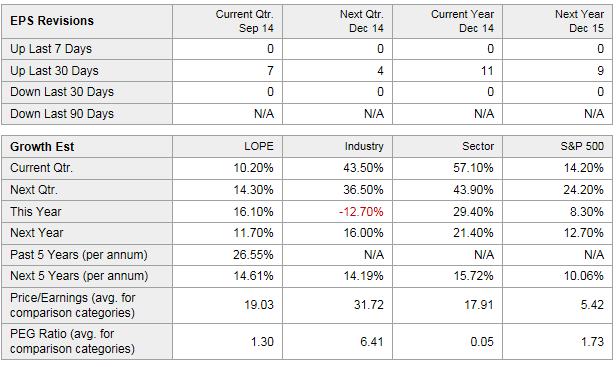 Source: Yahoo Finance
Exhibit 6

Exhibit 7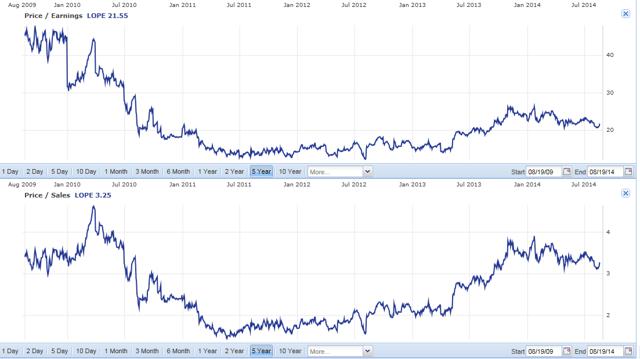 Click to enlarge
Source: Stock Rover
Using a discounted cash flow analysis supported by comparable multiples valuation gives us an estimated equity value per share of $48.33 or 11% above current prices. Additionally in respect to its industry, LOPE is undervalued according to EV/EBITDA by 23%
Investment Opinion
Grand Canyon Education has many obstacles ahead, the most important is increased competition from well-established universities entering the online education market in addition to emerging nontraditional education programs such as massive open online courses. Furthermore, as the national job market recovers, overall enrollment may continue to decline.
However, considering the growth in total charges at public institutions, the company is poised to benefit with its student friendly policies as well as burgeoning online enrollment. Additionally, extensive community involvement and a focus on brand recognition continue to contribute to local and online growth. Furthermore, impressive enrollment, solid fundamentals and participation in a growing market situates Grand Canyon Education in a great position to experience further growth. Buying shares at current prices is interesting and will position a portfolio to benefit in the growing online education industry. However, investment in the industry at this point require patience as prices should fluctuate a bit as investors digest recent price moves and justify LOPE's valuation in regards to its industry and the market as a whole.
Disclaimer: Michael Lee is an investment strategist at Long Street Capital Management, LLC ("LSCM"). This article is prepared by Mr. Lee as an outside business activity. As such, LSCM does not review or approve materials presented herein. The opinions and any recommendations expressed in this article are those of the author and do not reflect the opinions or recommendations of LSCM
None of the information or opinions expressed in this article constitutes a solicitation for the purchase or sale of any security or other instrument. Nothing in this article constitutes investment advice and any recommendations that may be contained herein have not been based upon a consideration of the investment objectives, financial situation or particular needs of any specific recipient. Any purchase or sale activity in any securities or other instrument should be based upon your own analysis and conclusions. Past performance is not indicative of future results. Either LSCM or Mr. Lee may hold or control long or short positions in the securities or instruments mentioned.
Disclosure: The author has no positions in any stocks mentioned, and no plans to initiate any positions within the next 72 hours.
The author wrote this article themselves, and it expresses their own opinions. The author is not receiving compensation for it (other than from Seeking Alpha). The author has no business relationship with any company whose stock is mentioned in this article.