By David Russell
Bears usually stay north of the Rio Grande, but some of them are heading south of the border today.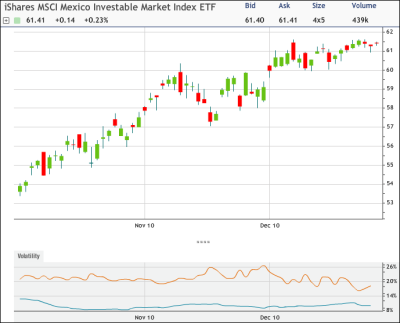 optionMONSTER's Depth Charge tracking system detected heavy put buying in the iShares MSCI Mexico Investable Market Index (NYSEARCA:EWW) exchange-traded fund, which has been staging a quiet rally. Most of the activity focused on the January 61 contracts, which traded more than 9,400 times against open interest of just 623.
Premiums rose from about $1 to as much as $1.32, despite the fund barely moving. That price action suggests strong demand for the puts. The January 60s were also purchased for $0.82 to $0.94, although volume was below open interest.
EWW is up 0.23 percent to $61.41 in morning trading, having risen 15 percent in the last three months. That outpaces the performance of better-known emerging markets such as China and Brazil over the same period.
The fund has now returned near the same levels where it peaked in late 2008 before the collapse of global equity prices. It must lose 2-3 percent of its value by expiration for the puts to turn a profit.
The activity pushed total option volume in EWW to 9 times greater than average, with puts outnumbering calls by 19 to 1.

Disclosure: No position