Sorrento Therapeutics (NASDAQ:SRNE) is a clinical stage biopharmaceutical company focusing on novel treatments for cancer. On August 11th, 2014, data from Sorrento's MYC inhibitor were published in the Proceedings of the National Academy of Sciences (PNAS) and demonstrated the ability of Sorrento's MYC inhibitor, KJ-Pyr-9, to inhibit MYC-induced cancer cell growth in vitro and in vivo. KJ-Pyr-9 is licensed from The Scripts Research Institute and funded by a recent Phase 1 Small Business Technology Transfer award from the National Cancer Institute (NYSE:NCI) at the National Institutes of Health (NIH).
The MYC protein has been a key drug target of scientists for more than a decade in the fight against cancer. MYC is abnormally up-regulated in cancer and is suggested to be a key factor in the growth of breast, lung, colon, blood and various other cancers. Developing a MYC inhibitor has been difficult due to its importance in normal biologic processes and its unique structure. Inhibiting this protein systemically could result in wide spread toxic side effects. Furthermore, inhibiting the MYC protein itself has deemed difficult due to its unique structure that lacks viable binding sites for traditional small molecule inhibitors. The most well accepted strategy for inhibiting MYC is to disrupt its interaction with MAX, a protein that is required for MYC to become fully functional in a cell. Until this publication of Sorrento's technology, previously developed MYC inhibitors lacked efficacy in animal models.
In the report1, a library of potential MYC-MAX disrupting compounds was evaluated and KJ-Pyr-9 was identified as a lead drug candidate. KJ-Pyr-9 was determined not only bind to the MYC-MAX protein complex, but it also disrupted the interaction between MYC and MAX in the cellular environment. Growth inhibition studies further revealed that KJ-Pyr-9 inhibited growth of human cancers that exhibit high levels of MYC including Burkitt Lymphoma, leukemia, lung, and triple negative breast cancer. To evaluate the potential of KJ-Pyr-9 as a therapeutic the investigators then pursued animal studies using implanted human triple negative breast cancer. Triple negative breast cancer is one of the most difficult cancers to treat as it does not respond to conventional therapies and highly expresses MYC. The data indicate that KJ-Pyr-9 halted tumor growth (volume and weight) compared to placebo, decreased MYC activity and exhibited no toxic side effects to the animals (Figure 1). This is the first report of its kind to show that a MYC inhibitor can inhibit tumor growth in an animal model of cancer. Previous animal studies using MYC inhibitors failed due to toxicity and efficacy issues, thus this report signifies a leap forward in the development MYC inhibitors for treatment of cancer. Further studies are needed to assess the safety and efficacy of the KJ-Pyr-9 candidate before human trials can begin.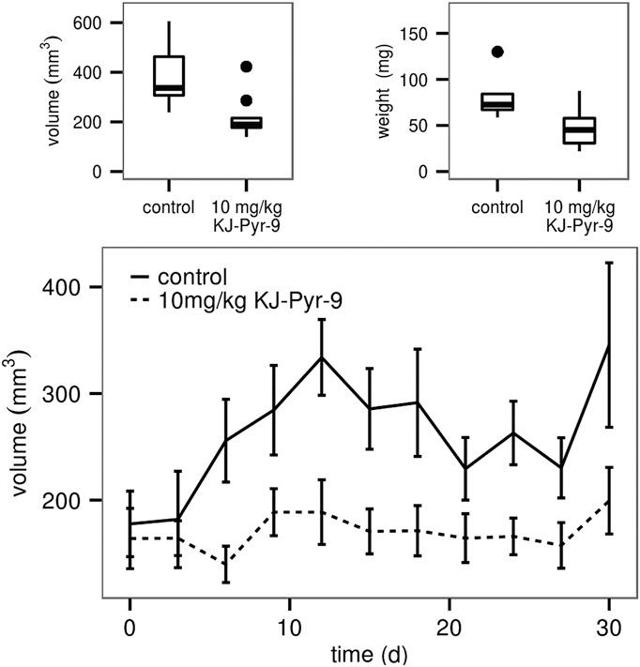 Figure 1: KJ-Pyr-9 Inhibits tumor growth in an animal model of triple negative breast cancer1
Market Potential
If future studies using Sorrento's KJ-Pyr-9 indicate that it can safely and effectively reduce tumor burden, Sorrento could potentially be a hidden gem in terms of market value. As previously mentioned, an increase in MYC function is observed in almost all human cancers; therefore, KJ-Pyr-9 could potentially be used in any cancer expressing elevated levels of MYC. The PNAS article reported that KJ-Pyr-9 is cytostatic rather than cytocidal which not only could reduce toxic effects, but also opens up combinational therapies and potentially sets the stage for a strategic partnership. In addition, it is interesting to note that Pfizer originally funded this research more than a decade ago, but abandoned the project due to restructuring. Now that KJ-Pyr-9 is the first MYC inhibitor to show anti-tumor activity against one of the most sought after cancer targets in history, Sorrento may also become an attractive target for acquisition. It is important to realize that the approval of KJ-Pyr-9 is years away from its current preclinical stage and will require substantial capital as well as passing the regulatory hurdles to advance to the clinic.
In addition to KJ-Pyr-9m, Sorrento has a growing pipeline of cancer and cancer pain therapeutics (Phase I, II, and III candidates). Currently, it is conducting a Phase 3 bioequivalency (BE) crossover trial with CYNVILOQ™ for the treatment of metastatic breast cancer and non-small cell lung cancer. The BE designation with the FDA allows for a smaller and shorter clinical trial that provides an accelerated approval pathway and would allow Sorrento to enter into a billion dollar market in the near term. With the likelihood that CYNVILOQ™ will be approved and the potential of KJ-Pyr-9, Sorrento may be significantly undervalued at its current market cap of just $158 million and a share price of $5.54. We believe that Sorrento may be a viable long term investment in the biotechnology space.
1"Inhibitor of MYC identified in a Kröhnke pyridine library."
Disclosure: The author has no positions in any stocks mentioned, and no plans to initiate any positions within the next 72 hours.
The author wrote this article themselves, and it expresses their own opinions. The author is not receiving compensation for it (other than from Seeking Alpha). The author has no business relationship with any company whose stock is mentioned in this article.