Universal Display Corp (NASDAQ:OLED) researches, develops, and brings to market organic LEDs - OLEDs. To minimize confusion, Universal Display Corp will be referred to as UDC and not OLED.
What are OLEDs used for? How are they better?
The immediate market for OLEDs is displays as an alternative to LCD displays. OLEDs are used in smart phones, computers, tablets, and TVs. OLEDs advantages over LCDs:
Thinner and lighter displays
Better picture - faster response rate, better contrast, brightness, and wider field of view
More energy efficient
Form-Factor - OLED displays can be curved and flexible
For the current markets the first 3 points are more important, but the form-factor is the most exciting for long-term growth. The form factor allows displays to be fold-able, roll-able, or fit to car windshields. For those of you who have seen the movie "Minority Report," OLEDs are the technology that can turn some of that into a reality - not so much the catching criminals before they are criminals thing, but you get the point.
OLEDs are not without disadvantages. OLEDs are presently more expensive, susceptible to water damage, and the blue diodes have a relatively short lifespan in comparison to green and red.
Despite the subjectivity, the cultural impact of consumerism and "keeping up with the Jones'" can positively affect OLED display adoption too. Note that OLED displays are not a fad or concept product like 3D TVs, they are simply a better version of LCD TVs.
For more information, Ron Mertens is far more intelligent in matters regarding OLEDs. Read one of his previous two articles - 1st and 2nd- or visit his website for a broader, deeper understanding of OLEDs.
Market Size for UDC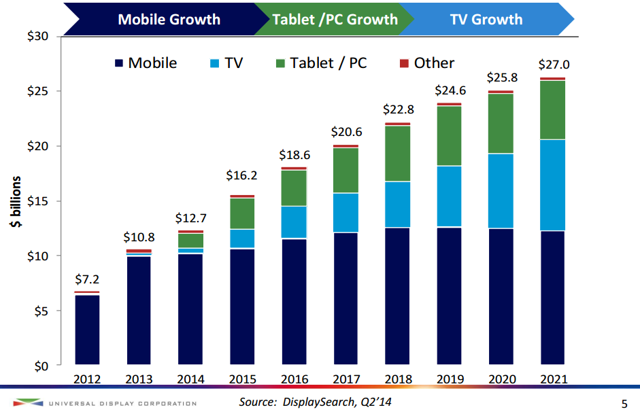 Click to enlarge
Source: OLED Investor Presentation - Aug '14
The 11.4% CAGR through 2021 is not incredibly high. I'd argue the "other" category underestimates the potential of unknown markets. Think about items like smart watches, Google Glass, and applications such as windshield displays. All in all, the 11.4% growth is a safe estimate for the sector.
Qualcomm (NASDAQ:QCOM) Model for OLEDs?
Here is how QCOM dominates mobile phones. They developed an extensive patent portfolio granting them licensing rights for all 3G phone sales. The by-product of this research and IP is a deep knowledge of processors leading to dominance in sales of processors too. QCOM revenue is 2/3 product sales and 1/3 licensing. Operating income is flipped - 1/3 products and 2/3 licensing - due to high margin nature of licensing.
Replace a few words in that paragraph and you get UDC's business model. UDC is set to dominate OLED displays given an extensive patent portfolio granting them many licensing rights. This knowledge is also leveraged in sales of OLED materials. UDC generates 2/3 of revenue from materials and 1/3 from licensing. Operating income by segment is not given on UDC, but it is not a leap of faith to assume similar figures as QCOM.
Growth, Margins, and Cash Positions
UDC was operating at a loss until 2011, but since then EBIT has grown at 158.9% CAGR. The magnitude of this is over-stated given the small base to grow from in 2011, but remains a positive indicator. Revenue growth in the same period was 54.6%.
UDC management projects 2014 growth between 30% and 40% with consensus estimates on the high end.
| | | |
| --- | --- | --- |
|   | 2013 | Past 3 Years |
| Gross Margins | 80.4% | 86.8% |
| Operating Margins | 26.1% | 19.8% |
Gross margins dropped in 2013 as material sales grew 115% causing COGS to spike. Operating margins grew due to economies of scale. R&D, as percentage of revenue, has decreased from 71% in 2010 to 23% in 2013 - despite R&D growth of 16.4% CAGR.
UDC has no debt and carries $1.52 in cash per share. Management plans to put this cash to use by initiating a $50M buyback plan in 2013.
Valuation:
Given OLED display market growth, addition of new clients, continued leverage of IP, and small base to grow from; UDC should see low end revenue growth of 25% over the next 5 years. Margins should hover between 25% and 30% as fixed costs are spread.
Using a DCF model with a 10% discount rate, 25% growth over next five years, 5% long-term growth, and leveraged CF - over net earnings; UDC has a fair-value of $73.73. This valuation has a margin of safety of 120%.
I view the above outcome the most probable, thus, assign it a 60% probability. *or within a reasonable range of this outcome
To be complete, let's play out other possible scenarios.
| | | | |
| --- | --- | --- | --- |
|   | Est. Growth | DCF Value | Expected Value |
| 60% | 25% | $73.73 | $44.24 |
| 10% | 5% | $22.57 | $2.26 |
| 10% | 50% | $176.25 | $17.63 |
| 20% | 15% | $49.86 | $9.97 |
If you add up the expected value, you get the total expected value of all outcomes listed. This results in total expected fair-value of $74.10.
Other outcome details:
Downside scenario - 5% growth - is UDC's IP is not as powerful as expected which severely limits licensing growth. At the same time, materials sales drop due to Samsung finding another supplier. This would result in minimal growth, say 5%, and bring with it cash flow problems. This is unlikely, but let's assign it a 10% probability. UDC fair-value under this scenario would be $22.57.
Overly optimistic scenario - 50% growth - is UDC dominates OLED with IP, adds several of the big display guys - i.e Sony, Motorola, Panasonic, etc - and the OLED market booms. This results in UDC growing at 50% for the next five years and a fair-value of $176.25. Let's assign 10% probability to this scenario as well.
The conservative 20% scenario - 15% growth - is a mix of positive news and setbacks resulting in 15% growth over the next five years. UDC would be valued at $49.86 under this outcome.
*Valuation multiples - P/E, EV/EBIT are difficult to use in UDC's case given the limited track record of positive earnings. Despite the difficulty, UDC has a P/E of 18 with earnings growth on track to perform well above what the multiple indicates.
Risks:
UDC has one client, Samsung, that accounted for 85% of 2013 revenue, but has recently added LG Displays
Nature of technology companies, especially those reliant on intellectual property
High reliance on PPG Industries to produce needed materials
Potential lack of consumer interest in OLED TVs at current price point
Recommendation:
With all above factors considered, I strongly recommend UDC as a "BUY."
Disclosure: The author is long OLED.
The author wrote this article themselves, and it expresses their own opinions. The author is not receiving compensation for it (other than from Seeking Alpha). The author has no business relationship with any company whose stock is mentioned in this article.