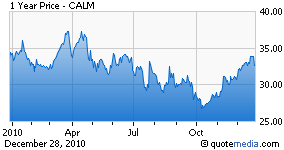 Jackson, Mississippi-based Cal-Maine Foods Inc (NASDAQ:CALM) posted second-quarter 2011 earnings of 63 cents per share, which were well below the Zacks Consensus Estimate of 72 cents and year-ago quarter's earnings of 67 cents. The company reported lower-than-expected profit due to higher feed costs, which the company said would remain a concern in fiscal 2011 as well.
Inside the Headline Numbers
Total revenue in the quarter under review rose 2% year over year to $234.5 million, driven by stronger pricing. However, it missed the Zacks Consensus Estimate of $238 million. The largest U.S. producer and distributor of fresh-shell eggs said that in spite of challenging economic conditions, specialty-egg sales grew 15.5% per dozen.
Gross income increased 3.4% from the prior-year quarter to $45.2 million and gross margin contracted 110 basis points (bps) year over year to 19.3%, mainly on account of a rise in feed cost. During the quarter, feed cost per dozen produced increased 11.5% year over year to $0.387.
Operating income grew 10.4% year over year to $22.8 million, while operating margin dropped 140 bps year over year to 9.7%.
Financial Position
Cal-Maine ended the quarter with cash and short-term investment of $167.8 million, long-term debt of $98.3 million and shareholder equity of $389.7 million. The company also announced a dividend of 21.2 cents per share during the quarter. The dividend will be paid on February 10, 2011, to shareholders of record as on January 26, 2011.
Our Take
Given the company's earnings miss and escalating feed cost, we expect estimates to drop down in the coming days. The Zacks Consensus Estimates for 2011 and 2012 are $2.77 and $2.99, respectively.
One of Cal-Maine's primary competitors, Del Monte Food Co. (DLM) posted second quarter 2011 earnings of 41 cents per share, which outpaced the Zacks Consensus Estimate of 35 cents.
Cal-Maine engages in the production, grading, packaging, marketing and distribution of shell eggs primarily in about 29 states across the southwestern, southeastern, mid-western and mid-Atlantic regions of the U.S. The company also produces and markets specialty shell eggs, under the Egg-Land's Best, Farmhouse and 4-Grain brands.
Disclosure: No position