The best time to invest is often when the primary emotion driving shareholders of a company or group of companies is fear. When fear is in the air, sellers often do not care about the price that they are selling at. Some of the best investments that I have made have happened in situations where fear is pervasive around a company or group of companies. A recent example is when I bought a basket of deep water focused companies (drillers and producers) during the BP (NYSE:BP) Macondo oil spill.
Publicly traded companies with any ties to offshore oil and gas production took a hard hit on the news of the spill. It is hard to imagine now but back then there was serious talk that deepwater drilling would never be allowed again.
The media with its 24 hour a day coverage of the spill certainly did its best to create even more fear.
It wasn't easy to buy those stocks at that time, and I can tell you I wasn't certain that it wasn't a big mistake. I took a deep breath and took the plunge. I made more off of those investments in 9 months than I have in the four years since.
But don't think that I'm suggesting that we all become ambulance chasers and buy the most heavily sold off companies without regard to the actual facts of the situation.
Because some of the worst investments I have ever made are when I've bought stocks that the rest of the market was terrified of. Sometimes stocks are hated for good reason.
Today fear surrounds oil producers operating in one specific region.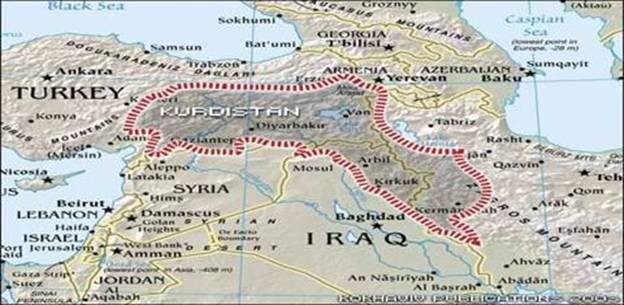 I'm talking about independent companies that are operating in the semi-autonomous region of Kurdistan in Northern Iraq. I think this fear is creating an opportunity for the patient investor.
Kurdistan has what every oil producer would dream to have. Conventional oil reserves that number in the billions of barrels. These are the types of plays that can be developed with conventional low cost vertical wells that flow at prolific rates.
The economics of producing these barrels of oil puts the horizontal wells that we drill here in North America to shame. These are the types of barrels that oil producers were able to turn a profit on when oil was $20 per barrel. I don't know if you noticed, but oil isn't $20 per barrel any more.
Kurdistan is loaded with high-end oil assets. Unfortunately, developing these barrels of oil involves companies investing dollars in what could eventually be the middle of a war zone.
The country of Iraq is once again in a state of turmoil. A radical Islamic group called ISIS is bringing terror to the northern parts of the country. This group is so extreme they have been disowned by Al Qaeda.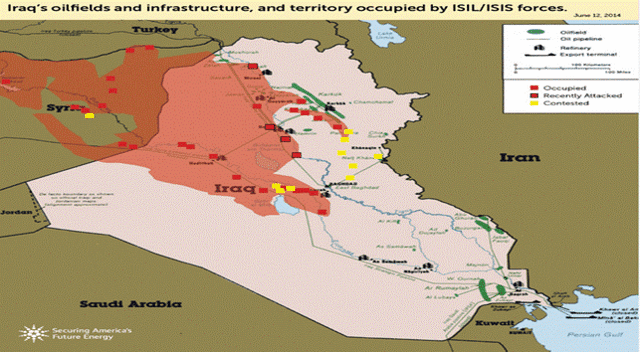 Click to enlarge
Source of image: Securing America's Energy Future
The goal for ISIS is to establish a caliphate (Islamic State) in Iraq and Syria. So far, they have successfully captured a wide swath of land that includes many northern cities.
Kurdistan borders to the north of the edge of the region where ISIS has control. You can see that in the image above.
I wouldn't necessarily want to put a large portion of my portfolio into these companies focused on Kurdistan, but I think small positions might be rewarding.
For patient investors I believe that over time, conditions in Iraq will simmer down and stock prices of these companies rebound. I don't believe that the United States will allow the Kurdistan region to fall to ISIS.
That rebound could be significant.
Genel Energy (OTCPK:GEGYF)

Click to enlarge
With the turmoil that is going on and the collapse in share prices, I'm pretty interested in all of the independent companies that are focused on Kurdistan.
The class of this field is likely Genel Energy. Genel has the most booked reserves and production in the region.
In the Kurdistan Region of Iraq, Genel has four world class assets. Two are oil assets and two are natural gas.
Two Oil Assets And They Are Big Ones - Taq Taq and Tawke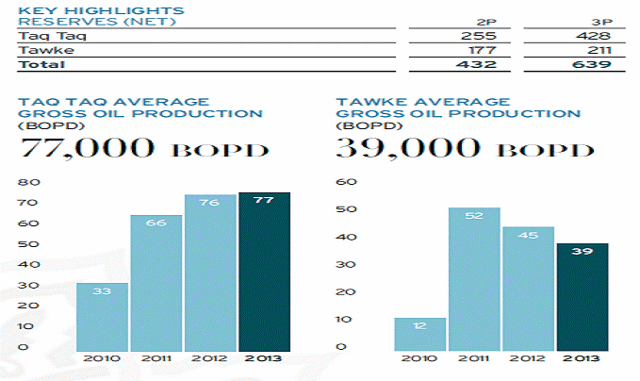 Click to enlarge
Genel has interests in the two largest producing fields in the Kurdistan Region of Iraq called Taq Taq and Tawke. These fields are able to sell oil both to local and international markets.
Combined, these fields have a currently estimated gross proven and probable (2P) reserves of 1.3 billion barrels of oil (453 mmbbls net to Genel Energy) and gross proven, probable and possible reserves of 1.8bn boe (639 mmbbls net to Genel Energy).
Genel is targeting material production capacity growth at both fields to achieve production of 200,000 gross bopd at both fields in 2014.
Taq Taq
The Taq Taq licence area is situated in the Zagros basin where large, elongated anticlines dominate. The Taq Taq licence area is located 60 km northeast of the Kirkuk oil field and the adjacent city of Kirkuk, 85 km southeast of the city of Erbil and 120 km northwest of the city of Sulaimaniyah. The gross area of the Taq Taq licence area is approximately 951 square km.
There are four oil bearing zones that have been discovered in the Taq Taq field, one in the Oligocene Pilaspi formation and three in the Upper Cretaceous Shiranish, Kometan and Qamchuqa formations. The producing Cretaceous reservoirs contain a light, very low gas-to-oil ratio with an API gravity of 48 degrees.

Click to enlarge
Genel has a 44% working interest in the field, which is under a joint operatorship agreement. The 2P reserves on the field are 579 million barrels (255 million net to Genel) and the 3P reserves are 974 million barrels (428 million net to Genel).
There are currently 15 producing wells at Taq Taq, and the current production capacity of the field is 120,000 barrels per day, with construction of the second central processing facility on track to increase this to 200,000 barrels per day by the end of 2014.
Gross production from Taq Taq averaged 92,000 bopd in H1 2014 and 113,000 bopd in June of the year. Net to Genel production from Taq Taq looks like this:
1st Half 2014 - 44% of 92,000 is 40,480 barrels per day
June 2014 - 44% of 113,000 is 49,720 barrels per day
Target Year End 2014 - 44% of 200,000 is 88,000 barrels per day
Around 60% of production in the first half was sold in the domestic KRI market, with the remainder trucked through Turkey for export or supplied into the KRI-Turkey pipeline.
Tawke
The Tawke field produced an average of 39,000 bopd in 2013, compared to 45,000 bopd in 2012. Production was reduced year on year as export markets remained closed and domestic market demand decreased due to pricing sensitivity.
Since then production has increased dramatically.
The operator (DND international) of the Tawke field announced in June 2014 that production reached 120,021 bopd in May 2014, the first time average monthly production has exceeded 100,000 bopd. May production was split 60-40 between local sales and deliveries to the export pipeline at Fishkhabur.
Production began from two newly completed horizontal wells, at a combined rate of 37,000 barrels per day, in March 2014. That is a staggering number when you consider that a big booming North Dakota Bakken well might hit 1,000 barrels per day.
In one of the new wells, Tawke-21, eight productive fracture corridors penetrated by a 980-meter horizontal section in the main Cretaceous reservoir interval flowed an average rate of 9,700 barrels per day each. In the other well, Tawke-22, located six kilometers away, seven productive fracture corridors penetrated by an 800-meter horizontal section flowed an average rate of 8,800 barrels per day each. Both wells are subject to wellbore and surface facilities limitations.
Two previous Tawke horizontal wells came on production in the second half of last year, three wells are currently drilling and two more are scheduled which, together with Tawke-21 and Tawke-22, will bring the total number of horizontal wells in the field to nine by the end of 2014.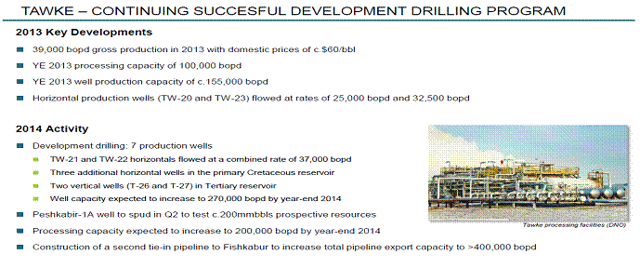 Click to enlargeGenel has a 25% working interest in the field, which is under a joint operatorship agreement. The 2P reserves on the field are 708 million barrels (177 million net to Genel) and the 3P reserves are 843 million barrels (211 million net to Genel).
Well capacity is expected to reach 270,000 barrels per day by the end of the year, 67,500 of that would belong to Genel.
Around 70% of production in the period was sold in the domestic market, with the remainder supplied into the KRI-Turkey export pipeline.
Two Giant Natural Gas Siblings - Miran and Bina Bawi
MIRAN
Genel Energy has a 75% interest in the Miran discovery, which is one of the largest undeveloped gas discoveries in the Kurdistan region. The field has independently audited mean contingent resources of 3.5 tcf of recoverable gas and 60 million barrels of oil and condensate.

On 1 September 2013, the KRG (Kurdistan Regional Government) approved the Declaration of Commerciality for the Miran field. On 23 February 2014, the KRG notified the Company of its intention to exercise its option to take a 25% interest in the Miran PSC, thereby reducing Genel Energy's interest from 100% to 75%.
It can't be a bad thing to have the Kurdish Government as a partner who is very motivated to get this field producing.
A fundamental driver for Miran is an ability to access attractive gas markets, with the main focus on the large and fast growing Turkish market. Turkey has little domestic production and is therefore one of the world's top importers of natural gas. Gas from the Kurdistan Region of Iraq provides the Turkish Government with an opportunity to meet its domestic demand requirements, as well as achieve its stated goal of diversifying sources of supply.
In November 2013, the Government of Turkey and the KRG signed a Gas Sales Agreement governing the export of natural gas from the KRI to Turkey. The GSA calls for an initial 4 bcma (billion cubic meters per annum) of gas exports from 2017, rising to 10 bcma by 2020 and the option of increasing to 20 bcma thereafter. Miran and Bina Bawi will be anchor suppliers under the GSA - a significant milestone in the commercialisation of the major gas resource in both fields.
Discussions with the KRG are now underway to finalize a Gas Sales Offtake Agreement for the Miran field.
BINA BAWI
Genel Energy has a 44% non-operated stake in the Bina Bawi licence, which lies immediately northwest of the Taq Taq licence. A Declaration of Commerciality was submitted to the Ministry of Natural Resources of the KRG in March. An extended well test on the Bina Bawi-3 well commenced production in March 2013.

A Competent Person's Report commissioned from RPS Energy estimates gross mean contingent gas resource for Bina Bawi at 4.9 trillion cubic feet, confirming the world-class scale of the field.
Management believes that, when combined with Miran, Bina Bawi is well placed to anchor the 10 bcma of export volumes from the KRI to Turkey by 2020, as envisaged in the GSA signed between Turkey and the KRG in November 2013.
This means Genel has a 44% interest in 4.9 trillion cubic feet of recoverable gas.
Together, the Miran and Bina Bawi discoveries hold independently audited gross mean contingent resources of 8.4Tcf. The Company continues to believe that this resource will be the anchor supplier for the Gas Sales Agreement the KRG signed with the Government of Turkey in November 2013. The GSA calls for an initial 4 bcma of gas exports from 2017, rising to 10 bcma by 2020 and the option of increasing to 20 bcma thereafter.
In Genel's Back Pocket - High Impact Exploration Both In Kurdistan and Africa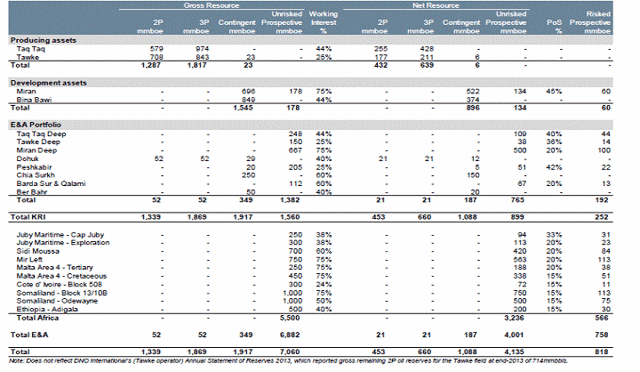 Click to enlarge
Source of image: Genel May 2014 Presentation
The table above shows not only the booked and possible reserves at the main Kurdistan properties that I have already referenced, but also the upside potential that the company has through exploration.
Draw your attention to the right side of the table, which details the net reserves/resource/potential that belongs to Genel.
So here is what we know about Genel:
2P Reserves - 453 million barrels
3P Reserves - 660 million barrels
All of these reserves are in Kurdistan and they are virtually all producing oil.
On top of that, there is exploration potential through targets that have yet to be drilled.
Kurdistan - 899 million barrels of prospective, 252 million when risked chance of success is factored
Africa various countries - 3.2 billion barrels of prospective, 566 million when risked chance of success is factored in.
Kurdistan is clearly where the bulk of Genel's value currently lies given that it is producing and has booked reserves, but Africa also has big potential.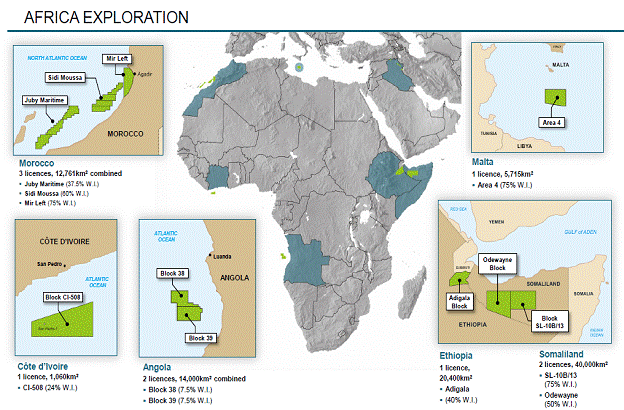 Going forward Genel plans to drill 4 or 5 exploration wells per year. The focus will be on big prospects with 250 million plus barrels of potential and a possibility of success estimated to be greater than 20%.
Balance Sheet - Finances
Genel finds itself with a pretty decent looking balance sheet.
At the end of the last reporting period (March 2014) Genel had $600 million of cash and debt that consists of $500 million unsecured bonds.
Cash flow in the first half of 2014 was $115 million and EBITAX was $138 million. Both of these figures are strangely low compared to the prior year when consideration is given to the fact that production has increased by roughly 50% year on year.

Click to enlarge
The cash flow decrease relates to the fact that 2013 benefited from an increase in payables and a decrease in receivables. EBITAX has not increased as much as expected because operating costs have increased by $20 million beyond the increase that would have been expected because of higher production.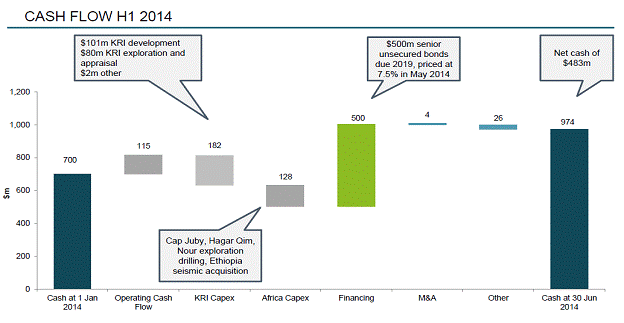 For the year Genel will outspend cash flow with capex guidance of $550 million to $600 million and cash flow which is likely going to come in at somewhere around $250 million. That shortfall is covered by the $500 million of unsecured bonds issued in May of 2014.
As the natural gas fields get closer to development I would look to see Genel monetize some of that value. The company's stated goal is maximize the value of the Kurdish assets on a cash flow neutral basis. That should mean that years where spending outstrips cash generation should be few and far between.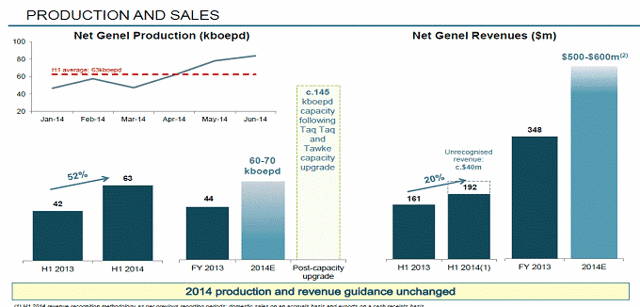 Click to enlarge
Recent Turmoil And Buyback
The recent events with ISIS have created the drop in Genel's share price. The most recent company update on the status of operations came August 8th:
Following recent events in the vicinity of the Kurdistan Region of Iraq ('KRI'), Genel Energy plc can confirm that the Taq Taq and Tawke fields remain safe and secure. Operations there are unaffected, with combined gross production from both fields averaging c.230,000 bopd this week.

We remain confident in the Kurdistan Regional Government's ability to maintain the territorial integrity of both the KRI and oil infrastructure.

In line with moves by other operators, we are taking the prudent and precautionary step of withdrawing non-essential personnel from our non-producing assets in the region. Source
Worth noting is that the company also acted on the recent drop in its shares by repurchasing 308,000 shares. This only represents 0.11% of the total shares outstanding so it would appear to be more of a message from management rather than an opportunistic move.
Valuation
Genel's shares have taken it on the chin in recent weeks, but that doesn't necessarily mean that they represent good value.
Current price on the London Exchange: 830 pence or 8.30 pounds ($13.77 per ADR)
Shares outstanding: 280 million
Market Capitalization: £2.3 billion
Net Current Assets: £400 million (basically net cash)
Enterprise Value: £1.9 billion
In US dollars: $3.2 billion
The American Depositary Receipt ratio for Genel Energy is 1 ADR to 1 Ordinary share. A GBP market cap of £2.3 billion is a USD market cap of $3.8 billion (converted at 1.66).
With 280 million shares outstanding that creates an ADR price of $13.57.
So for this enterprise value of $3.2 billion what do we get?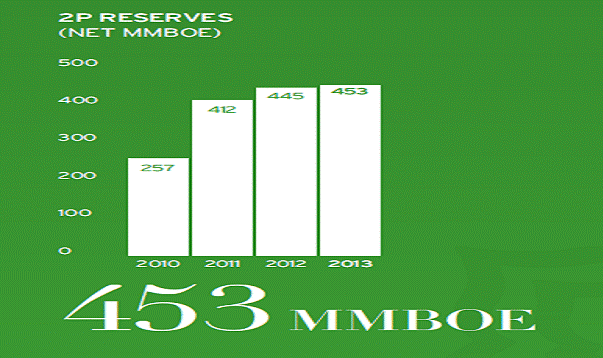 The core of the value of this company is the 453 million barrels of proven and probable conventional oil reserves. With a $3.2 billion enterprise value we can purchase those reserves for $7.06.
If Genel was operating in North America or any region that is remotely stable, $7.06 per proved and probable barrel of oil reserves would almost certainly be an incredible value. Most arm's length purchases of similar reserves would happen at three times that price.
But this isn't a stable region, these assets are on the edge of what is likely the least stable area on the planet.
But we get more than the 453 million barrels of proved and probable reserves at the current price. We also get the following:
- Another 207 million barrels of possible reserves at Taq Taq and Tawke
- 522 million barrels of oil equivalent of contingent natural gas resource at Miran
- 374 million barrels of oil equivalent of contingent natural gas resource at Bina Bawi
- 765 million barrels of unrisked prospective exploration resource within Kurdistan
- 3.2 billion barrels of unrisked prospective exploration resource in several African opportunities
Miran and Bina Bawi in particular figure to be very valuable assets over time as they are going to be key to providing the natural gas required under the agreement between Kurdistan and Turkey. We are likely talking about 6 trillion cubic feet of recoverable natural gas from these two properties so it seems their value over time could prove to be several billion dollars.
My opinion is that paying $7 per barrel of conventional oil reserves even in Kurdistan is reasonably attractive on its own. When you factor in the other assets that don't seem to be receiving any sort of valuation from the market the price looks even better.
I'm also long-term bullish on oil, and I believe these rare, huge conventional oil assets are going to become more valuable over time.
Management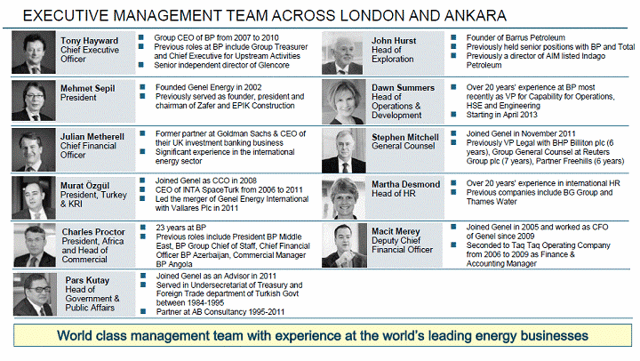 Click to enlarge
Risks
This is a solid company, with a solid balance sheet, an experienced management team and some savvy shareholders.
But none of that matters if ISIS rolls over Kurdistan, or if Kurdistan and Iraq were to someday find themselves in conflict. This is an unpredictable part of the planet. Kurdistan itself has been quite stable and predictable, but it is very, very close to the worst of it.
Because of that there is a much higher level of political and physical risk here than there normally is.
By owning this company I'm betting that over time things in this region will get better and that Kurdistan specifically will weather the current storm.
These are world class assets that are situated beside the worst neighborhood on the planet. Bad things could happen.
That is why the entry price of $7 per barrel of 2P reserves with huge upside is available.
Disclosure: The author is long GEGYF.
The author wrote this article themselves, and it expresses their own opinions. The author is not receiving compensation for it (other than from Seeking Alpha). The author has no business relationship with any company whose stock is mentioned in this article.