To take a quote from Bloomberg, "Follow the money." Analysing the flow of money can help when determining when to buy. But it is important to do fundamental analyisis on the stock to confirm if it is a good buy. Here is the analysis on one stock, Bioanalytical Systems (NASDAQ:BASI), a service and equipment provider to the pharmaceutical, medical, and biotechnology sector. New drugs are always being developed, and the company provides the services and equipment to make this happen.
Money flow (MF) = number of shares traded X change in closing price
Positive money flow = money flow on up days
Negative money flow = money flow on down days
(Click to enlarge)
General consensus says an MFI (money flow index) of 80 is overbought and an MFI of 20 is oversold. MFI goes down where there is greater negative money flow than positive money flow.
Below is an example using First Solar's (NASDAQ:FSLR) chart.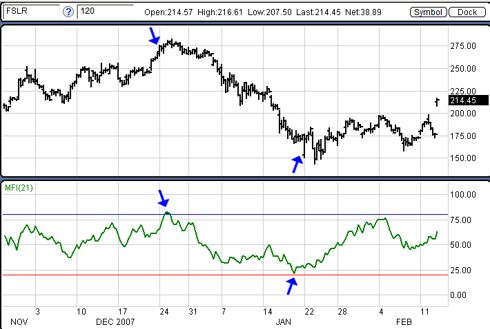 (Click to enlarge) Source
As you can see, the buying and selling points corresponded with when the MFI touched 20 and 80 respectively. Using that, we analyze BASI's chart and MFI.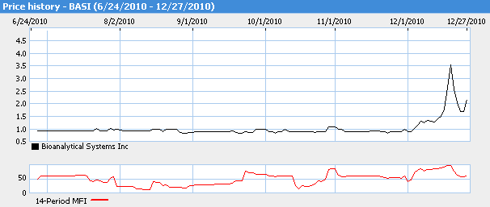 (Click to enlarge) Source: MSN Money
The graph is not that clear. Nor does it follow a clear pattern as FSLR. But notice in the last month, the stock price climbed with the MFI. And the price peaked as the MFI hit 100. Subsequently, the stock plunged with the MFI for four consecutive days. With a drop over that many consecutive days, the odds are high that it will go up the next day. And sure enough it did go up, and the MFI formed a little round base and started to point up. Now, the question is will it continue to go up? The MFI says it could, but let's look at fundamentals to help confirm this.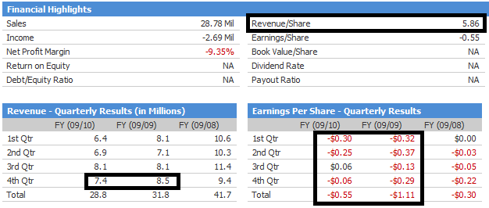 (Click to enlarge)
From the figure above taken from MSN Money, the company has $5.86 per share in revenue, but is selling for only $2.18 per share. This metric alone says that the shares have room to double. Yes, 4th quarter revenue declined year over year from 2009 to 2010, but earnings per share increased ever quarter from 2009 to 2010. So obviously the company's finances are improving. Plus Yahoo Finance notes its price to sales ratio is 0.28. So it is selling for about one third of its sales and revenue.
And from its 10-year chart, the stock seems it could return to its pre-credit crisis value of $7 a share. This may be a little high target, but I believe this stock could go to at least $5.

Disclosure: I have no positions in any stocks mentioned, and no plans to initiate any positions within the next 72 hours.