BlackBerry Limited (NASDAQ:BBRY) and its recent progress can best be illustrated, perhaps, with a quick look at the diversity of analyst opinion surrounding this stock.
On August 18th, 2014, several articles concerning the stock emerged online, all within a matter of hours. The first, from NASDAQ and Zacks.com, begins by pointing out some positives: BlackBerry has shipped more smartphones than previously in the second quarter of 2014, its sales are rising, and it is attempting to counter competition through a new phone launch and a licensing deal with Amazon - "a considerable improvement" from recent results. Nevertheless, this article also mentions that BlackBerry has "deteriorated drastically", and concludes by recommending that investors hold. A second article, this time from ONYX INVESTMENTS, acknowledges that BBRY has had its triumphs, but nevertheless posits that investors will lose out where BlackBerry is concerned. It cites the weaknesses of BlackBerry's soon-to-be-launched Passport phone as a reason for more losses for BlackBerry's bottom line; its overall recommendation is that investors "avoid BlackBerry stock", despite BlackBerry's favorable aspects. Another article still takes a different, but similarly divided, perspective: it mentions that BBRY stock is gaining, but nevertheless deems the stock problematic, calling its earnings per share feeble, its return on equity disappointing, and its operating cash flow weak. A fourth article turns the tables entirely, suggesting that, despite its weaknesses, BlackBerry is a significant threat to Android and Apple, and is not to be taken lightly.
In brief, then, while countless disadvantages and numerous advantages are frequently cited with reference to BlackBerry, one thing is for certain. While the stock is almost unanimously considered one with both strong and weak points, it seems to solely be flourishing in the short term: the company has a new business unit, the Passport phone is about to launch, and BlackBerry's shipment volume has seen significant improvements in the second quarter of 2014. These as well as other short-term advantages showcase the validity of I Know First forecast's bullish predictions for the 1-month and 3-month time frames: while BBRY is not so bullish as to merit instant buying, both our algorithmic forecast and a quick analysis of BBRY's recent corporate development points to the fact that this is a stock to, at least, keep a hold of until further notice.
Company Profile
BlackBerry, formerly Research in Motion, is by now a household name, and for due cause. For years, the company - specializing in smartphones, tablets, industrial software, and mobile device management (NASDAQ:MDM) - flourished, holding up to 43% of market share in the US mobile device market in 2010. Headquartered in Waterloo, Ontario, it achieved worldwide popularity very quickly, releasing what was commonly regarded as the first smartphone in 1999. Its mobile products became particularly sought-after in the US, where, at one point in 2010, the BlackBerry client base peaked at an astonishing 21 million users. At their prime, BBRY mobile devices were most well-loved by the company's corporate clients, who cited its products' security and reliability as major reasons for their dedication to the platform. However, government agencies, automobile makers, and industrial plants also widely used BBRY for purposes other than personal wireless communications, and continue to do so until the present day. In recent years, BBRY also held a bizarre management structure featuring co-CEOs that have since been replaced with a Lead Director and Chair of Compensation, a CEO, and a Vice Chairman.
Prospects aren't quite as thrilling as they once were for BBRY, however. In recent years, despite remaining successful in several markets, BBRY has suffered a decline in sales in the personal mobile industry. Consequently, it has garnered negative analyst and media opinion concerning its prospects, and has been the subject of frequent criticism where its unorthodox executive board structure and poorly executed sales strategies are concerned. The company's US personal mobile device user base, once 21 million, dropped to just 9 million in 2013; this fall was so dramatic that in 2014, it had CNN tarring BlackBerry one of the US's six most endangered brands.
The Advantages - They're Still There!
Though it is currently ranked as no more than a hold by most analysts, and though popular opinion sometimes sees BlackBerry as having fallen beyond repair, the company does exhibit considerable advantages.
Firstly, though it initially suffered because it did not cater to what customers were demanding, BlackBerry has, at least in part, learned to respond to customers' needs. One of the most frequent complaints about the platform concerned its incompatibility with apps. At one point, developers frequently left BlackBerry out of the picture while developing applications for consumer use; this was largely because of the platform's outdated, Java-based OS. Because developers avoided BBRY, customers complained of a limited app. base, citing Android's and Apple's large selection of diverse apps as necessary if BBRY was to be successful. Recently, BBRY took action to resolve this issue: as was noted earlier in this article, the company signed a licensing deal with Amazon in June 2014; if properly implemented, this deal will allow BBRY users to access 240 000+ Android applications, including such popular games as Candy Crush Saga and Minecraft, and such frequently used services as Groupon (NASDAQ:GRPN) and Netflix (NASDAQ:NFLX).
There is also the fact that BlackBerry appears to be cognizant of its strengths and its weaknesses, and has plans to restructure and venture into markets more conducive to its success. Earlier this month, it was confirmed that CEO John Chen has been attempting to sell real estate, lay off employees, and distance the company from consumer-focused businesses: in other words, he has been attempting to restructure BBRY to reflect its changing strengths, aiming it more towards software and less towards personal functionality. Chen understands that his business may no longer see success as a handset vendor, and is, as such, making attempts to move into different industries where BBRY will face less competition and, hopefully, more acclaim.
Finally, while users may think that BlackBerry is no longer a name in the personal smart-device market, and that its handset devices are less and less frequently used worldwide, the reverse is true: BlackBerry's subscriber base has actually been growing with every passing year, even after its popularity began declining in the US in 2010 (Figure 1). This means that, even while the company's share in the US market has essentially been eliminated, international customers have perpetually been joining BBRY's clientele. This has partially been attributed to the fact that the smart-device market is growing rapidly, at about 41.7% per year.
| | | | | |
| --- | --- | --- | --- | --- |
| Fiscal Year | Sales ($ millions) | Operating Income ($ millions) | Net Income ($ millions) | Active BlackBerry Subscribers |
| 2002 | 294 | (58) | (28) | |
| 2003 | 307 | (64) | (149) | 534,000 |
| 2004 | 595 | 78 | 52 | 1,069,000 |
| 2005 | 1,350 | 386 | 206 | 2,510,000 |
| 2006 | 2,066 | 617 | 375 | 4,900,000 |
| 2007 | 3,037 | 807 | 632 | 8,000,000 |
| 2008 | 6,009 | 1,731 | 1,294 | 14,000,000 |
| 2009 | 11,065 | 2,722 | 1,893 | 25,000,000 |
| 2010 | 14,953 | 3,507 | 2,457 | 41,000,000 |
| 2011 | 19,907 | 4,739 | 3,444 | 70,000,000 |
| 2012 | 18,508 | 1,164 | 2,199 | 77,000,000 |
| 2013 | 11,073 | (628) | (317) | 79,000,000 |
Figure 1. Note that "Active BlackBerry Subscribers" has increased every year since 2002, despite decreases in sales and net income since 2011. Parentheses indicate a net loss (in other words, expenses exceeded revenue).
All of these facts mean that, while BBRY may not be as successful as it once was, it is not as yet entirely worth disposing of.
The Short-Term Situation: Make it a Hold
There are several reasons to avoid letting go of BBRY at present.
For one, BBRY recently announced the formation of a new business unit called BlackBerry Technology Solutions (BTS). This division is to be headed by Sandeep Chennakeshu, the former CTO of Sony-Ericsson. An engineer with 71 patents and 20 years in the wireless communications industry to his name, Dr. Chennakeshu will, according to CEO John Chen, "create operational synergies and new revenue streams, furthering [BBRY's] turnaround strategy." BBRY just implemented BlackBerry Technology Solutions this past month; this very recent addition to the BBRY package could dramatically alter BlackBerry's prospects if it is successfully implemented, making it a good investment in the long run. Let go of the stock at present, and you won't be able to see the effects of BTS on BBRY's future.
Though the handset market is no longer of as much concern to BBRY, a much-discussed launch in this department may also temporarily further BBRY's success. To attempt to regain some control of the smartphone industry, BBRY has announced that it will be releasing its new ultrawide Passport phone in September 2014. This device has not eliminated criticisms concerning the company's outdated hardware and operating system; further, Internet opinion still does not particularly favor the Passport, with CNET calling it "fat" and "weird", among other things. However, that does not undermine the fact that a new product and a new launch will generate new customer attention; BBRY may at least temporarily gain from the advent of the Passport.
There is also the fact that BBRY's second-quarter shipment volume, average revenue and adjust EPS estimates have been successful. Under Chen's watch, BlackBerry's shipments have grown 15% in the second quarter from the prior period. The company recently shipped 1.5 million units, up from 1.3 in the first quarter, and global market share remained constant even as the market grew.
Analyst opinion also generally remains neutral on the BlackBerry front. In fact, analysts are almost invariably suggesting a hold at present: to illustrate this, I have included opinion from Yahoo! Finance, NASDAQ.com, and The Motley Fool. All three organizations' analysts consistently place BBRY as a hold at the moment (Figure 2):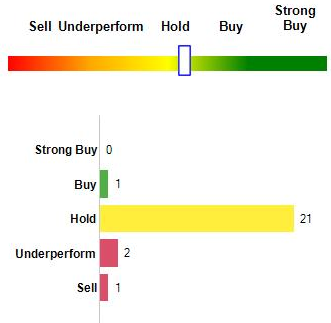 Figure 2. NASDAQ analysts tended to rank BBRY as a hold (left): in fact, 21 of 25 analysts labeled it as such.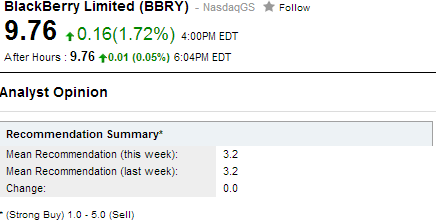 Figure 3. Yahoo! Finance analysts concurred (right); their mean recommendation for the week was a 3.2, where a 1.0 is a strong buy and a 5.0 is a strong sell. This, again, deems BBRY a solid hold.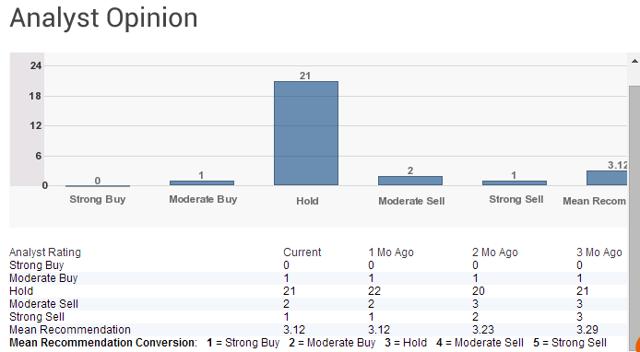 Click to enlarge
Figure 4. 21 of 25 analysts also termed BBRY a hold in The Motley Fool's financial reports for the week.
All around, then, analyst opinion appears to tend towards a hold.
Algorithmic Perspective
I Know First uses an advanced self-learning algorithm based on artificial intelligence, machine learning, and artificial neural networks to predict the flow of money in almost 2000 markets from 3-days to a year. This algorithm provides traders with a trend they can use to identify when to enter and exit the market; though it may be used for intra-day trading, the predictability of this trend becomes stronger in 1-month, 3-month, and 1-year forecasts; as such, it can - when coupled with traditional analysis and careful reasoning - effectively be used to analyze the value of such stocks as BBRY.
In fact, I Know First has previously successfully predicted BBRY's progress on several occasions. Specifically, I Know First recommended a strong bullish position for BBRY for a period of three months, from April 25th to July 25th, 2014. Comparing this forecast to BBRY's actual progress (Figure 5), we see that I Know First successfully predicted BBRY's progress then: the stock performance was +39.92%.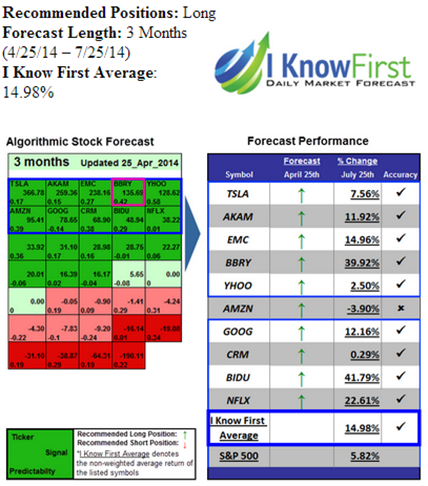 Figure 5. I Know First successfully predicted BBRY's strong bullish trend for three months in April 2014. I Know First's April 25th forecast is shown on the left; BBRY's actual performance is shown on the right. BlackBerry's ticker is boxed in magenta on the left.
The new forecast generated by the I Know First algorithm, updated on August 19th, is shown below (Figure 6). Bright green signifies a highly bullish signal; light green also indicates that the forecast is bullish, but not as strongly so. Bright red, in turn, signifies a bearish forecast; correspondingly, light red indicates a bearish forecast as well, but not as negative a forecast. Each compartment contains two numbers: the strength of the signal itself (represented by the number in the middle of each box, to the right), and its predictability (found in the bottom left corner, this is the approximate level of confidence the algorithm has in the forecast). Taking all this into consideration, the ticker symbol for BlackBerry - "BBRY" - may be seen as strongly bullish in the 1-month frame, and remains strongly bullish across the 3-month frames; this and predictability should be taken into consideration when this algorithmic perspective is used to inform traditional analytic tools.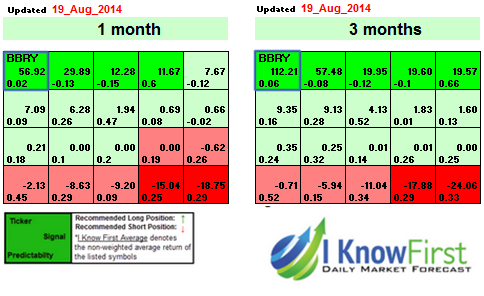 Figure 6. I Know First's most recent forecast for BlackBerry. BBRY is boxed in blue, and shown to be strongly bullish. Please note that a negative predictability indicates high risk.
This strong bullish forecast for the short term coincides well with recent developments in BBRY's infrastructure, and its successful second-quarter earnings. Given analysts' mean "Hold" recommendation, BBRY's activities in the last month, and I Know First Research's success in its last BBRY-related algorithmic prediction, it may be wise to consider keeping BBRY in one's portfolio until further change makes it either a buy or a sell.
Conclusion
While BBRY appears to be a stock that has inherent weaknesses, it also has several advantages. In the long term, BBRY is seeking to venture into arenas other than the personal smart-device market; concurrently, it aims to continue catering to customers' demands with an increasingly large app base via its Amazon partnership, and may well continue experiencing success in emerging, international smart-device markets. In the short term especially, BBRY may well be a worthy stock to hold on to: its successful second-quarter shipping volume, new business unit, and upcoming phone launch may mean good things for the company in the coming months. These corporate development details, in combination with I Know First Research's proven ability to predict BBRY's success, indicate that investors would be wise to consider BBRY bullish in the 1-month and 3-month time frames.
Business relationship disclosure: I Know First Research is the analytic branch of I Know First, a financial start-up company that specializes in quantitatively predicting the stock market. This article was written by Sophia Glisch, an I Know First intern, and edited by Daniel Barankin. We did not receive compensation for this article (other than from Seeking Alpha), and we have no business relationship with any company whose stock is mentioned in this article.
Disclosure: The author has no positions in any stocks mentioned, and no plans to initiate any positions within the next 72 hours.
The author wrote this article themselves, and it expresses their own opinions. The author is not receiving compensation for it (other than from Seeking Alpha). The author has no business relationship with any company whose stock is mentioned in this article.