Alamos Gold (NYSE:AGI) just announced that it received government approval for its environmental impact assessment for its Agi Dagi Project. For those not familiar with the company the Agi Dagi Project is one of two adjacent projects in Turkey heading towards production.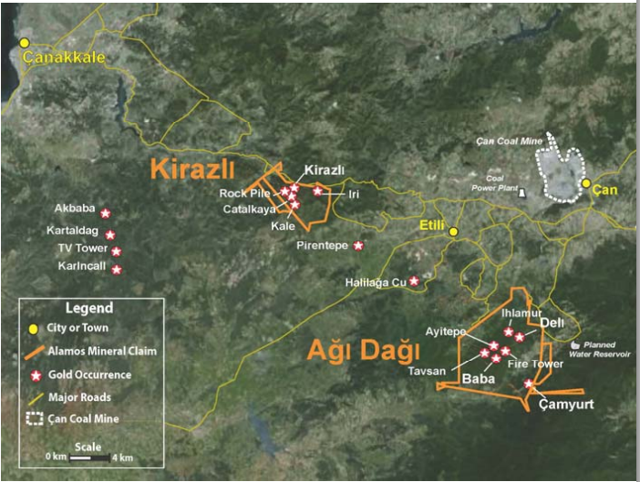 (Source: Alamos Gold's corporate presentation)
Kirazli is the first heading towards production next year. Agi Dagi should follow 18 months later, which puts production in late 2016-early 2017.
Getting government approval on the environmental front is a big deal for the company. Admittedly, as a high cost project, Agi Dagi doesn't have much value at $1,300/oz. gold. Using the current mine plan it has a $60 million NPV using a 10% discount rate. However the mine life can be extended, and it offers substantial leverage to a rising gold price. For those who expect the gold bull market to continue in the next couple of years--as I do--the project should be coming online during the next up-leg in gold prices, making it invaluable for the company.
As a Turkish mine investors have been skeptical of Agi Dagi and Kirazli, but the fact that the former, larger project received government approval on the environmental front is a bullish development. So long as gold prices remain weak and the company's Mulatos Project continues to perform poorly this stock will likely underperform its peers. But as I argued in May it is setting up for a strong performance longer term, and I think weakness can be bought.
Disclosure: The author has no positions in any stocks mentioned, and no plans to initiate any positions within the next 72 hours.
The author wrote this article themselves, and it expresses their own opinions. The author is not receiving compensation for it (other than from Seeking Alpha). The author has no business relationship with any company whose stock is mentioned in this article.