My regular readers know that I feel the overall market is slightly overvalued at current levels especially given escalating geopolitical concerns (Iraq, ISIS, Ukraine, Syria, etc.) and the fact we are about two months away from the Federal Reserve from being down with their last easing program - supposedly.
I am only making incremental moves at the current time. This means slowly accumulating shares in some beaten down sectors including homebuilders recently. I have done the same thing with the recent pullback of gaming concern Las Vegas (NYSE:LVS) which I articulated earlier in the week.
The recent fall in oil (oil is near seven month lows) & natural gas prices has caused a good portion of energy and production companies to come down a bit. In the case of EOG Resources (NYSE:EOG), its recent decline looks like a solid entry point to slowly start to accumulate a position by incrementally buying shares and/or selling just out of the money bull put option spreads.
Company Overview:
EOG Resources is the biggest leaseholder in the Eagle Ford shale region where production is exploding and it also has significant acreage in the Bakken, Niobara and Permian shale formations. The company sports a market capitalization of just under $60B at current prices.
Technicals & Insiders
It feels like a good time to slowly accumulate shares at this level given the stock is near three month lows. In addition, insiders have made some small purchases recently.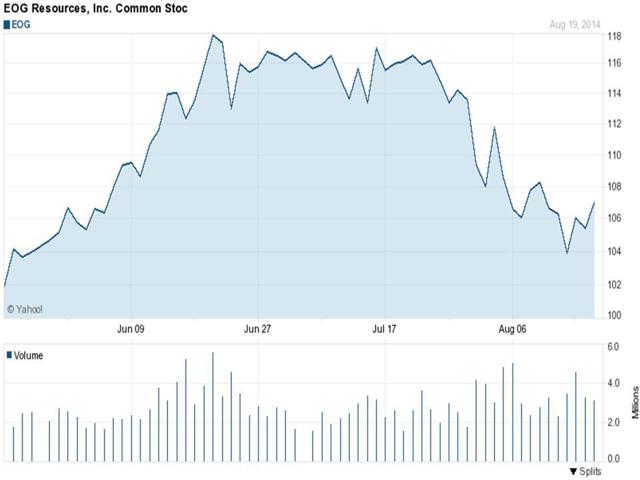 Growth:
The main reason one wants to own EOG Resources is the company has a long term history of producing double digit annual production growth. In its last completed quarter, the company reported that overall production growth increased 17% year-over-year. Oil and condensate growth was up by a third and natural gas liquids (NGLS) was up 22% year-over-year. The company also increased forward production guidance for FY2014 to 14% from 12% previously. This will probably prove to be somewhat conservative guidance.
EOG Resources has a deep inventory of potential drilling sites still left in the Eagle Ford and Bakken shale formations. It also has promising acreage which is still in exploratory phases but should contribute substantial growth in the future.
Valuation:
The stock has declined approximately $10 a share from recent highs and goes for just under 19 times forward earnings, a ~15% premium to the overall market multiple. However, in addition to double digit production growth; earnings should be up 30% to 40% year-over-year in 2014 justifying a nice premium to the overall market in my opinion.
EOG Resources is never going to be "cheap" given its record of performance and prime energy acreage. However, the recent dip is a solid entry point to start accumulating shares in this long term growth play from the energy sector. S&P has its highest rating "Strong Buy" on EOG, with a price target of $129 a share which is approximately 20% over the current stock price after its recent decline. ACCUMULATE
Disclosure: The author is long EOG.
The author wrote this article themselves, and it expresses their own opinions. The author is not receiving compensation for it (other than from Seeking Alpha). The author has no business relationship with any company whose stock is mentioned in this article.