Stocks logged another winning week in last week's shortened trade, up about 1.0% in just four trading days on what ended up being surprisingly heavy volume, considering the calendar. Monday, the first day back from the three-day weekend, wasn't much more eventful.
As for what spurred equities in a typically mild (pre-Christmas) week, it was the deluge of economic data. So, let's just start there and work our way down.
Economic Calendar
Overall, we'd have to give the real estate/construction markets a B on relative results, and a C on absolute results. Though still weak, most of the major number improved for November. New homes sales, for instance, crept higher from an annual pace of 275K to 290K, while the pace of existing home sales moved from 4.43 million to 4.68 million. The (new) home price also inched upward by 0.7%.
The underpinning of home sales - and spending in general - also made progress. Personal incomes were up 0.3%, while personal spending was up 0.4%. And, the confidence to support both fell into place as the final Michigan Sentiment Index number for December was up, to 74.5. Perhaps the continued decline in initial unemployment claims (to 420K) and continuing claims (to 4.064 million), both of which were at or were close to new trend lows, also helped on that front.
A few other details are laid out on the grid below.
click to enlarge
As for the coming week, it should be light now just because of vacationing traders, but also simply because there's less data to process.
We open up with another real estate number with Tuesday's Case-Shiller figure for October, and will round the data out with Thursday's pending home sales... which are expected to have fallen by 1.8%.
The only other biggies for this week are Thursday's unemployment claims, which are expected to be lower on both fronts, and Tuesday's consumer confidence, which is expected to be higher.
S&P 500 Index
While there's not a lot that's clear about the S&P 500 right now, we can say this much....the bulls are really, really pushing their luck. The SPX is at the extreme end of its potential range right now, bumping up into - and beyond - the upper Bollinger band over the last several days.
The VIX is matching that extreme by running into new multi-month lows of its own, as well as into its lower Bollinger band.
While on the surface the momentum is technically bullish, most of us know there's something un-easing about it. The market has not been great at hanging onto its big moves, and more often than not has been prone to pull back once these extreme ranges have been hit.
The fact that volume was relatively light with last week's gains only underscores the underlying weakness here.
As for the downside potential, a move to the other Bollinger band - the lower extreme - remains in the cards. It has been in the cards for quite some time, of course, but now with the market up 6.4% since late November and up a stunning 19.7% from August's lows (with barely even a scratch or dent in the meantime), the risk is clear. Stocks are just overbought, and far from a meaningful floor. A couple of consecutive bad days should be all we need to jump-start a move toward the 1156 area.
Of course, with Monday's modest rise, the bears remain on hold, waiting for the Santa Clause rally to run its course.
SPX and VIX Chart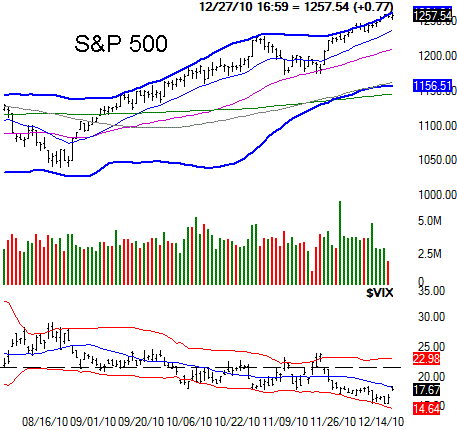 NASDAQ Composite
Though we can get a sense of the market's potential problems from the S&P 500, they really start to become clear on a chart of the NASDAQ Composite.
Though it was up a hair on Friday, the NASDAQ waved a couple of major red flags. The first one is simply the fact that despite the small gain, we saw a lower trading range, and volume was light....even lighter than Friday's volume, if you can believe that. Translation: Monday's gain wasn't even close to being a majority opinion.
The other big problem (for the bulls, anyway) is that the VXN - unlike the VIX - pushed up and off the lower Bollinger band, and could now be considered to be in an uptrend. With that being the case, the question isn't "if", but "how far"... how far will the VXN rise and the market fall before a floor is found?
Like the S&P 500, the composite has a mess of potential support levels between 2367 and 2458, made up of Bollinger bands and long-term moving averages.
While any and all of them seem miles away, and would be painful trips if revisited, it would actually be a normal and healthy correction. From Monday's close of 2667 to the lowest level of 2367 would still only be an 11% dip. That's about a normal bull market correction, and pales on comparison to the 26% rally we've seen from September's lows. And remember, that's a worst-case scenario.
All the same, it's the time of year when anything can and will happen. The toll collector may not come until we turn the calendar. In fact, trading should be pretty thin and listless most of the week, save the initial responses to the economic numbers listed above.
NDX and VXN Chart with Volume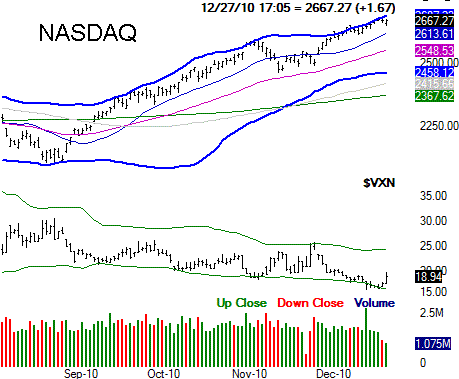 Disclosure: I have no positions in any stocks mentioned, and no plans to initiate any positions within the next 72 hours.