Las Vegas and Macau
Wynn Resorts (NASDAQ:WYNN) receives over 70% of its revenues from Macau while Las Vegas provides the remainder and I expect this number to jump to 80% by 2018. A majority of Wynn's growth is expected to come from the company's Macau operations as shown in the Levered Returns segment analysis below. Having one of only six licenses to operate casinos in China, the company has positioned itself as the premier luxury brand with gamblers and resort customers who pay the highest room rates and bet the most per hand in the industry according to Morningstar. In addition, Wynn is expected to open its Cotai Strip casino "the Wynn Palace" in the beginning of 2016 which provides significant upside potential. I project the Wynn Palace will help increase Macau's revenues by 30% and 25% in fiscal 2016 and 2017, respectively. However, input your own assumptions below if you disagree.
Applying my revenue growth assumptions above and fairly conservative margin projections, I'm concluding a price target of approximately $240 using Levered Returns' five-year projection model below. Similarly, $240 is the median price target of equity research analysts as provided by S&P's CapitalIQ.
Levered Returns Cash Flow Model
My price target of approximately $240 implies Wynn is trading at around a 19% discount to its latest trading price as of August 18th. An Enterprise Value "EV" of $36.9 billion was determined by applying a discounted cash flow approach. After deducting net debt, non-controlling interest, the Cotai project costs, and adding non-operating assets, I concluded a total equity value of $24.4 billion. It should be noted the model below has stripped out the remaining $2.9 billion of required capital expenditures for the Wynn Palace and present valued these expenditures at the WACC. I also estimated the fair market value of the company's 27.8% Wynn Macau non-controlling interest by applying Wynn Macau's current share price. The estimated fair value of $5.8 billion is significantly higher than its book value of $267 million.
Peer Valuation Multiples
Wynn's latest twelve month "LTM" and projected valuation multiples trade at a premium to Las Vegas Sands (NYSE:LVS) and MGM Resorts (NYSE:MGM). However, in order to correctly analyze EV multiples I calculated the fair value of each company's Macau non-controlling interests as shown in the table below.

Comparing EV multiples between these three companies can be misleading without making this adjustment. The EV multiples shown below reflect this adjustment and you can see that Wynn trades at a premium to Las Vegas Sands and MGM. However, these premium multiples are justified when considering the company's outsized growth potential in 2016 and beyond.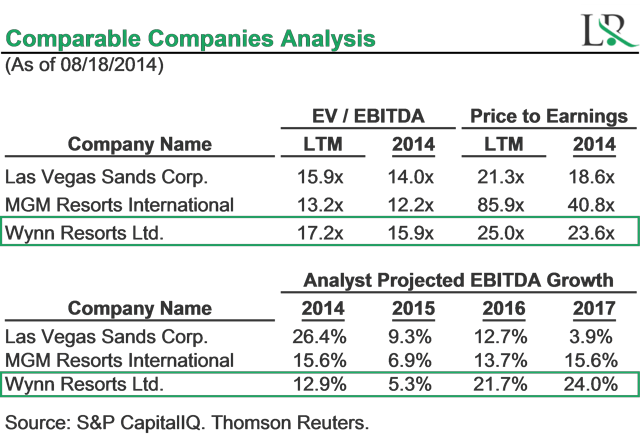 Conclusion
Wynn is well positioned for future growth as the company has positioned itself as the premier luxury brand with gamblers and resort customers who pay the highest room rates and bet the most per hand in the industry. The company's Wynn Palace provides significant upside potential beginning in 2016. My Levered Returns five-year cash flow model implies a fair value estimate of approximately $240 per share which is a 19% premium to Wynn's latest trading price of $202.90 as of August 18th. However, the company's valuation multiples trade a significant premium to its peers which could make some investors cautious. Ultimately, Wynn has historically delivered outsized returns for its shareholders and I believe the Wynn Palace will be a success. For the long-term value investor, I would hold on to your shares and enjoy the ride. However, play with the inputs above to come to your own conclusion.
Disclosure: The author has no positions in any stocks mentioned, and no plans to initiate any positions within the next 72 hours.
The author wrote this article themselves, and it expresses their own opinions. The author is not receiving compensation for it (other than from Seeking Alpha). The author has no business relationship with any company whose stock is mentioned in this article.