Starbucks (NASDAQ:SBUX) has been very solid in SSS (same stores sales) for years. Quarter 3 (ending in June) marked the 18th consecutive quarter of same store sales growth of at least five percent. On top of the growth in SSS (same store sales), Starbucks continues to open locations. During the last quarter the company added 344 stores on a net basis. That brings the company to 20,863 stores globally. Upon releasing the quarter 3 information, management felt confident enough to update their fiscal targets for 2014. Projected EPS under GAAP is now $2.65 to $2.67, non-GAAP EPS is projected to be five cents higher. For the year, total locations are expected to increase by about 1,550 locations
Growth in sales - occurring in every way
Starbucks growth seems to be coming in every possible direction. Even when we divide SSS up into a comparison of the number of transactions and the average price those customers are charged, we see both were growing in every region.

For anyone unfamiliar with the acronym EMEA, it stands for "Europe, Middle East, and Africa". CAP stands for "China / Asia Pacific".
Management is bullish about new products
The CEO was particularly upbeat when talking about Teavana iced tea and Fizzio. He says this is "just the beginning" for products that are improving sales in the afternoon and evening parts of the day. The Fizzio soda machine is now available in over one third of U.S. company-operated retail stores. Or in other words, there are still many locations that could use them.
Role of food in operations
Food at Starbucks has not been a source of strength for the company. It has been a weakness for years, and the CEO openly admitted as much. However, he also believes that after the acquisition of La Boulange, food has become one of the company's competitive strengths. Given the success of Starbucks and the relative difficulties many restaurants have had in the last quarter, I'm not as bullish about the involvement of food, but Mr. Schultz deserves his due so I'll believe him.
Growth in margins
Over the last five years Starbucks has been consistently growing margins. Looking at the previous 5 years growth in margins has occurred every year except for 2013, but the terrible margins that year represent a litigation charge against Starbucks, not a failure in their operations. See the chart below for operating margins over the previous 5 fiscal years.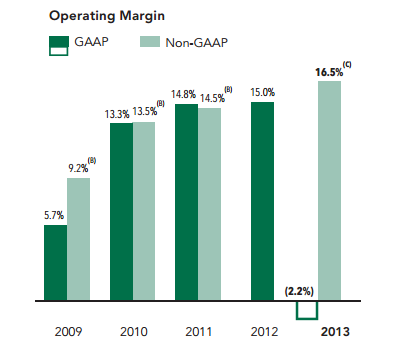 If you're looking at this stock for the first time and don't know the litigation history, Starbucks lost in arbitration and was ordered pay about $2.8 billion to Kraft. The ruling came after Starbucks attempted to end a relationship with Kraft. Kraft was not interested in putting in the level of commitment that Starbucks expected, and Starbucks terminated the relationship on the grounds that Kraft wasn't living up to their end of the deal. The problem: Starbucks didn't have the right to cancel the contract. It may be a very expensive lesson, as three years of litigation went in favor of Kraft. I'm not a lawyer, so I can't comment on whether the ruling was correct. As a business man, I can say that I was rooting for Starbucks. I think the market is more efficient when contracts can be terminated for poor performance.
In Q3 of 2014, operating margins were even better at 18.5%.
Breaking that down by region, the operating margins were:
Americas: 23.8%
EMEA: 9%
CAP: 35%
The very strong margins in the CAP region are a great sign for Starbucks going forward. They are focused on the most profitable regions. While revenues from the CAP region were less than 10% of total revenues, 160 net new stores were opened in that region last quarter, compared to 344 overall. As store growth is focused on the highest margin areas, it is natural to think Starbucks operating margins will continue to improve from expanding in the most profitable places.
Upgraded debt
The company's unsecured bonds were upgraded to A3 by Moody's Investor Services. For a shareholder, it's nice to see the company's financial stability is being affirmed. I'm not anticipating this as being a significant factor for the stock.
Targets for Fiscal 2015
The company is targeting revenue growth of 10% or greater. Given their growth in both comp sales and total locations, that target feels like a very reasonable projection. Comparable stores are expected to grow between 4 and 7 percent. Taking advantage of some leverage, EPS are projected to increase around 15 to 20% on a non-GAAP basis.
Conclusion
Starbucks' rapid growth has been powered by growth across several margins rather than a single factor. The increase in number of stores, as a percent of current stores, gives the stock great growth prospects. The growth being focused in the markets with the best operating margins gives me faith that the operating margins will continue to grow well into the future. The EV/EBITDA ratio of 17.55 isn't cheap, but the PEG ratio of 1.58 speaks to the expected growth of the stock and gives it some room to run. I'm slightly bullish on the stock because I agree with management's strategy for growing the company. If they can grow it that fast, then I think the stock will begin to appreciate again.
Disclosure: The author has no positions in any stocks mentioned, and no plans to initiate any positions within the next 72 hours.
The author wrote this article themselves, and it expresses their own opinions. The author is not receiving compensation for it (other than from Seeking Alpha). The author has no business relationship with any company whose stock is mentioned in this article.
Additional disclosure: Information in this article represents the opinion of the analyst. All statements are represented as opinions, rather than facts, and should not be construed as advice to buy or sell a security. Ratings of "outperform" and "underperform" reflect the analyst's estimation of a divergence between the market value for a security and the price that would be appropriate given the potential for risks and returns relative to other securities. The analyst does not know your particular objectives for returns or constraints upon investing. All investors are encouraged to do their own research before making any investment decision. Information is regularly obtained from either Yahoo Finance or the SEC database. If either of these sources contained faulty information, it could be incorporated in our analysis. The analyst holds a diversified portfolio including mutual funds or index funds which may include a small long exposure to the stock. Charts and Tables used in this article were retrieved from information made available by Starbucks.