Macy's (NYSE:M) stock price has dropped 3.21% since the company posted its second quarter 2014 earnings results. It generated diluted per share earnings of 80 cents compared to Wall Street estimates of 86 cents. However, diluted per share earnings were more than 11% higher than the per share earnings of the second quarter of 2013. The earnings were also quite reasonable compared to rival J.C. Penny (NYSE:JCP)who experienced a negative earnings growth even after a considerable year-over-year improvement in its bottom line.
Macy's profit growth in this quarter followed a year-over-year decline in profit in the first quarter. Earlier, it experienced year-over-year profit growth in three straight quarters. After these results, a majority of analysts rated the company's stock as buy. Let's have a detailed look at Macy's financial performance in the latest reported quarter to verify whether or not it actually presents itself as an attractive investing opportunity.
Top-line Growth
Despite improving macroeconomic conditions, U.S. retail activity failed to improve in the month of July. According to the Commerce Department, spending at U.S. retailers was flat in July. The spending trend was also meager in May and June with sales growing only 0.4% and 0.2% in these months, respectively.
The flagged momentum impacted Macy's revenue growth as it reported weaker-than-expected results. The comparable sales together with comparable sales of departments licensed to third parties increased 4%. Net revenues in this quarter surged 3.3% compared to Wall Street's expectations of 4%, totaling $6.267 billion. Though JC Penny's net earnings growth was lower than Macy's, JC Penny experienced higher shopping frequency at its stores. The comparable store sales for JC Penny in its latest reported quarter were 6%.
Although the U.S. consumer index has currently reached its highest level since 2007, there is a chance that it could drop back in the coming days. This could lead to a smaller growth in Macy's revenues. However, it is expected that the company would continue driving sales growth through its successful M.O.M. strategies: My Macy's localization, Omnichannel integration and Magic Selling customer engagement. Its millennial strategies would add further growth in the third quarter as the back-to-school shopping season begins in the month of August.
Margins and Earnings Growth
Even though Macy's cost of sales increased in this quarter deteriorating its gross margin it still managed to improve its operating margins compared to the second quarter of 2013.The margins improved as a result of a reduction in selling, general, and administrative expenses. Its operating income totaled $571 million or 9.1% of sales for the quarter compared with the operating income of $534 million or 8.8% of sales for the same quarter last year.
The sales growth, along with the operating margin expansion caused the net profits to grow by 4% year-over-year. However, the diluted per share earnings increased 11% as Macy's bought back its shares over the year.
In the second quarter of 2014, Macy's repurchased approximately 8.9 million shares for a total of around $517 million. For fiscal year to date, approximately 16.3 million shares have been repurchased for around $949 million. Now it has authorization to repurchase $2 billion shares of its common stock.
Returns
Despite slow earnings growth, Macy's generated considerably higher profits with the money its shareholders have invested. Positive earnings growth and declining average number of shares, as a result of share repurchase programs, led to higher profitability for investors. The company's management is efficient in using its assets to generate profits and has effectively allocated the capital to profitable investments. This is evident in the higher return on assets and capital compared to industry averages which are some of the other factors behind the higher return on equity.

Source: money.msn
If Macy's continue to post positive earnings growth, which is highly anticipated based on the sales growth trend and expanding margins, the return on equity would be even better in the coming quarters.
Valuation
Macy's stock is currently quite inexpensive based on its price multiples indicating that there is room for investors to earn from its price appreciation in the future. The stock is undervalued based on the price-to-earnings, price-to-sales, and price-to-cash flow ratio. The only multiple on which the stock is slightly overvalued is price-to-book ratio. But as the price-to-earnings and price-to-cash flow are more refined measures than price-to-book ratio, I gave higher weight to these ratios for valuation purposes.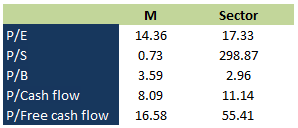 Source: Reuters
Macy's has a lower price-to-free cash flow ratio compared to the sector's average indicating that even after deducting the capital expenditures, it has better cash flows that would enable it to easily meet its debt obligations and to pay a higher dividend yield.
Final Thoughts
Macy's performed satisfactorily though it could not beat analysts' estimates. The company's successful M.O.M strategies, the back-to-school shopping season, and its expanding margins would help to add growth to the bottom line in the next quarter. It generates higher profits from investors' money compared to its peers and its stock is currently undervalued based on price multiples indicating potential for growth. All of these factors highlight the upside potential in the stock so like the industry analysts I would also give this stock a buy rating.
Disclosure: The author has no positions in any stocks mentioned, and no plans to initiate any positions within the next 72 hours.
Business relationship disclosure: The article has been written by APEX Financial Consultants. This article was written by one of our research analysts. APEX Financial Consultants is not receiving compensation for this article (other than from Seeking Alpha). APEX Financial Consultants has no business relationship with any company whose stock is mentioned in this article.