Since the end of April 2014, Capstone Microturbine's (NASDAQ:CPST) share price has been severely and unjustly degraded. The product this company brings to market is as important, or even more so, than similar alternative energy plays including: Plug Power (NASDAQ:PLUG), FuelCell Energy (NASDAQ:FCEL), and Ballard Power Systems (NASDAQ:BLDP). While not directly tied to the fuel cell space, Capstone manufactures a product that may prove in time to be more flexible, efficient, and sustainable than fuel cells. Much has been written of fuel cells with the excitement of electric vehicles, and it is admittedly far more sexy than the primary market driver for Capstone, which is capturing and using flared gas to reduce emissions and increase energy efficiency.
However, the market to power vehicles with Capstone technology does currently exist, most notably testing vehicles with Wrightspeed for FedEx (NYSE:FDX) and Waste Management (NYSE:WM), but also a prototype for Wal-Mart (NYSE:WMT). If you need the speed and excitement of a supercar then there is even a CMT-380 microturbine powered concept. Flared gas is not as exhilarating as fast cars, but is in itself a $30 billion market. Microturbines are also suitable for market penetration into Energy Efficiency and Renewable segments.
Most of the recent share price decline can largely be attributed to worries about Russian sanctions. It is no secret that 11% of company revenues are generated by Russian clients. However, Capstone Turbines are not labeled as dual use items, and the company has specifically stated that current product shipments are not being impacted by the sanctions. Recently, Capstone announced it is expanding current Russian operations. The quarterly revenue numbers that came in below expectations were due to delayed shipments to U.S. customers.
The company has warned time and time again that it does not run its business to hit quarterly expectations, and that a year over year analysis is more suitable. Consequently, there is risk of quarterly fluctuations in revenues that will be reflected in share price. Orders for U.S. operations this quarter are very strong as well as repeat business, indicating current customers find value the product. If you examine historical trends it is not at all surprising this quarter disappointed given the previous years seasonality.
More importantly, during the most recent conference call the CEO stated that they are not lowering guidance for the full year. The company is approaching 200 units per quarter, which is the company target to turn the company to profitability. Given the five-year annualized growth rate of 25% for this stock, an earnings surprise next quarter would not be out of the question. Supporting this notion is the fact that Capstone has announced several key purchases over the last few weeks. These orders include 36 units totaling nearly $7.41 million in additional revenue. This total revenue reflects the average cost per unit type derived from the most recent 10-Q. This is the low end estimate from this price sheet high cost of $9.8 million.
The company also announced a Factory Protection Plan buy for nine C1000 flagship units, generating 9 Megawatts of total power. This addition to the service contract business increases support backlog by $55 million, not included in the $175 million product backlog. This total backlog of $230 million represents over half the current $392.39 million market capitalization.
Recent trading of this equity has been substantial with notable increases in both volume flow and size. This week's volume has been approaching twice the normal sizes, with the three-month average trading over 3.5 million shares per day. This higher relative volume has been noticeable all week. In addition, very large block orders have been trading in recent days. This suggest a high likelihood of institutional activity. Mergent Online shows the following institutions: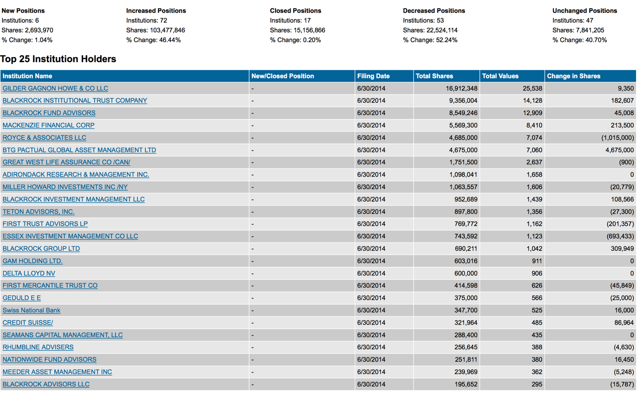 These firms account for 50.45% of the available shares. Notable holders of record that are not listed here but are reported on Yahoo Finance with the same report date include: Wellington Management Company with 19,145,984 shares, Platinum Investment Management Ltd holding 17,089,489 shares, and Vanguard Group, Inc. holding 10,097,274 shares. The market opportunity for this unique technology is simply outstanding and I believe several institutions are intending to capitalize on this sharp drop in recent share price.
The stock is currently trading 12% off the 52-week low and 54% below the 52-week high. This low is a major support area for the stock. The mean target price for the stock by analyst is $1.92.
Conclusion
Capstone Turbine's recent decline in light of sanctions is simply unjustified. Capstone does indicate in the risk section of the earnings report that they may not become profitable, but this is unlikely with the current annualized growth rate of this emerging technology. The alternative energy space is growing larger and this current share price is a bargain buy, in my opinion, offering low risk and high reward potential. Trading volume continues to remain high and positive the last few days suggesting the bottom is in for Capstone. Positive order flow and news should provide continuation and the catalyst to propel Capstone to substantially higher share price objectives.
Disclosure: The author is long CPST.
The author wrote this article themselves, and it expresses their own opinions. The author is not receiving compensation for it. The author has no business relationship with any company whose stock is mentioned in this article.