Fastenal (NASDAQ:FAST) is a retailer/distributor of industrial and construction supplies. They operate over 2,600 stores in North America and have a smaller presence in 16 other countries. They carry close to 1.5 million parts ranging from screws and bolts to welding equipment, and most recently in 2010 they introduced office supplies (maybe out of desperation to continue showing growth). Fastenal went public in 1987 and through the end of 2013 the share price has compounded at 27%.
Equally impressive, top line revenue has averaged over 20% growth since going public. While at the same time maintaining a high level of profitability - operating margins have averaged 18%. Especially impressive when you consider the average retailer earns a mid single digit operating margin (3-9%). In comparison, Fastenal has been highly profitable, so what's the moat?
According to this article from BusinessWeek - customers are willing to pay a premium to ensure access. While Fastenal doesn't sell many fancy products, what they sell is mission critical equipment to keep customers up and running. Offering a large supply and being able to deliver quickly is key.
In addition to growing the product categories, Fastenal has continued to grow it's sales channels with online becoming a key component. Today they offer almost 400,000 products through the website. These sales show up in their annual report as part of the "non-store" sales which accounted for 13% of sales in Q4'13, up from 8% in 2007 - like many industries, sales continue to shift online.
Here is where our story has a twist. The internet is an incredible thing, lowering barriers to entry, leveling the playing field and arming consumers with massive amounts of information. As consumers become comfortable with online shopping, they realize there are low barriers to comparison shopping. In the past where you may have dealt with a dedicated sales rep from Fastenal and you didn't want to bother calling another provider to have them compete on a small purchase. You can now look at the Fastenal price and quickly do a Google search to make sure you're getting a good deal.
The move to online has started to break down the moat but only if you can find competitors prices in a quick search. Enter Amazon (NASDAQ:AMZN), the retail killer. No different from what Amazon did to book stores by offering fast delivery, a wide selection and cheap prices; Amazon has been on a mission to do the same to Fastenal and the larger industrial supply industry.
In April 2012, Amazon launched AmazonSupply, originally offering 500,000 product they have expanded their universe to cover over 2,200,000 - more than Fastenal stores/catalogs and more than 5x what Fastenal offers online. Advantage Amazon.
But selection wasn't the only moat, Fastenal customers also want speed of delivery. AmazonSupply offers free two-day shipping on orders over $50 vs. Fastenal which charges for delivery. Based on a few small items I put in my shopping cart, they wanted to charge $21 for two day shipping on my $52 order - advantage AmazonSupply.
The beauty of online retail is it makes the research very easy. I visited both AmazonSupply and Fastenal, picking a random assortment of products across the different product categories. I sampled a very small percentage of the offerings but none the less my data was frightening. On over 80% of the products sampled, AmazonSupply offered a lower price and across the entire basket of products, AmazonSupply was cheaper by 29%! Advantage AmazonSupply. This result isn't very different from similar work done by Boston Consulting which found the discount averaged 25%.
How does Amazon do it? How can they offer more products, faster/cheaper shipping and at lower prices? I know it's an easy question - they're willing to accept lower margins. Here is a 10 year chart of Amazon operating margins (they don't breakout AmazonSupply separately)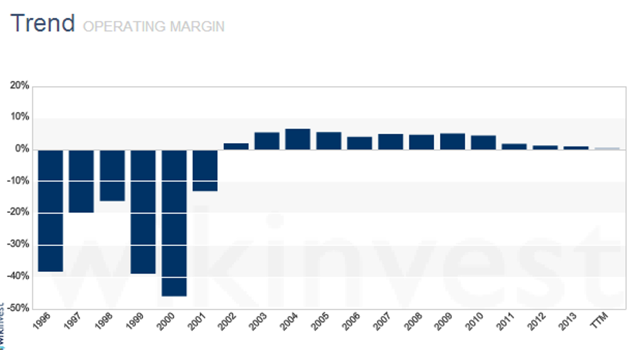 Click to enlarge
Source: Wikinvest
Amazon is barely positive and has never broken into double digits. Compare that to this chart for Fastenal.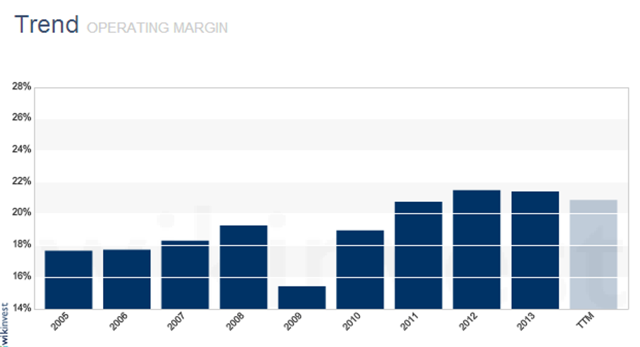 Click to enlarge
Source: Wikinvest
Fastenal has never fallen below the mid teens. Hard to say where the two settle out but in every other example we can think of, when Amazon entered a new industry the average margin came closer to Amazon's rather than Amazon's rising to the level of the established players.
Maybe you think this isn't going to be a surprise - AmazonSupply has been around since 2012 so the risk is in the price. Doubtful, at 29x earnings, Fastenal is trading at more than double the market and inline with it's 15 year average of 30-32x. All while sales are slowing. In their most recent sales report, Fastenal reported 14.7% sales growth, below the long term average of 20%.
Timing matters with shorts, you could have put this trade on in 2012 when Amazon entered the space and it would have been a huge loser. We think now is the right time, for one the valuation is stretched further than in the past. Second, growth is slowing in the core markets for Fastenal requiring them to stretch into adjacent categories like office supplies. Third, we think AmazonSupply will short come out of "beta" and get an aggressive push to win new customers and take share - after two years of building up their product offering, they are now in a position to compete aggressively.
Price target: let's imagine the competition is relatively benign and margins fall from 21% to 12% - still well above Amazon and other retail/distribution companies. Six month earnings reported July 2014 would be $0.47 vs. the reported $0.82 or 43% lower. If the multiple remains the same you're looking at a share price of $25-26. Put lower margins are probably only half the story, Amazon probably also takes share lower Fastenal's growth rate; combined with a less profitable business you're looking at a much lower multiple. Let's say the multiple falls from 29x to something more reasonable like 19x (still a premium to the market), you're looking at a target price in the high teens... $16-18. More than 60% downside from here.
Disclosure: The author has no positions in any stocks mentioned, and no plans to initiate any positions within the next 72 hours.
The author wrote this article themselves, and it expresses their own opinions. The author is not receiving compensation for it (other than from Seeking Alpha). The author has no business relationship with any company whose stock is mentioned in this article.