On Tuesday I published the first five of my eleven themes for 2011.
Number One - Home Prices will resume a decline that began in mid-2006.
We had the home buyer tax credits expire in mid-2010, and government sponsored mortgage modifications provided limited help.
In 2011 we face continued foreclosure issues including questionable documentation, and banks have a record high Other Real Estate Owned (OREO). OREO is up to $53.2 billion at the end of the third quarter, up 338.2% since the end of 2007.
Depressed home sales are being sold at a 30% to 35% discount, which reduces property appraisals at the county level.
Home builders will have to compete with these lower prices and we need a mortgage modification program for all Americans, not just those at risk of losing their homes.
QE2 is not working and US Treasury yields are higher, causing mortgage rates to rise.
"The Great Credit Crunch" began with housing, and that foundation needs repair before Main Street can recover with sustainable job creation.
On Tuesday we learned that home prices are on the decline again according to Case-Shiller, and that the Conference Board's Consumer Confidence fell to 52.5 in December.
The National Association of Home Builders Housing Market Index remains depressed at 16, when a reading of 50 is neutral. The Consumer Confidence reading at 52.5 is depressed considering that 90 to 120 is the neutral zone.
The 20-City Composite from the Case-Shiller Home Price Index fell 1.3% sequentially in October and 0.8% year over year with Atlanta, Charlotte, Miami, Portland, Seattle and Tampa hitting new lows since home prices began to fall in mid-2006.
Home sales are down 25% year over year and the supply of unsold homes is up 50%, and housing starts are near thirty year lows.
From the mid-2006 peak to current home prices are down 29.6%.
The 20-City Composite is still 50% above its starting point at the end of 1999.
Click to enlarge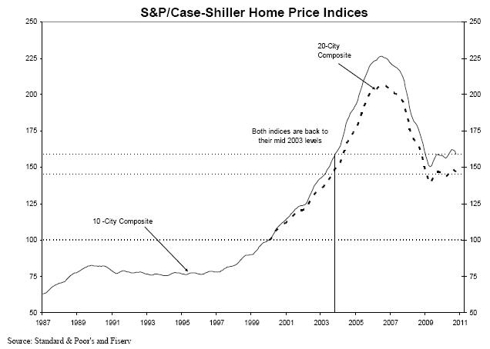 Click to enlarge
Tracking the US Capital Markets – US stocks are overvalued fundamentally and overbought technically on both daily and weekly charts.
The major equity averages are below this week's risky levels as the year draws to a close at: 11,629 Dow, 1269.4 SPX, 2682 NASDAQ, 5215 Dow Transports and 808.57 Russell 2000.
Fifteen of sixteen sectors are overvalued according to ValuEngine, with only 36.2% of all stocks undervalued. At 35% the stock market tends to find a top. Only 16.9% of all stocks are undervalued by 20% or more.
Click to enlarge
The Yield on the 10-Year Note (3.466) – This week's value level is 3.494 has held on weakness with today's risky level at 3.264.
Comex Gold ($1405.7) – Today's value level is $1387.4 with this week's pivot at $1401.2 and monthly risky level at $1443.5.
Nymex Crude Oil ($91.23) – Today's pivot is $91.38 with this week's risky level at $93.28.
The Euro (1.3116) – Today's value level is 1.3060 with my quarterly pivot at 1.3318, which goes away at the end of the year.
The Dow Industrial Average (11,576) – Remains extremely overbought on both daily and weekly charts. The five-day modified moving average is 11,523 with daily and weekly risky levels at 11,618 and 11,629.
Disclosure: I have no positions in any stocks mentioned, and no plans to initiate any positions within the next 72 hours.