The present macro environment is a high-flying time for the aviation industry. World passenger load factor (percentage of seats filled with passengers) is at historic high (see graph below). Over the past 30 years, the aviation industry has experienced recessions, oil price volatility, security threats, and war. Yet, the air traffic has continued to grow at an average rate of 5% annually. In this climate, Delta Airlines (NYSE:DAL) has posted super-strong result better than the industry.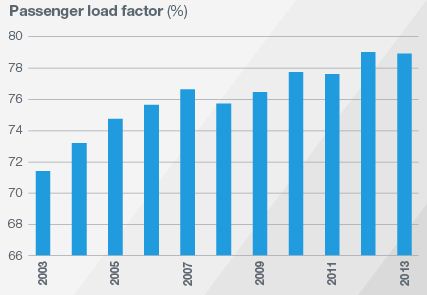 Source: Boeing
This article will focus on the future potential of Delta amid the favourable environment. I will centre my attention on how the company has stayed at top of its peers and how it will continue to do so. But before we proceed, let's take a quick glance at the recent revenue numbers.
In the latest quarter, revenue for Delta increased 9.4% year over year to $10.62 billion. The company had its traffic grow 5% as a result of which it had to increase its capacity by 320 bps. This is a positive sign since increasing capacity was complemented with a load factor jump of 150 bps to 86.3%. If the higher capacity wasn't utilized, it would've meant extra seats flying free and bringing no revenue. The final result was that the passenger revenue per available seat mile "PRASM" was up 5.6% from year-ago level.
Such a healthy top line outlines the fine running of the company's aircrafts. The carrier is benefiting from its focus on Latin international routes where the expansion has been greatest. This has been followed by domestic routes where recent investments at Seattle and New York have played an important role in bringing passenger traffic.
Moving towards costs, it is widely known that fuel price makes up the most important cost factor for any airline. The company has been actively managing its fuel through its own refinery. This has allowed Delta to repeatedly produce one of the lowest fuel prices in the industry quarter after quarter. Last quarter, fuel price stood at $2.93 per gallon compared to the industry average of $3.08. The company's refinery has made a material impact on costs. Together with the fuel-price hedging, Delta predicts that it will be able to reduce its fuel expense by more than $350 million in 2014.
Moving further down the cost column, Delta has also managed to fulfil its commitment of keeping non-fuel cost growth below 2%. The domestic refleeting and maintenance cost management seem to be delivering the proposed benefits as the company claims that its non-fuel cost will be less than 1% this year.
Savings coming from cost management and a stronger top line have granted Delta with free cash flow of more than $1.5 billion. The company's plans explain where this extra cash will be utilized. The investment of $2-$3 billion per annum will focus on acquiring a better fleet composition, facilities, products and technological support. The airline has already upgraded its Economy Comfort seating in all transcontinental flights operating from New York to Los Angeles, San Francisco and Seattle. These improvements have been a critical factor in attracting new customers.
Going forward, Delta predicts that its operating margin will grow to about 15-17% in the third quarter on continued gains from its cost reduction measures and market growth. This margin expansion will help the airline to sustain the growth in its earnings. Delta also plans to raise its third quarter flying capacity by 2-3% per annum. I think that this rate of capacity addition is disciplined and will not impact the overall ability of the airline industry to charge profitable fares to customers. This is because the additional capacity will be utilized by extra passenger traffic projected to grow about 5% per annum for the future.
Bottom Line
All in all, with strong performance in the first half, Delta seems on track to achieve its annual targets of 10-15% earnings growth, 11-14% operating margin and at least 15% return on invested capital for this year. The company's stock value has already grown by 99% in one year. The forward P/E, P/S ratio and dividend yield of 10.4, 0.78 and 1% respectively make Delta a good value stock since investors have to pay less for every dollar of earnings. With increasing global travel, and economic environment that favors the aviation industry, it can be said with confidence that the stock price should continue trending upward for Delta. It therefore holds a strong buy rating.
Disclosure: The author has no positions in any stocks mentioned, and no plans to initiate any positions within the next 72 hours.
The author wrote this article themselves, and it expresses their own opinions. The author is not receiving compensation for it (other than from Seeking Alpha). The author has no business relationship with any company whose stock is mentioned in this article.