Coca Cola Co.'s (NYSE:KO) new stake in Monster (NASDAQ:MNST) looks like a good plan to me. The company has been a staple in both large cap portfolios and dividend portfolios for what feels like an eternity. It seems to do everything right. Some analysts may argue that the company is over-valued, but the underlying company is strong. The company's global operations have been solid and have provided more diversity to the company's operations. In the combined markets of Eurasia and Africa, the company is #1 in sparkling (carbonated) products and in juice drinks. They're #2 in water, tea, and sports drinks. Monster has grown very well on its own, but Coke deserves respect for its ability to build a brand. To be more specific, its ability to build 200 brands.
Recent performance
Over the last couple years the sales and income for the company have been relatively flat. 2012 was better than either 2013 or 2011, but the company's strong dividend yield and returns through repurchasing of stock have been impressive. Since the start of the decade, the company has repurchased 221 million shares of stock, adjusted for the split.
Reported revenues vs. comparable currency neutral net revenues
Coke has a bit of a challenge on its hands in explaining the difference in these metrics. On one hand, their sales appear to be increasing, and on the other, they appear to be decreasing. Currency neutral is a pretty big qualifier for international firms. To break that down, Coke is selling its products all over the world. However, many of the customers are not paying with US dollars.
The problem is that exchange rates will "fluctuate." In the short term, that's a fine way of looking at it. The values of currencies do change relative to each other. But looking at currency movements as simply "fluctuations" is like looking at a dog on a walk and saying it could go anywhere. It may wander around, but the person (hopefully) is setting the course. If the foreign currency was equally likely to move up or down and the movements were by the same amount, it would be reasonable to just remove all currency fluctuations.
However, that isn't the case. Using covered interest rate parity, we find the expected returns to investors should be the same (or very similar) regardless of currency because arbitrage trading on futures contracts should correct any errors in the prices being offered.
That also means that we can both predict and hedge movements in the exchange rate. If we expect a given amount of the foreign currency to be worth a smaller amount of U.S. dollars a year from now than it is today, we can pay the price to hedge that expected loss (effectively locking it in) or deal with the rates floating.
In simple terms: Inflation in foreign countries increases "Currency neutral" figures. From the perspective an investor, currency neutral figures are not very useful. They are cited by Coke as an additional metric, but they are not incorporated in the financial statements, so it isn't a big problem. When I see that metric, I tend to toss it aside. In this case, it seemed worth explaining the concept to other investors that may not have looked at foreign exchange rate movements and the derivatives that are based on them.
To preemptively answer a question: The adjustments being made are adjusting for changes in relative values of currency, so if inflation was 50% in both countries, the exchange rate might not fluctuate significantly. If only one country experienced that inflation, then we would expect to see a significant difference between GAAP compliant revenues and currency neutral revenues.
It's useful to know how much of an impact the move in exchange rates is having, but I wouldn't consider currency neutral figures to be a substitute for GAAP figures.
The acquisition of Monster
From a perspective of value in the brand, I think this is a good deal for both companies. The companies may find synergy in even greater economies of scale, but there is also some distance with brand perception. Coke has been marketing their products in a very family friendly way. Remember the polar bears?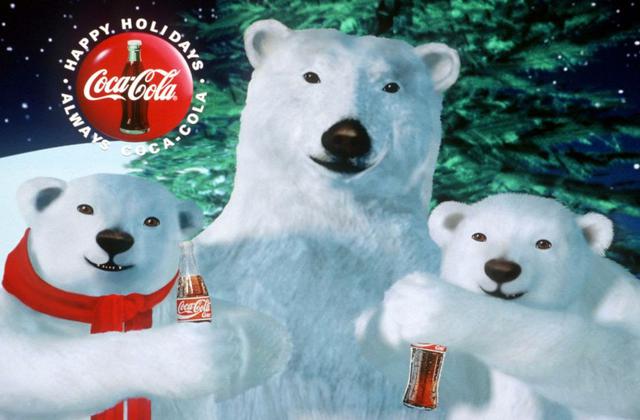 Monster on the other hand has targeted a younger male demographic. The slogan "Unleash the beast!" describes the product very well. Everything about monster matches that image. From the artwork on the can to the names of the flavors, Monster has known exactly who they are. The flavor name "Assault" doesn't say anything about what flavor you might expect, but it does describe the aggressive nature the brand is pursuing.
A legal challenge for Coke is when a geographic area, be it city, state, or country, proposes a special tax on sugary sodas. For Monster, the challenges are more severe. There are reports (unconfirmed) that "link" the product to more than a dozen deaths. The AMA has supported a ban on marketing such products to anyone under 18. Yes, the AMA would like to restrict monster like cigarettes and porn. I don't think there is any reasonable equivalence, but those are some major challenges for any brand. If Coke were a smaller company, I might worry about the clash in brands. Because Coke has built so many of them, I'm confident they can keep the brands separated in the eyes of the consumer.
If the brands can be kept separate, Monster's growth is exactly what Coke needs. While Coke's sales have been fairly stagnant over the last two years, Monster has had a CAGR in sales of over 14%. Coke has a great machine for building brands; they just needed some new quality products to put into that machine. I wouldn't be surprised to see Coke increasing their position in Monster.
To be clear, Coke is acquiring a position in Monster, it is not purchasing the entire company. The two companies exchanged some brands in the transaction that are allowing company to focus on the type of products that have more closely matched previously produced products.
Involvement at the World Cup
Coke's CEO refers to Brazil as "having a very tough macro environment in the first half." After the activity and involvement in Brazil, the brand should be stronger there, but the gains and current performance suffered from the macroeconomic variables impacting the company.
Impacts of reduced serving sizes
Both Pepsi and Coke switched to smaller serving sizes. The strategy has been a success. Prices (per can) were not significantly reduced, but the volume of product was. That isn't just less ingredients; it's also less shipping and less shelf space for the same number of units. American consumers have become concerned about the sheer volume of calories they are consuming and wanted smaller cans.
Conclusion
I think Coke and Monster will both benefit from the relationship, but it seems to me the deal is much more favorable for Monster. Monster has an enormous amount of room to grow internationally and the guys at Coke are the perfect mentors. The deal included an option to increase the stake to 25%, but it was contingent upon both sides agreeing to the deal. As I pointed out in an article on Pepsi, I found Coke, combined with Mondelez (NASDAQ:MDLZ) and Kraft (KRFT), to be relatively undervalued.
My predictions turned out to be accurate. When I published the article (NYSE:PEP) was trading at 90.29. The weighted basket of partial shares in the other companies was also at $90.29. Since then Pepsi has moved to $91.86 and the basket has moved to $93.19. According to my model, KO is still relatively undervalued though about one third of the price difference has been corrected.
I'm bullish on Coke as part of a properly diversified portfolio.
Disclosure: The author has no positions in any stocks mentioned, and no plans to initiate any positions within the next 72 hours.
The author wrote this article themselves, and it expresses their own opinions. The author is not receiving compensation for it (other than from Seeking Alpha). The author has no business relationship with any company whose stock is mentioned in this article.
Additional disclosure: Information in this article represents the opinion of the analyst. All statements are represented as opinions, rather than facts, and should not be construed as advice to buy or sell a security. Ratings of "outperform" and "underperform" reflect the analyst's estimation of a divergence between the market value for a security and the price that would be appropriate given the potential for risks and returns relative to other securities. The analyst does not know your particular objectives for returns or constraints upon investing. All investors are encouraged to do their own research before making any investment decision. Information is regularly obtained from either Yahoo Finance or the SEC database. If either of these sources contained faulty information, it could be incorporated in our analysis. The analyst holds a diversified portfolio including mutual funds or index funds which may include a small long exposure to the stock.