Small but very telling structural changes continue in this week's Commitment of Traders (COT) report, once again highlighted by another drop in adjusted Net open interest. Another telling line item is the net short position of the four largest commercial traders, dominated by JP Morgan (NYSE:JPM), dropped 5.9% to a net short position of 39,647 from 42,167 contracts week/week.
The bullish factor here is not just the drop in the net short position but the concentration levels, which account for the change in adjusted net open interest, down 1.67% and currently at 51.21%. The eight largest commercials also had a significant drop in the net short position, illustrating that they didn't take control of the short positions covered by JP Morgan and the other three largest commercial traders. Their net short position decreased 2,676 contracts in addition to their concentration levels contracting 1.34% to 70.63%.
Additionally, the commercial spread position increased, which means they added to their gross long position as they are already very net short silver futures in general, while the net short position of total world silver bullion inventories decreased 1.34% -- quite significant, given that it is estimated to be between 800m-1B ounces.
[Click to enlarge]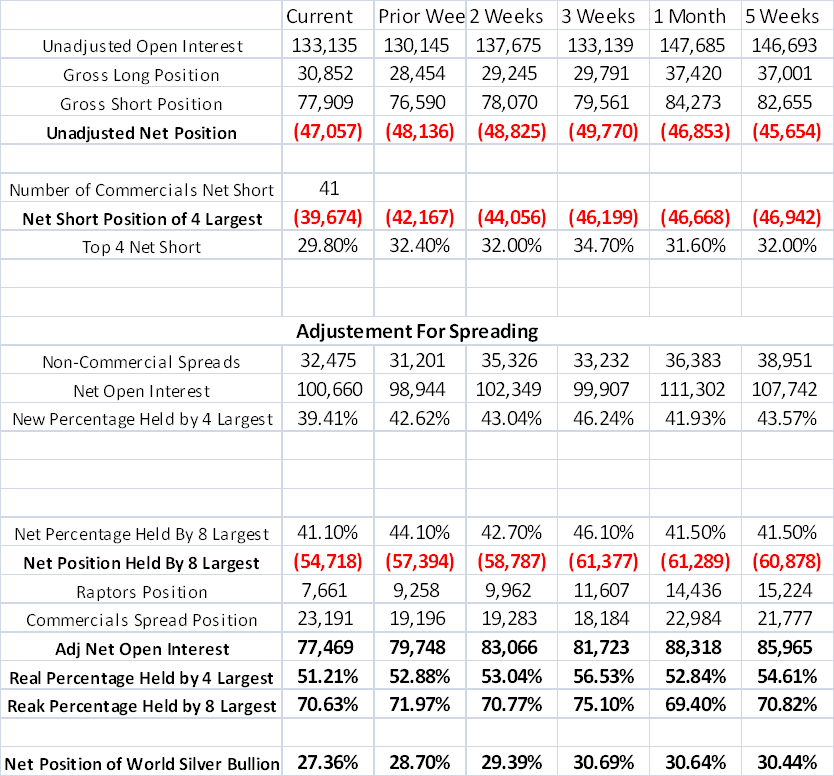 Summing this week's COT report up, all remains bullish on the silver front, with very important structural changes continuing this trend over the past couple of months, as seen by the chart above. The changes in concentration levels by the four largest commercial banks have seen adjusted net open interest and net short positions of world silver bullion inventories decreasing significantly, even over just the last six weeks. As I have said in the last four or five silver COT updates, I'm expecting this same trend to continue, although week/week trends will likely show volatility going forward.

Disclosure: Long physical silver, futures and various equities. I have no positions in any stocks mentioned, and no plans to initiate any positions within the next 72 hours.