Tesla (NASDAQ:TSLA) is a speculative growth stock. The company is a highly innovative company that has truly altered the way society views electric cars. Although it has changed the industry, the company was not profitable last year and is far away from making a Tesla vehicle inexpensive enough for the average consumer. These things are in the works, and the stock price reflects the earnings potential of this company.
The stock market treats TSLA with much enthusiasm as the stock has been rising steadily for the past 2 years. Investors have seen a TTM loss of 1.11 per share, while the forward P/E ratio is 77.24. This forward P/E ratio is assuming a boost in vehicle sales. TSLA has predicted that prices will drop by 30 percent when it begins increasing production in 2017, but that's a long time for investors to wait. Every time some piece of news comes out about TSLA, the price moves erratically, making it a great candidate for short-term capital gains.
The simple problem of investing long-term in TSLA, is that the company must execute on so many different levels for the stock to keep going up. There are so many opportunities for failure that problems are bound to occur along the way. Yes, it's possible that everything will come together within ten years, and TSLA will be the big boy in the auto industry, but I'm expecting some serious declines in the stock price along the way. That is why I plan on utilizing technical analysis before deciding to buy this stock.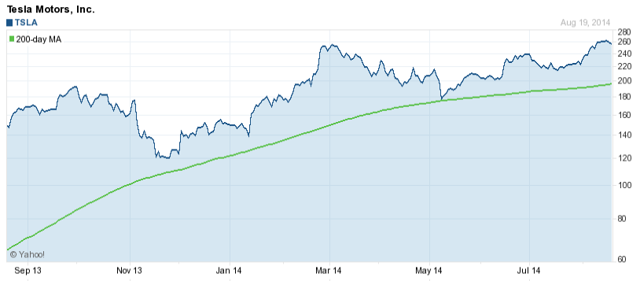 Click to enlarge
TSLA is clearly above its 200 day moving average, proof that the stock is showing little signs of slowing down (long-term). The 200 day moving average continues increasing, which is a bullish sign, but it is increasing at a slower rate. The right time to buy TSLA (according to technical analysis) is when the price moves closer to its moving average.

Click to enlarge
The Moving Average Convergence Divergence histogram is above its signal line, but looks like it may be slowing down and eventually reversing toward zero. This indicates a positive trend overall. The correct time to buy (according to technical analysis) is when the blue bars go from below zero to above zero and the time to sell is when they do the opposite. I will not wait until the bars cross above zero to buy, but instead buy when the bars are below zero and begin an upward trend.

Click to enlarge
With an RSI reading of 80, TSLA is currently overbought. History has shown that the right time to buy TSLA is when the RSI is around 20.
My current strategy with Tesla is to wait until all three of these indicators align with a buy signal, and only then to go long TSLA, with the intent of selling within a few weeks or months. Had I followed this advice for the past year I would have had two opportunities. The first buying opportunity occurred in the beginning of December 2013 and the opportunity to sell occurred at the end of February 2014. This would have generated a healthy profit. The next buying opportunity was in the beginning of May 2014 and the selling opportunity is near. There should be a buying opportunity when some sort of negative news is reported about the company and investors overreact, sending the stock downward.
I would like to clarify that with a high growth momentum stock such as TSLA, I have no intention of ever holding a short position. This strategy involves only buying on the dips and selling when the stock goes higher, whether I buy the stock or the options, the position is long. That also means that this strategy is only relevant when there is a good chance that the stock will continue to increase in price, which is why it is extremely important for each individual investor to do his/her own research and form his/her own opinion prior to purchasing or selling securities.
Disclaimer: I am not a registered investment advisor and do not provide specific investment advice. The information contained herein is for informational purposes only. Nothing in this article should be taken as a solicitation to purchase or sell securities. Before buying or selling any stock you should do your own research and reach your own conclusion. It is up to investors to make the correct decision after necessary research. Investing includes risks, including loss of principal.
This strategy was formed with the help of the book The Neatest Little Guide to Stock Market Investing, by Jason Kelly.
Disclosure: The author has no positions in any stocks mentioned, and no plans to initiate any positions within the next 72 hours.
The author wrote this article themselves, and it expresses their own opinions. The author is not receiving compensation for it (other than from Seeking Alpha). The author has no business relationship with any company whose stock is mentioned in this article.