As a dividend-growth investor, I am a big fan of the midstream MLP and General Partners business model. In this model, the MLPs typically will offer a higher upfront yield with modest growth potential, while the General Partners will offer a lower yield but with substantially more dividend growth.
A pair of companies that fits this mold quite nicely are ONEOK, Inc. (NYSE:OKE) and its MLP ONEOK Partners (NYSE:OKS). The following article will mostly focus on the former, though bear in mind that many of the catalysts mentioned apply similarly to the latter.
What is ONEOK?
To put is very simply, ONEOK, Inc, or "OKE" for short, is a pure-play General Partner. What this means is that the vast majority of its profits and dividends relies on the success of its MLP ONEOK Partners, or "OKS". Indeed, besides owning the General Partner interest and thus IDRs, OKE also owns around 41% of all outstanding OKS units.
On the other hand, OKS is a large midstream natural gas and natural gas liquids "NGLs" MLP. The vast majority of its profits comes from fee-based cash flows related to the servicing natural gas, such as via gathering, fractionation, pipeline transportation, marketing, and storage.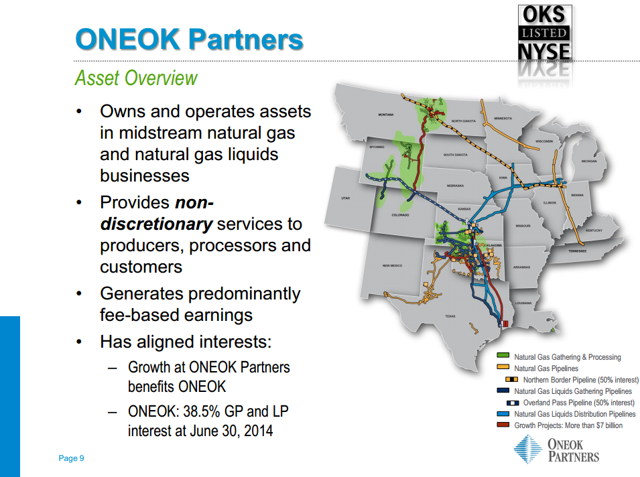 Click to enlarge
OKS carries relatively little commodity price risk, very fortunate given the price swings seen in natural gas and NGLs YTD. However, the company does carry some volume risk and has been impacted by ethane rejection and the weak propane market.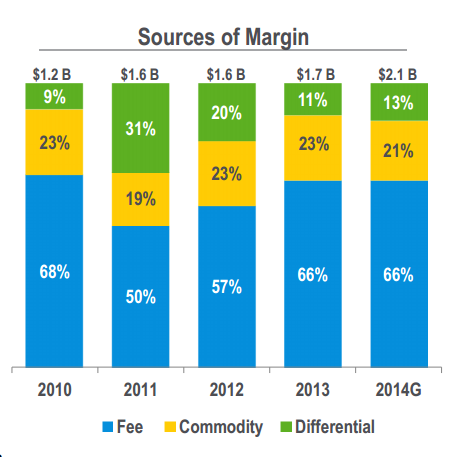 Why ONEOK, Inc. is a good choice for dividend growth
As shown by the chart below, OKE is receiving increasing larger distributions from OKS via its General Partner stake and LP interest, with a CAGR of 20% since 2006.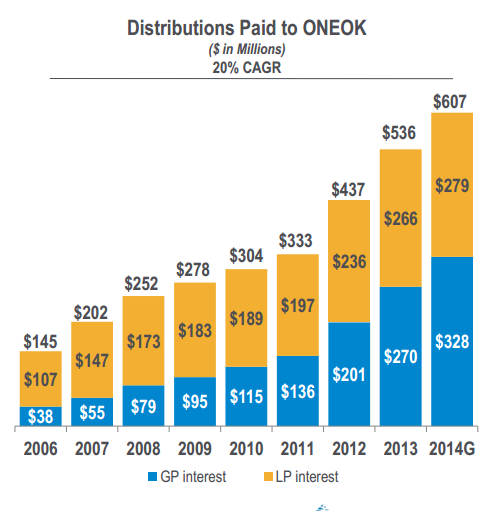 As a result, OKE has been able to reward its shareholders with very robust dividend growth. Since 2006, OKE has seen its dividend per share more than triple, posting an impressive 18% CAGR.

Click to enlarge
Do note that the large 40% increase in the dividend in 2014 was a result of the spin-off of ONE Gas (NYSE:OGS), a large natural gas utility, to OKE shareholders. In addition, both companies boosted their dividends after the separation.
Furthermore, even with this massive one-time increase, OKS still plans to increase its subsequent 2014 dividends by 1.5 cents each quarter. This implies a dividend growth rate in excess of 10%.
OKE Dividend data by YCharts
Outlook
For the year, OKE guidance calls for $600 million in cash available for dividends, $485 million in declared dividends, and a resulting $115 million in free cash flow. This results in a very strong dividend coverage ratio of 1.24x.
However, keep in mind that with OKE's move into a pure-play GP, it will need to start to pay income taxes of as much as 15% to 25% on its distributions from OKS. Previously, taxes were 100% deferred on the LP distributions, while the GP IDRs paid the full corporate rate.
Conclusion
Looking forward through 2016, OKE expects its annual dividend growth to be in excess of 10% per year and its coverage ratio to average out at 1.05x. Couple that with the current 3.40% yield and OKE's stock seems like a good pick for dividend growth.
In terms of valuation, OKE should be valued based on its current dividend yield plus expected growth. Using a dividend discount model, I come up with a $65 to $70 valuation. As a result, I would wait for a pullback to around $60 before initiating or adding to a position.
Disclaimer: The opinions in this article are for informational purposes only and should not be construed as a recommendation to buy or sell the stocks mentioned. Please do your own due diligence before making any investment decision.
Disclosure: The author is long OKE, OKS.
The author wrote this article themselves, and it expresses their own opinions. The author is not receiving compensation for it (other than from Seeking Alpha). The author has no business relationship with any company whose stock is mentioned in this article.