Monsanto Company (NYSE:MON) recently announced yet another increase in its quarterly dividend. The company has now increased its quarterly dividend by 14% to $49 cents/share, which takes its annual dividend to $1.96/share. Since 2010, Monsanto has increased its dividends five times; this represents an increase of 85%. Furthermore, I believe Monsanto has strong potential to sustain its dividend growth in the coming days. Its capital allocation strategy prefers returning the majority portion of cash to investors in the form of dividends and buybacks. Monsanto is also very aggressively working on buybacks. Recently, the company announced a massive buyback program of $10 billion, which will be completed in only two years, including a $6 billion of short-term accelerated buyback program.
Monsanto is among the companies that have been generating strong growth even in the depressed business environment. This is mainly due to its business strategy and portfolio management. The company is confident in its well established Seeds and Traits business. In addition, the company is also expanding its portfolio with new platforms like Climate Corporation platform. Furthermore, Monsanto is looking to lower its operational costs while making disciplined capital allocation to growth opportunities. As the company goes forward, with this plan in place, it is anticipating a double digit growth in earnings and cash flows over the next five years.
Recently, Monsanto announced third quarter results and increased its full year guidance from $5.12 to $5.22 per share. The company now expects to generate around $2.9 billion to $3.3 billion in operating activities, which I believe is enough to cover capital requirements and cash for shareholders. Moreover, the company's focus on aggressive buybacks is lowering an outstanding share, which further enhances its earnings per share and dividends. Economic indicators have also been stabilizing since the start of 2014 and it is expected that supply and demand dynamics will also keep improving for agricultural inputs, especially with the increase in population and acres while the effect of severe draught of 2012 is also subsiding. I am also expecting increased demand for agricultural inputs as people have no other choice other than to increase productivity.
Long-term fundamentals for the agricultural inputs industry are strong and Monsanto is also expecting strong growth in its Seeds and Genomics revenues. The company is planning to expand its profits by over $4 billion from Seeds and Genomics. At the moment, this segment is contributing around 80% to the company's profit and that is why Monsanto is enhancing its Seeds and Genomics segment. The company is also aggressively looking to ramp-up its soybean trait. Intacta RR PRO soybean acreage is expected to increase by three-to-four times in Latin America. Its corn portfolio is also a significant contributor, thus the company is strengthening, upgrading and expanding its corn portfolio.
Before making any conclusion, it is wise to look at any potential risks the company has to face going forward. The outlook for the agricultural input industry is stabilizing as the need for more and more food is rising. Furthermore, the company is in a very strong cash position, which subsidizes any risk of solvency. Moreover, its dividend growth is also sustainable as the company is generating strong cash flows and it is anticipating doubling its free cash flows each over the next five years.
In Conclusion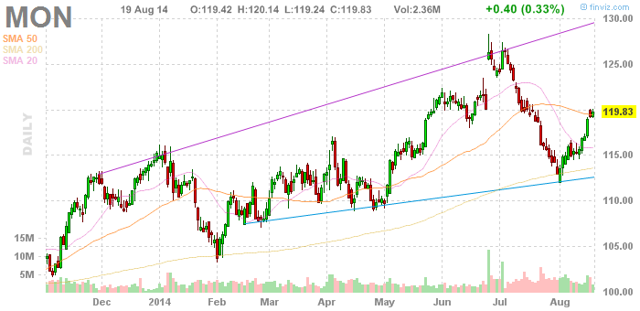 Click to enlarge
With its diversified and global seeds and Genomics portfolio, Monsanto continues to impress investors with its smart strategies. The company's share price gained a lot of momentum over the past few months on the back of a strong financial performance. In addition, Monsanto has a strong upside potential because it is expecting to generate very strong growth over the next five years as per the plan. I believe Monsanto is a good stock to buy on the dip and the company is set to sustain its dividend growth.
Disclosure: The author has no positions in any stocks mentioned, and no plans to initiate any positions within the next 72 hours.
The author wrote this article themselves, and it expresses their own opinions. The author is not receiving compensation for it (other than from Seeking Alpha). The author has no business relationship with any company whose stock is mentioned in this article.