Almost Family (NASDAQ:
AFAM
) is a leading, regionally focused provider of home health services. The company has service locations in Florida, Kentucky, Connecticut, New Jersey, Ohio, Massachusetts, Alabama, Missouri, Illinois, Pennsylvania and Indiana. It organizes its business into two segments: Visiting Nurse (VN) and Personal Care (PC).
The VN segment provides a comprehensive range of Medicare-certified home health nursing services to patients in need of recuperative care, typically following a period of hospitalization or care in another type of inpatient facility. VN Medicare revenues are generated on a per episode basis rather than a fee per visit or hourly basis. Approximately 90% of the VN segment revenues are generated from the Medicare program while the balance is generated from Medicaid and private insurance programs.
The PC segment provides services in patients' homes on an as-needed, hourly, or live-in basis. These services include personal care, medication management, meal preparation, caregiver respite and homemaking. They are often provided to patients who would otherwise be admitted to skilled nursing facilities for long term custodial care. PC revenues are generated on an hourly basis. Approximately 67% of the PC segment revenues are generated from Medicaid and other government programs while the balance is generated from insurance programs and private pay patients.
The VN segment generates 86% of the revenue, with the PC segment generating 14% of revenue. Almost Family is highly dependent on government reimbursement programs which pay for the majority of the services provided. Reimbursement under these programs, primarily Medicare and Medicaid, is subject to frequent changes as policy makers balance constituents' needs for health care services within the constraints of the specific government's fiscal budgets.
Almost Family has grown revenue on average with 11% in the last 10 years. Graph 1 gives an overview of revenue, operating income and free cash flow over the last 10 years.
Graph 1: Revenue, Operating Income and Free Cash Flow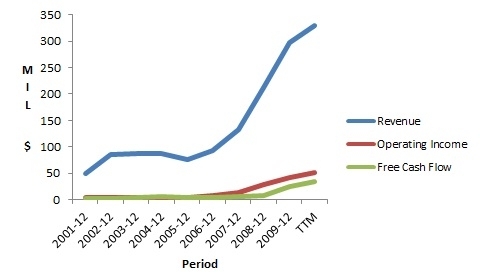 ROE and ROIC are both in the 18 to 25% range. Graph 2 shows the trend for the key financial ratios.
Graph 2: Operating Margin, ROE and ROIC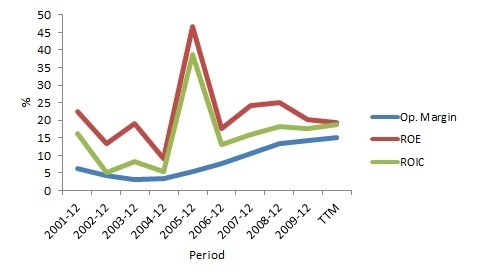 Almost Family is currently trading against a forward P/E of 12 and a price book value of 2. This is relatively low for a company with the growth rate and profitability of Almost Family. What is the intrinsic value?
The Earnings Power Value method will be used to come to an estimate of intrinsic value. First earnings need to be adjusted to represent the cash investors can extract and still leave the company functioning. Secondly we need to determine a discount rate. Lastly we'll estimate the future growth of the company.
Following adjustment to the earnings reported in its latest annual submission:
EBIT margin of 9% (minimum of the last 10 years)
SG&A and Depreciation adjustment
Tax rate of 41% (maximum of the last 10 years)
Discount rate of 12%
To estimate future growth we'll take a growth percentage of 10% (average revenue growth in the last 10 years), cost of capital of 9% and a ROIC of 20%. This gives us an intrinsic value of $59. Graph three shows an overview of intrinsic value versus stock price based on the last day of the year.
Graph 3: Intrinsic Value versus Stock Price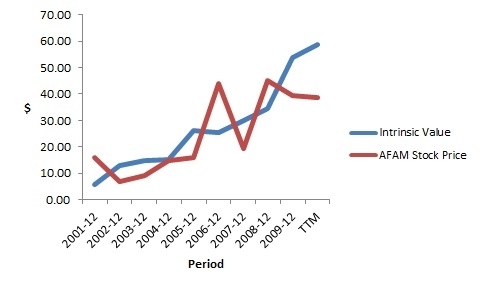 With a current price of around $38, Almost Family looks like an interesting investment. There are potential headwinds that should be considered before making an investment. The continuing political debate is subjecting the healthcare industry to significant reform. Changes in the law or new interpretations of existing laws may have a dramatic effect on the relative cost of doing business, and the methods and amounts of payments for medical care. This is important to consider with Almost Family getting around 77% of revenue from Medicaid.
I am long Almost Family (
AFAM
) with a small portion of my portfolio (2.7%). The demographic trend and current price versus intrinsic value outweigh the risk at this time. I will keep on evaluating my position regular when more information around health care reform comes available.
Disclosure: I am long AFAM.