An article in today's (August 19, 2014) Wall Street Journal and the Los Angeles Times reported on the Agriculture Department's new "Expenditures on Children and Families" report.
"A child born in 2013 will cost a middle-income American family an average of $245,340 until he or she reaches the age of 18. And that does not include the cost of college-or expenses after the age of 17 if the child continues to live at home."

"The costs that are included- food, housing, child care and education- rose 1.8% over the previous year."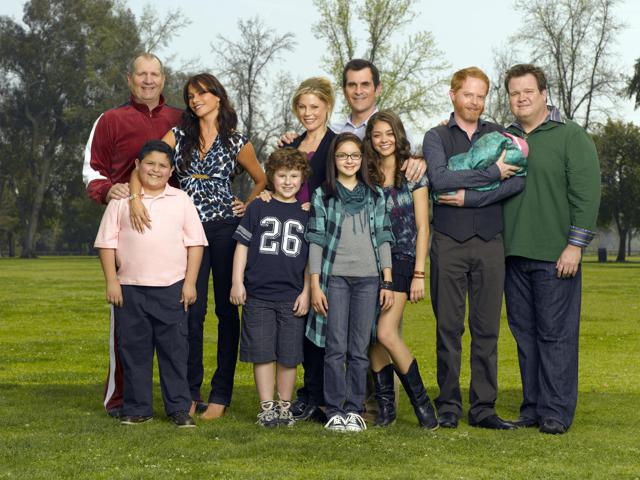 What is a prospective or new parent to do?
A. "Shoot me now."
B. "Kids, who said anything about having kids?"
C. "Honey, I guess our kids will be biking to school."
D. Regardless of what your starting point is, the point is to get started investing early in solid, high quality dividend growth companies.
By the numbers, connect the dots
The average American family has .9 children. The average number of children per all families was only .90 children. The average number of children in families with children was 1.86 children. As long as we're feeding .9 children, we might as well round that up to 1 child for the sake of this article.
Median household income fell slightly to $51,017 a year in 2012, down from $51,100 in 2011.
According to the LA Times, "The average family spends $12,800 to $14,970 a year per child. Middle-income families are defined as those earning $61,530 to $106,540."
Still want to have kids? Here's one way to do it…
Many Seeking Alpha contributors, me included, have written articles extolling the virtues of dividend growth investing, DGI, to retirees, or those nearing retirement. In the process, we've neglected pitching this great investing approach to the young investor, the newly married and new parents just starting out.
Although the dollar amounts described above seem daunting at first, upon closer examination, it would appear quite doable for most middle-income families if they committed to starting the dividend growth investing strategy early on.
Now for the fun part:
While the aim of this method is essentially to pay yourself back for all your child-rearing costs, you're really funding your retirement - no extra effort required.
Solid Dividend Growth Choices to Fund Child Expenses and Retirement
Stock

Ticker Symbol

Sector

Annual $ Income

Annual Dividend

per share

Yield %

McDonald's Corp.

MCD

Fast Food

$3.24

3.20

Johnson & Johnson

JNJ

Health Care

$2.80

2.70

Realty Income

O

REIT

$2.19

4.90

Main Street Capital

MAIN

Business Development

$1.98

6.30

Altria Group, Inc.

MO

Tobacco

$1.92

4.50

Kimberly -Clark Corp.

KMB

Consumer Staples

$3.36

3.00

CenturyLink, Inc.

CTL

Telecommunications

$2.16

5.90

Magellan Midstream Part.

MMP

Energy MLP

$2.45

3.00

Integrys Energy Group, Inc.

TEG

Electric Utility

$2.72

4.50

Reynolds American, Inc.

RAI

Tobacco

$2.68

4.30

Average Annual Yield

4.23

Dividend/distribution amounts and yields, courtesy of Yahoo Finance
There is safety in numbers
This portfolio is well-diversified amongst ten names, divided over nine different industrial sectors listed on the New York Stock Exchange. They include McDonald's Corp.(NYSE:MCD), Johnson & Johnson (NYSE:JNJ), Realty Income (NYSE:O), Main Street Capital (NYSE:MAIN), Altria Group (NYSE:MO), Kimberly-Clark Corp. (NYSE:KMB), CenturyLink, Inc. (NYSE:CTL), Magellan Midstream Partners (NYSE:MMP), Integrys Energy Group, Inc. (NYSE:TEG) and Reynolds American, Inc. (NYSE:RAI).
Many of these stocks have paid growing dividend/distribution income for consecutive periods of five to 25 years or more. They are considered by many to be stalwarts in their sectors. Barring company-specific news that negatively impacts the fundamentals, many investors would regard this as a set-it-and-forget-it portfolio.
If a young investor put equal amounts of dollars (equal weighting) into each of the mentioned names in this portfolio, her average dividend yield in the first year would be 4.23%.
The compounding effect in Dividend Growth Investing
Though the first year yield would be 4.23% (about 423 times higher than the average money market yield today), this would be just the beginning of an ever-increasing dividend stream. All of the names suggested have been increasing their payouts to shareholders on a regular quarterly and monthly basis for quite some time now.
Going back to the Great Depression over 85 years ago, history indicates an average total annual return, including share price appreciation and dividend income, of about 10%. Approximately 40% of that return comes from the dividends paid.
Using a compounding calculator we can see what it will take to arrive at our average total cost to raise a child through age 18 in a middle-income family: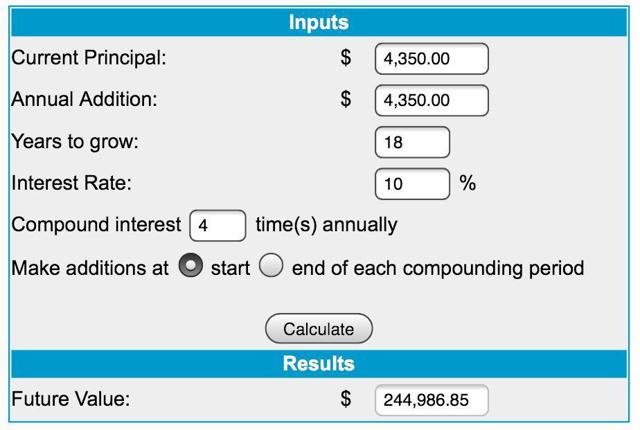 Calculator courtesy of moneychimp.com
Conclusion
As the numbers come into focus, it becomes clear. What at first blush seemed daunting is really quite manageable for most middle-income families - if they start investing early.
Facing the situation head-on and not procrastinating will allow an investor that wishes to provide well for her family to do so. As can be seen from the above calculator, our young investor needs only begin investing as soon as her child is born. Salting away just $4350 each and every year for 18 years, earning an historical 10% yield over an 18 year time frame will equal the amount to cover the expenses to raise a child in the average middle-income family.
Now that you've paid yourself back for all the expenses you've laid out over these 18 years, you've really killed two birds with one stone.
If you place these investments into your IRA, you will grow your capital and income in a tax-deferred way, allowing it all to compound much faster, as illustrated with the compound calculator, and you'll have the foundation well-established on your retirement account.
Should you be interested in reading any of my other articles detailing various strategies to enhance your returns on a dividend growth portfolio, please feel free to find them here.
Disclaimer: This article is intended to provide information to interested parties. As I have no knowledge of individual investor circumstances, goals, and/or portfolio concentration or diversification, readers are expected to complete their own due diligence before purchasing any stocks mentioned or recommended.
Disclosure: The author is long CTL, MAIN, MMP, MO, O, RAI, TEG.
The author wrote this article themselves, and it expresses their own opinions. The author is not receiving compensation for it (other than from Seeking Alpha). The author has no business relationship with any company whose stock is mentioned in this article.