By Todd Shriber & Tom Lydon
A big part of the reason Chinese large-caps and the exchange traded funds that hold those stocks have been performing so well in recent months is the resurgence of Chinese banks.
Just look at the iShares China Large-Cap ETF (NYSEARCA:FXI). The largest China ETF devotes a whopping 54.3% of its weight to the financial services sector and six of the ETF's top-10 holdings hail from that sector. FXI is getting a new index month, which could lower the ETF's weight to financials, but the sector will still be the ETF's largest and by a decent margin.
Even without the benefit of bank stocks, the WisdomTree China Dividend Ex-Financials Fund (CHXF) is up 14.2% over the past three months. Yes, that lags FXI, but CHXF should not be scoffed. At least not when evaluating Chinese dividend growth and the recent contributions of the country's banks to that growth.
Research released in May from WisdomTree notes that of the 76 Chinese firms in the WisdomTree Emerging Markets Dividend Index, 54 recently boosted payouts. Research analyst Tripp Zimmerman points out that aggregate dividend growth for those 76 companies "was 10.7%, or an increase from $25.2 billion to $27.9 billion."
Equally as important may be the 12.7% growth seen from the financial services sector, which has come under fire in China this year amid speculation of an out of control shadow banking sector and rising credit defaults.
"The top seven Dividend Stream increases were all financial firms, and the sector remains the largest dividend-paying sector within the Index. I find it impressive that, despite having the largest payers, the sector was still able to outpace the total Index growth rate. More than 80%, or 14 out of 17 financial firms in the Index, grew their dividends by a total of 12.7%, about 2% above China's total growth," according to WisdomTree.
CHXF still holds its own the dividend front with a distribution yield of 2.23%, which is about 40 basis points superior to the trailing 12-month yield on the S&P 500. The ETF also features some of the more credible Chinese blue chip dividend payers, including several that trade here in the U.S.
For example, CHXF's largest holding with an 8.4% weight is China Mobile (NYSE:CHL). That stock yields 3.8%, or 50 basis points less than Dow component Verizon (NYSE:VZ), but over the past 90 days, China Mobile has surged 22.5% while Verizon has trade slightly lower.
The average dividend yield of PetroChina (NYSE:PTR) and CNOOC (NYSE:CEO) is 3.85%, compared to an average yield of less than 3% for Exxon Mobil (NYSE:XOM) and Chevron (NYSE:CVX). PetroChina and CNOOC, a combined 9.3% of CHXF's weight, are up 29.6% and 8.7%, respectively, this year. Chevron is up just 1.7%.
Energy is CHXF's largest sector weight at 24.3%, more than double FXI's allocation to the same group.
There is a positive trade-off to CHXF's lack of financial services exposure even at a time when Chinese banks are soaring: Lower volatility. Since its inception in May 2012, the WisdomTree China Dividend ex-Financials Index (WTCXF), CHXF's underlying index, has had annualized volatility of 14.9%, according to WisomTree data. By comparison, FXI's three-year standard deviation is 24.3%.
In the aforementioned May note, WisdomTree pointed out that the largest dividend growth sectors in China were consumer discretionary and utilities with average payout growth of about 43%. Those sectors combine for over 15% of CHXF's weight.
WisdomTree China Dividend Ex-Financials Fund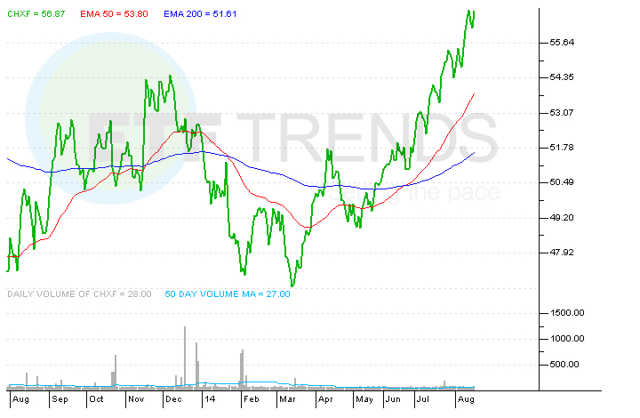 Disclosure: The author has no positions in any stocks mentioned, and no plans to initiate any positions within the next 72 hours.
The author wrote this article themselves, and it expresses their own opinions. The author is not receiving compensation for it. The author has no business relationship with any company whose stock is mentioned in this article.