L Brand (NYSE:LB) reported 2Q14 results in which EPS of $0.63 (+5% y/y) was ahead of consensus $0.62, mostly driven by disciplined cost control. Revenue of $2.67b (+6% y/y) was also ahead of consensus $2.65b on better than expected comps (+3%), that improved 1ppt q/q and 2ppt y/y with the growth profile split evenly between VS and BBW. Rational pricing and lower promotional activities helped. The company's Q3 EPS forecast of $0.26-0.31 was in line with consensus $0.30, but full-year EPS was raised to $3.03-3.18 vs. the prior $3.00-3.15. The current EPS guidance includes the $0.10-0.12 negative impact on the exit of non-core categories in the VS direct and beauty business.
Bringing sexy back?
LB's earnings beat was due to disciplined cost control in that SG&A declined 2ppt q/q, resulting in a 14% OPM, flat q/q. Higher than expected revenue growth was also accretive to earnings.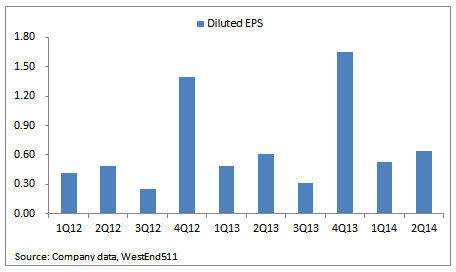 Consolidated revenue of $2.67b also beat consensus of $2.65b due to a minor sequential acceleration of revenue across the core VS and BBW segments on lower promotional activities.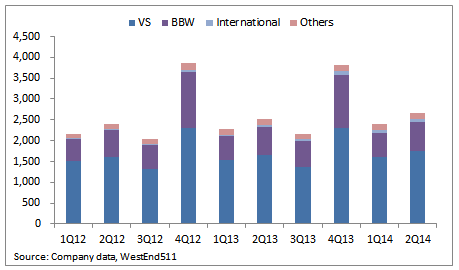 VS revenue of $1.7b (+5% y/y) and BBW revenue of $705m (+6% y/y) were driven by 3% SSSg in each of the segment. Meanwhile, VS and BBW international sales continue to gain momentum, +71% y/y to $79m. Although international accounts for only 3% of the overall revenue, the VS brand is gaining traction in those markets in particular among the urban white-collar females and the revenue mix has been growing steadily from 1.8% a year ago. Going forward, I expect VS international growth to remain robust as its brand awareness proliferates.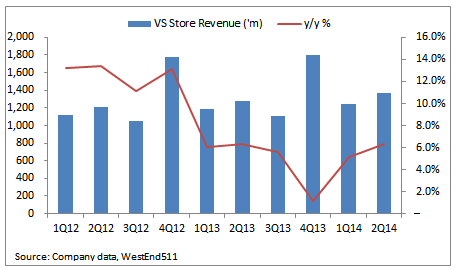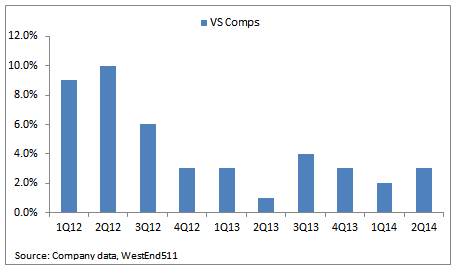 BBW's SSSg grew 3% y/y, showing second consecutive quarter of sequential improvement. This has positively impacted BBW revenue growth of 9% q/q and 5% y/y.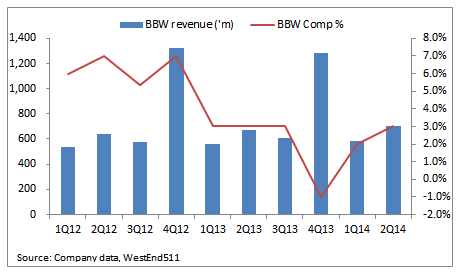 The demand for BBW continues to remain muted, however, and still very concentrated here in North America. On average, the number of store has been steady over the past several quarters. In my view, BBW will likely to be most hard hit by the declining mall traffic in that revenue growth can only be achieved via organic SSSg rather than increasing store count (as it is done in VS).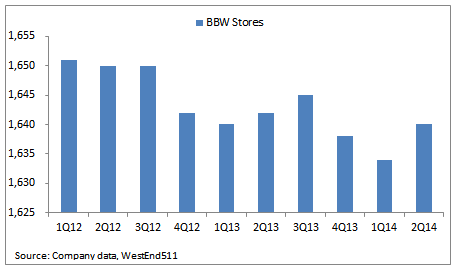 Unlike BBW, VS store count once again saw a net increase over the quarter. My view remains that the increasing store count amid a declining traffic environment is not accretive to free cash and dividend growth.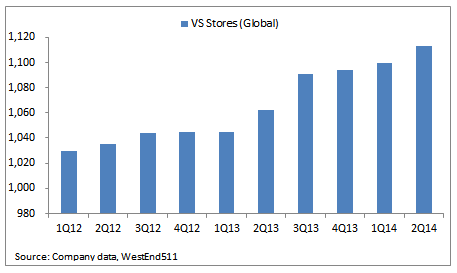 In conclusion, LB's Q2 showed that disciplined cost control and rational pricing once again drove earnings. VS store expansion continues to remain a key risk to free cash and, while SSSg showed incremental improvement in the Q, revenue is still rely on store count growth. Investors are better off staying on the sideline for now as it may take a while for LB to bring sexy back.
Disclosure: The author has no positions in any stocks mentioned, and no plans to initiate any positions within the next 72 hours.
The author wrote this article themselves, and it expresses their own opinions. The author is not receiving compensation for it (other than from Seeking Alpha). The author has no business relationship with any company whose stock is mentioned in this article.