Investors have a couple of ways of looking at the value of Twitter (NYSE:TWTR). The fast-growing social media darling trades at a sky-high earnings multiple in excess of 100, but its valuation of $25 billion trails Facebook (NASDAQ:FB) by a long shot and even falls below LinkedIn Corporation (NYSE:LNKD) by a couple of billion dollars.
As with any story stock, the real issue is how the story will ultimately unfold over the next decade. Will Twitter figure out how to increase engagement by users that don't generate content? Just as a similar manner concerns exist on whether Facebook is losing prime teenage users that might signal a peak for the social network. Depending on how a person views those scenarios highly distinguishes whether one thinks those stocks are buys or sells. From a neutral point of view, this is how Twitter looks based on the pure numbers.
Low User Growth And Revenue Per User
The biggest issue with Twitter is that user growth is disappointing with monthly active users ((MAUs)) only increasing 24% YoY. With the user total only at 271 million at the end of Q214, the short messaging service falls far behind the nearly 1.3 billion using Facebook on a monthly basis. Investors can either read that as plenty of upside or a service doomed to fail.
The number that correlates to advertising revenue, timeline views on Twitter reached 173 billion for Q214. These views measure how engaged users are and far outplays user totals for importance. The number was only up 15% YoY, a troubling small rate of growth. To be fair, the company collapsed conversations into a single timeline view somewhat decreasing the actual growth rate. In addition, management is adamant that going forward efforts will reduce views per user while improving the efficiency by feeding them better data.
The average revenue per user, or ARPU, hit $1.02 for Q2. This number trails Facebook by a wide margin, partly due to Twitter being a year or so behind that social media giant in attempting to monetize users. In total, Facebook had ARPU of $2.24 during Q2 led by a large $6.44 per users in the US and Canada. A year ago, Facebook stood at $1.60 in revenue per user.
A key metric that Twitter uses is advertising revenue per thousand timeline views. The number reached $1.60 in Q214, an increase of 100% YoY. So while Twitter is seeing marginal user growth, the company is seeing a substantial increase in advertising demand.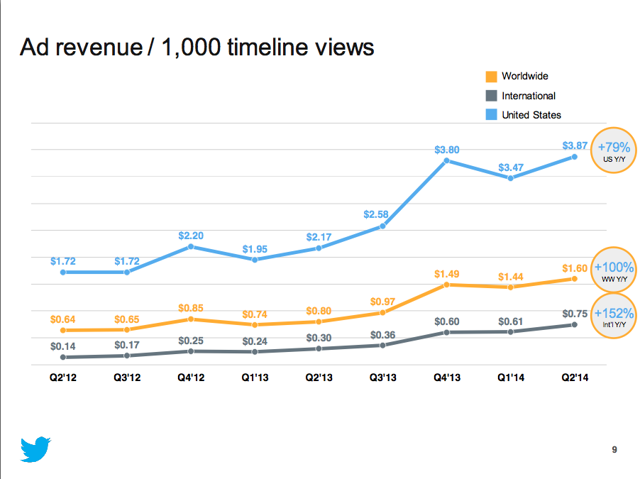 Click to enlarge
Source: Twitter Q214 Slides
Growth Rate Equals Multiple
The one reason that bears are possibly wrong about Twitter's valuation is that analysts forecast the 5-year earnings growth rate at right around the 112% level. Some experts suggest paying up to 2x a company's growth rate, or the equivalent of 224x earnings estimates in the case of Twitter. This compares very favorably to the company now valued at roughly 124x estimates of earning $0.36 next year.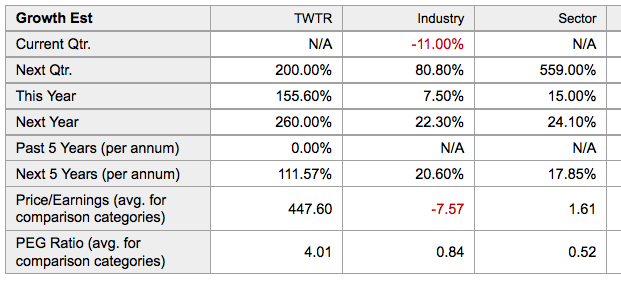 Source: Yahoo! Finance
Use GSV Capital To Reduce Risk
Possibly the best way to invest in Twitter remains via investment fund GSV Capital (GSVC). As detailed in "GSV Capital: The Low-Risk Way To Own Twitter", the fund trades at a substantial discount to NAV and with Twitter as the largest position it is a way to control downside risk in owning the highly volatile Twitter stock directly.
GSV Capital trades right around $10 despite the NAV at $14.86 at the end of Q214. The fund owns roughly 50 investments in venture capital companies, but the largest position is Twitter at 21.1% of the portfolio at the end of June. The investment fund has risk that some of the other top positions in private firms such as Palantir Technologies or Dropbox drops in value offsetting the NAV cushion.
Conclusion
The bottom line on investing in Twitter at a multiple of over 120x 2015 earnings and a valuation of over 10x revenue is that the investor has to believe in the future of the social media service. Twitter is cheap if it turns into the news source for the world. It has tons of opportunity to grow the user base and expand the ARPU just to catch up with the levels produced by Facebook.
Based on the common valuation metrics, Twitter is borderline cheap and the low-risk way to invest in it remains via investment fund GSV Capital. Of course, if you think Twitter will one day rival Facebook in valuation, by all means buy it directly to capture all the upside.
Disclosure: The author is long GSVC. The author wrote this article themselves, and it expresses their own opinions. The author is not receiving compensation for it (other than from Seeking Alpha). The author has no business relationship with any company whose stock is mentioned in this article.
Additional disclosure: The information contained herein is for informational purposes only. Nothing in this article should be taken as a solicitation to purchase or sell securities. Before buying or selling any stock you should do your own research and reach your own conclusion or consult a financial advisor. Investing includes risks, including loss of principal.