I usually don't focus that much on singular analyst notes. If we get a collection of notes on a particular name, it might mean something is up. However, I want to focus today on Baird's recent downgrade of SolarCity (NASDAQ:SCTY). I think this downgrade was perfectly timed. Today, I'll detail why the analyst note may be good news for investors and provide a good opportunity to enter the name.
The downgrade and discussing the rally:
Back in June, I discussed the possibility of a short squeeze in SolarCity. As you can see in the chart below, shares soon rallied and jumped into the $70s before pulling back, at which point I again wondered about a short squeeze. Shares then rallied again before the latest pullback and analyst downgrade.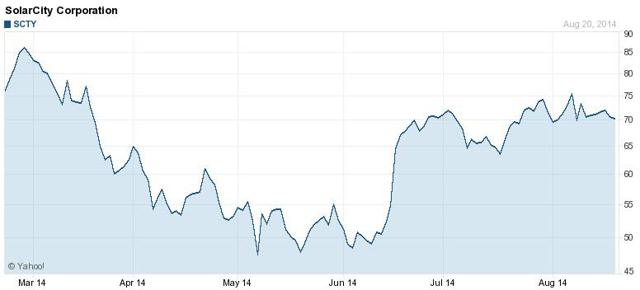 (Source: Yahoo! Finance)
With shares in the low to mid $70s recently, Baird downgraded SolarCity to Neutral. It is important to note however that the firm maintained its $83 price target on the stock. Back in April, Baird had rated SolarCity a Buy, and at that time, shares were around $56 a share. So this call to downgrade was just the firm saying that upside potential has been reduced.
There are two key points I need to discuss here. First, the $83 price target still represents a decent amount of upside on the name. Baird is worried about valuation, because at the time of the note, only about $10 of upside remained to the target. With about $27 to the target on the Buy call, the downgrade does make sense. Second, this note does provide an important reality check to investors. This stock has rallied a bit, so a big move has already been made. When I was arguing for a huge rally, shares were a lot lower. I still believe shares can go higher, for a reason discussed next, but certain factors have made upside potential not as great as it once was.
A tick up in short interest:
In my latest article on SolarCity, I detailed how short interest had recently plunged. With nearly 28% of the float short, I really was pushing the short squeeze button, but a number of shorts covered in early July. That made me a bit less optimistic, but still hopeful. In the chart below, you can see how short interest has trended.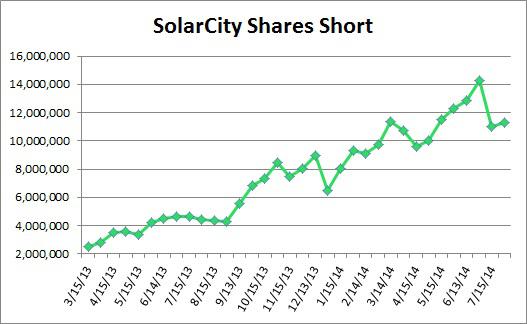 (Note: Last data point on chart is for settlement date of 7/31/14)
With the end of July update, short interest rose by a little more than 314 thousand shares. That's a rise of about 3%, so it's not tremendous. The other issue is that we've seen another rise in the float number, according to Yahoo! Finance. SolarCity's float is now more than 54 million shares, up about 1.8 million shares from my latest update. So even though short interest has risen, the rise in the float is larger. As a result, about 20.9% of the float is now short. That's down from 21.01% at my previous update and 27.64% at the high. Again, a short squeeze is still possible, but the percentage of float has come down again.
Some recent insider selling:
I've seen some concern in the marketplace over a number of executives that have recently sold shares. However, there are a number of reasons why these sales have taken place. While the company's CEO did sell 100,000 shares, this was a planned share sale. Additionally, a few directors had disposed of a larger amount of shares, but these turned out to be distributions to funds.
I must always remind investors that before seeing a share sale as a negative, you must find out what the reason is. In the CEO's case, this was a planned sale that had been previously announced. A lot of companies use stock options as a large part of executive compensation, so I'll never be opposed to someone who's selling shares just to collect pay. Additionally, we sometimes see company directors that are members of an asset management firm. Sometimes, the director is listed as the "holder" of the shares when a fund owns them, so like above, you have to see the exact details when someone's "sale" is just a transfer to another party/fund.
Final thoughts:
Baird downgraded SolarCity this week, which gives investors a good chance to evaluate the name again. The firm noted a significant rise in shares in its valuation concern, but maintained a price target that represents decent upside. Shares have come off recent highs, and I think that provides an opportunity for investors. This name is still heavily shorted, meaning the next piece of good news could lead to a squeeze. Additionally, concerns about recent insider sales may be overblown once you examine the sales in more details. While a downgrade is normally seen as a negative, I do believe this one was well-timed and gives SolarCity investors a good chance to get into this name.
Disclosure: The author has no positions in any stocks mentioned, and no plans to initiate any positions within the next 72 hours.
The author wrote this article themselves, and it expresses their own opinions. The author is not receiving compensation for it (other than from Seeking Alpha). The author has no business relationship with any company whose stock is mentioned in this article.
Additional disclosure: Investors are always reminded that before making any investment, you should do your own proper due diligence on any name directly or indirectly mentioned in this article. Investors should also consider seeking advice from a broker or financial adviser before making any investment decisions. Any material in this article should be considered general information, and not relied on as a formal investment recommendation.