This last week of the year, often the week where most market participants are on vacation, most Wall Street firms are staffed with skeleton crews and all kinds of market experts caution in advance not to make too much of price movements in what usually is a very thin, and therefore seemingly volatile, market. While I've never quite thought of labeling myself a contrarian, I have to say that I am indeed working this week and that there have been some meaningful price moves and noteworthy news items that augur for possible opportunities right now and into early 2011.
The energy sector warrants a close look as to whether this week's price action is "vacation-thin-markets-induced" or something more fundamentally lasting. Readers of my market commentaries will know that I've been adding to my energy exposure, primarily in the oil and gas drillers, for some time. When I first wrote "Energized for Energy Sector" on November 19, 2010, and a follow on article "Time to Consider Schlumberger, Halliburton" on December 3, 2010, energy stocks of several varieties were already on the rise and some commentators rightfully questioned me on whether this was a situation of taking a step off of the dock onto the ship after it already set sail and if, in turn, this view would end up all wet, so to speak.
How have things worked out? You might say, the jury is still out, and in fact is always out as it relates to specific performance citations in these articles because each investor is obliged to decide for his/herself as to whether material that I present in my writings is relevant to their investment goals, risk tolerances and financial profiles. Suffice it to say that many of the energy sector stocks have traded well and oil, one of the key underlying factors in this investment assessment, has continued to work its way up en route, many experts believe, towards $100 per barrel.
I'd like to add a few thoughts on why one might still consider energy to be a sector that could perform well into early 2011. For one, sitting in the Northeastern US where we've just had close to two feet of snow, shopping for oranges and other citrus products and facing steep price increases thanks to the frost in Florida, watching news reports of stranded travelers throughout Europe in the past couple of weeks as winter weather has disrupted travel ... one has to believe that the weather machine is on full blast this winter and is likely to keep demand for energy strong.
Let's move on to today's report in the press about a survey released by Barclays Capital in which they state that companies are planning to spend close to half of a trillion dollars on exploration and extraction in the coming year. As noted in today's Wall Street Journal article, "Oil Industry Cranks Up Spending:"
Barclays estimates spending on new wells, producing platforms and other energy infrastructure will total $490 billion next year, up 11% from 2010. The figure is based on a survey of 402 companies. In part, the planned spending increases reflect the higher costs for finding and extracting oil in harder-to-access areas.
How about supply? Any disruptions, other than the usual suspects of terror related events, possible in coming months? Let's consider Sudan, not a heavyweight in oil exporter terms relative to other African nations, but not irrelevant. Have a look at the following charts, sourced from the US Energy Information Administration: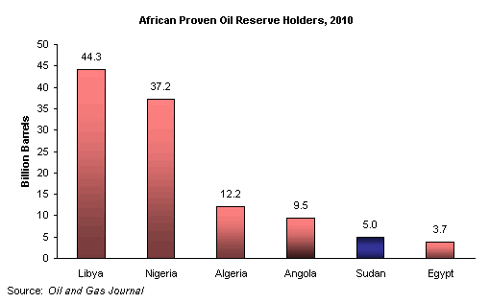 Click to enlarge
(Click to enlarge)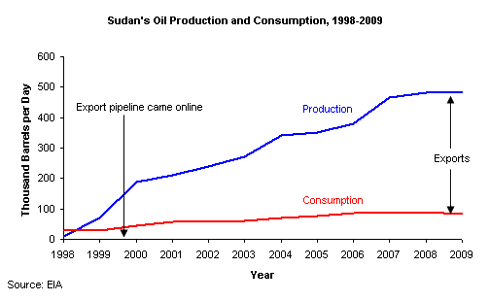 Click to enlarge
(Click to enlarge)
As the charts make clear, Sudan got into the oil production and export business in 1999 and given the size of their estimated reserves, any disruption to Sudan's oil flow is not seemingly cataclysmic to world oil supply. But it is a potential disruption nonetheless on the heels of the upcoming January 9, 2011 referendum in which the Southern part of Sudan, home to much of the country's oil reserves, is voting on secession.
While there is an agreement between the north and south on revenue sharing post the referendum, there are growing concerns about whether this will be achieved in a peaceful manner as it's spelled out on paper or whether history will repeat itself and the country will be thrust into a horrific civil war. (Two articles worth reading for more detail include Africa Online News' "Sudan Now Africa's Third Largest Oil Producer," and National Post's "Lawrence Solomon: Birth of an (Oil) Nation, loss of an Islamic Prize.")
The supply disruption concern posed by Sudan is really a warm up for another event taking place a few months later in a much bigger oil-exporting country, Nigeria. Nigeria is meant to hold presidential elections in April 2011. A power sharing arrangement between the largely Muslim north and Christian south has kept the transition of power relatively smooth in recent years ... that is, until now. The current President, Goodluck Jonathan, from the Christian south, took office earlier in 2010 when the then president from the Muslim north died midterm. This elevation of a Christian southerner to the presidency has disrupted the alternating power sharing arrangement that has existed. As such, there is already a considerable increase in violence and aggression between north and south in the lead up to the elections. The Council on Foreign Relations has quite a bit written (along with videos) on the subject. Their blog, written by former US Ambassador to Nigeria, John Campbell, is a suggested read. On one recent posting, I inquired whether the election outcome was likely to disrupt oil supplies, to which Campbell noted:
Even under the worse scenarios nobody wants to kill the goose that lays the golden egg. But accidents happen. If there is an acceleration of violence in the delta with increased attacks on the oil and natural gas infrastructure to bring pressure on the government, then oil production will decline, as has happened in the past. At present, uncertainly generated by the proposed petroleum industry bill has also lead to a slow down in investment in the future productive capacity of the industry.
Now, to put things in perspective, have a look at the following chart, again, accessed from the US Energy Information Administration, that shows the relative importance of Nigerian exports to the US (data as of November 29, 2010):
Crude Oil Imports (Top 15 Countries)

(Thousand Barrels per Day)

Country

Sep-10

Aug-10

YTD 2010

Sep-09

YTD 2009

---

CANADA

1,936

1,933

1,976

1,938

1,926

NIGERIA

1,107

942

1,021

886

720

MEXICO

1,098

1,158

1,116

1,124

1,119

SAUDI ARABIA

1,082

1,080

1,072

1,031

1,013

VENEZUELA

919

974

928

1,014

998

IRAQ

422

281

462

428

456

ANGOLA

404

472

409

401

475

ALGERIA

366

374

333

433

276

COLOMBIA

308

346

328

285

259

RUSSIA

236

334

289

163

252

ECUADOR

229

236

196

147

196

BRAZIL

177

249

269

262

326

KUWAIT

172

251

204

246

179

GABON

71

74

46

32

72

UNITED KINGDOM

70

121

138

117

111
Point made! Nigerian oil exports matter!
There are many aspects to what drives oil prices and in turn the stock prices of companies involved in the industry. This article was meant to provide some thought-provoking issues that ought to be included in any investor's assessment of whether to invest in theEnergy sector. With some of the price moves we've seen in many of the stocks in this space during this last week of the year, I wonder if we're supposed to excuse it to thin volatile markets, or something more substantive.
(Please note: This article is solely meant to be thought provoking and is not in any way meant to be personal investment advice. Each investor is obligated to opine and decide for themselves as to the appropriateness of anything said in this article to their unique financial profile, risk tolerances and portfolio goals).
Disclaimer: Please read and consider important information related to all communication made by Soos Global on this site by clicking here.Click to enlarge
Disclosure: I am long SLB, HAL, WFT, XLE, PDE, BHI, HES, PBR, DVN, CLNE, MRO.
Additional disclosure: Positions may change at any time without notice.