The recessionary environment has been a difficult time for all consumer discretionary dependent businesses. Nautilus (NYSE:NLS) is no exception. Management's chief responsibility since 2008, when the market apocalypse occurred, has been to trim the fat and identify the businesses' most resilient, core businesses.
The strongest, representing about 2/3 of the business' revenue, is the direct-to-consumer division, focusing mostly on Bowflex advertisements bringing people to affiliated websites and call centers to generate orders.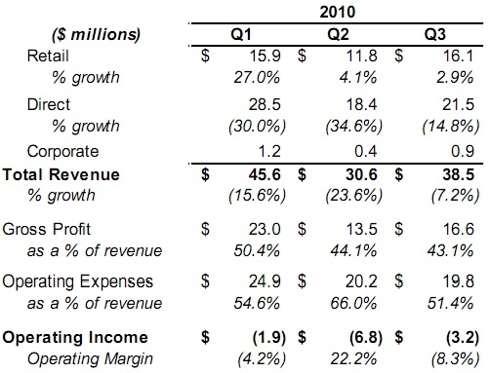 Click to enlarge
(Click to enlarge)
Starting in 1986 as Bowflex of America, the business started only direct-to-consumer advertising. Retail would soon follow and with an acquisition of Nautilus in 1999, Bowflex of America entered the commercial health club market. With the credit crunch of 2008-2009, drastic changes had to be made such that the company desired to reign in debt and the need for working capital. Through the divestment of the commercial division to focus on the direct-to-consumer and retail markets, Nautilus was able to close some credit lines with Bank of America (NYSE:BAC) and escape from the working capital required to oil the engine of the commercial division. Further they were able to close a Tulsa, OK manufacturing division, while keeping open the China and Virginia-based manufacturing plants.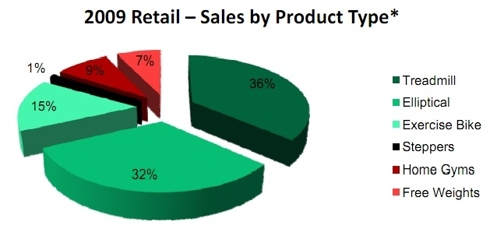 Click to enlarge
(Click to enlarge)
Credit approvals for large equipment purchases are helpful for those who do not have the capital to lay out the purchase price all at once. In recent years 35-37% of those who fill-out an application were approved. In Q1 of 2009 that number reached 22%, then a low of 14% in Q2 of 2010. At present only 20% of applications are approved, due to a more penal credit approval process. On December 21, Nautulus announced an agreement with Hy Cite Financing to attempt to approve subpar borrowers that GE Money Bank have already rejected.
I've had a Bowflex Series 3 Treadmill, which I purchased as a Gold Box Deal from Amazon (NASDAQ:AMZN) two years back. The reviews for this particular treadmill represented the most positive I could find. From these recommendations I purchased the treadmill and have been happy with the purchase. Solid reviews for their products and a brand-name representing quality in the market provide the pricing power to weather tough economic times.
Now that the commercial equipment component of the business is done away with, through minimizing expenses, securing additional lenders for a higher percentage of credit approvals, and focusing on retail and direct-to-consumer marketing, Nautilus can go back to their roots and, very likely, achieve profitability once more.

Disclosure: I have no positions in any stocks mentioned, and no plans to initiate any positions within the next 72 hours.