Shares of Ballard Power Systems (NASDAQ:BLDP), a company engaged in the development and commercialization of proton exchange membrane (PEM) cells worldwide, are already up 160 percent year-to-date, despite a 42 percent decline from March high of $6.88. In view of upbeat company prospects, I believe the share price would continue to soar.
Improving revenues and margins
On July 30, Ballard reported revenues of $18.5 million, up 27 and 32 percent year-over-year and sequentially, respectively, for the second quarter of 2014. The revenue-figure exceeded analysts consensus estimate by $1.33 million for the quarter.
During the quarter, material handling revenue jumped a whopping 209 percent year-over-year, driven by growth in fuel cell stack orders from Plug Power (NASDAQ:PLUG) and $0.5 million of revenue from the M-Field Energy licensing transaction. Plug Power's partnership with Ballard in material handling business is of much significance as the former continues to expand its order book. Further, engineering services revenue increased 46 percent, to $8.4 million, in the second quarter, mainly driven by $6.9 million worth automotive contracts. Already exceeding plans, the engineering services revenue was up 89 percent year-to-date to $15.8 million, reflecting the strong growth potential of the segment.
However, revenue from development stage markets was down 44 percent to $1.8 million due lower bus revenue than in Q2 last year. The company shipped just two modules in the last quarter compared to five in the year-ago period. The shipped modules included an FCvelocity-HD6 module to ElDoarado National for the US market and a next-generation FCvelocity HD7 prototype to Solaris for the European market. However, the roughly $1.41 million drop in segment revenues was partially offset by $1 million of revenue from the bus assembly licensing contract with Azure Hydrogen in China. Further, revenue from telecom backup power also declined 12 percent during the second quarter. But the revenue falloff was the result of timing of sales pipeline and 2Q13's exceptionally high volume of system shipments, as the company had then fulfilled a $6 million ElectraGen order from NSN Japan. The good news is that given the strengthening sales pipeline, licensing revenue from the Azure Hydrogen transaction announced in June as well as opportunities in the Asia region, Ballard anticipates significant growth in the segment (as explained further) during the second half of the year.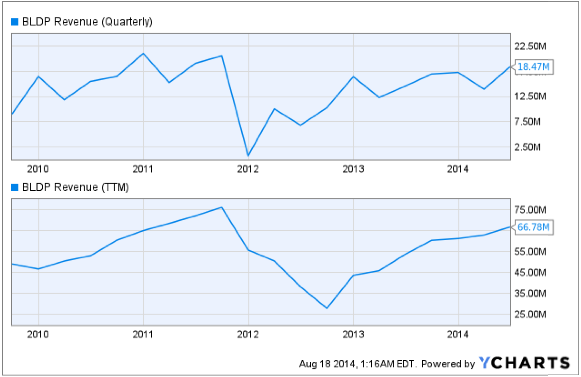 After a precipitous drop in late-2011, revenues have rebounded appreciably over the last 18 months or so, almost returning to pre-crash levels. The Canadian company also showed signs of better operating streamlining as gross margins improved 3 basis points to 25 percent during the second quarter.
Not just Ballard, but - following upbeat prospects - the second quarter of 2014 saw an industry-wide growth in fuel cell stocks. Companies like Plug Power and FuelCell Energy (NASDAQ:FCEL) not only reported strong second quarters, but also set equally strong expectations from upcoming quarters. This is particularly a heartening sign for a fuel cell stock investor as the industry revs up production to provide various energy solutions.
Solid pipeline
Catering to geographically diverse and rapidly expanding customer base, Ballard appears to have a promising pipeline. It caters to a geographically diverse customer base, which has been rapidly expanding of late. The company is doing well in all key regions around the world, apart from the US, where it has made progress, albeit rather slowly.
Ballard's telecom backup power seems to have the most robust pipeline it has had in over last 12-14 months. In addition to its relationship with channel partner, NSN, Ballard is focusing to expand its business with opportunities from two carriers in Japan in the second half of the year. In the Philippines, the company has completed installation of 20 systems and has responded to a ROQ from Globe Telecom for a commercial rollout of 153 cell systems. With large-scale telecom infrastructure development program underway in Myanmar, Ballard eyes the nation for significant opportunities and is working towards an initial order for a trial system in the second half of the year. The company also has a significant order in hand from a customer in China and is currently in the midst of field trials with four different carriers in India.
Although customers from Asia dominate this business segment, the company is making positive strides in the US, Europe, South Africa and the Caribbean, as a result, improving regional diversification. In the US, progress has been slower than expected, mainly due to sitting permits, that said, there's progress being made. The company has deployed four pilot sites for a major carrier in two metro centers. After evaluating the performance in the third quarter, and based on successful completion, the company expects to ship additional systems in late 2014. In addition, it expects to ship systems to two other carriers in the Southern US, and also has responded to a multiyear RFQ with one of these carriers. Furthermore, it anticipates receiving a large stack order from a major long-term customer by current quarter-end in Europe and additional system orders for Vodacom in South Africa. In the Caribbean, it expects to ship 30 more systems in the third quarter, bringing the total system shipments to the region to almost 200.
To sum up, for Q3, Ballard currently has firm orders and visibility to additional business for a total of more than 100 ElectraGen systems, which exceeds the total volume of ElectraGen shipments in the second quarter. Along with additional opportunities that the company is working to sign, it expects to ship approximately 170 ElectraGen systems in the current quarter, a volume almost twice the total shipments of the last quarter. Clearly this should have a meaningful impact on the segment's revenue. Also, Ballard is planning to launch its next-generation cost-reduced fuel cell stack next year, which would further enhance its product line, offering higher performance, better value, and further strengthen the company's competitive market position. Not only would these efforts drive growth in the segment, but also help its confidence in capturing purchase orders through the second half of the year and building a solid ramp into 2015.
In the material handling business, the company is progressing in discussion with Plug Power for extending its supply agreement. From a strategic point of view, a partnership with Plug Power in material handling plays a significant driver in Ballard's growth going forward. Plug Power has the largest share in North American clean energy lift truck market, a joint venture with Axane in the European market, and recently announced orders from Central Grocer for 182 GenDrive systems, Wal-Mart for 286 GenDrive systems and Ace Hardware. Beginning in Q3, deployments are being scheduled to meet the previous Wal-Mart order (with Plug Power) for 1,730 GenDrive units at six new stores over the next two years. Additionally, to improve critical business metric, a larger number of end-users, such as BMW and Wal-Mart Canada, are deploying large fleets of Ballard-powered forklift trucks in manufacturing plants/distributions centers. So in view of all the above, Ballard expects strong demand and shipment activity for its material handling business in the second half the year.
For engineering services, not only is the segment ahead of plan year-to-date, but the company is also planning to leverage its IP licensing capability to enable additional contract opportunities in this segment going forward. Ballard is working to sign new contracts in the automotive area as well as pursuing prospects in nonautomotive areas with focus on aerospace work. In July, the Government of Japan announced a $20,000 subsidy per fuel-cell vehicle, which augurs well for the future of the company's engineering services business. The Abe Government has joined forces with the automotive sector to speed up introduction of fuel cell vehicle.
Finally, on development stage markets, the company has developed the new HD7 module and is making substantial progress on the channel side. It is actively working with four leading bus OEMs - Van Hool and Solaris in Europe and New Flyer and ElDorado in North America. Ballard - together with Van Hool - submitted a bid for JTI funding for 21 buses in Europe in the first quarter of 2014. The company remains optimistic regarding the likely outcome. Additionally, Azure - Ballard's licensee in China - is in active discussions with potential bus OEM partners in China, further setting the stage for a positive 2015.
Leverage through IP licensing
Sub-licensing intellectual property is the third leg of Ballard's business strategy. During the recent earnings call, CEO John Sheridan held forth the advantages of IP licensing, including high margins, upfront revenue and future royalty streams. In other words, IP licensing deals translate to significant cost reductions as well as additional revenue streams for the company. Not to mention, the leg fits synergistically with the other two legs of the company, i.e. product sales and engineering services. So the company plans to effectively use the three-level business model. It plans to utilize licensing to expand into new markets, enable more distributors, and create new product supply businesses. Whereas, from the engineering services point of view, the company also plans to leverage licensing as a critical enabler for major services contracts.
The early stages of strategy execution have seen the Azure Bus Licensing agreement in September last year as well as two additional licensing deals in June this year. First, Ballard entered an agreement with Azure Hydrogen in China for a license to assemble ElectraGen systems in that market, with a 2014-15 value of approximately $6 million. The company is to be the exclusive supplier of sub-systems - including fuel cell stacks and fuel processors - and will receive royalty payments for system sales, if Azure is successful with its business plan. Second, the company signed an IP licensing agreement to M-Field Energy Corporation, a sustainable energy company, for material handling systems to be deployed in Europe. According to the agreement, Ballard will also provide M-Field with engineering services support into early-2015 to assist in optimizing system integration activities utilizing Ballard fuel cell stacks. The agreement has a value of approximately $1 million. Ballard is also in the early stages of implementation of its new licensing relationship with United Technologies Corporation.
Clearly, the IP licensing leg provides a cost advantage to the company as it focuses on commercialization of the company's clean technologies, readying them for growth and export markets. Given the impact of increasing revenue and product volume on manufacturing overhead allocation and shift in product mix, reflecting a growing proportion of high-margin licensing revenue, Ballard is likely to see further improvement in margins in the second half of this year. In fact, despite onetime legal and transaction costs associated with the UTC, Azure and M-Field agreements in the second quarter, the company reported a 5 percent improvement in cash operation costs compared to the same period last year.
Final thoughts
Ballard boasts a solid balance sheet with a current and quick ratio of 2.73 and 2.15, respectively. It has negligible debt and about $36 million in cash reserves on balance sheet. With cash burn rate of roughly $1.275 million per month, the Canadian company is well capitalized to go on for another 28 months. Not to mention, cash used by operating activities has seen a 37 percent improvement in the second quarter, driven by improvements in cash operating loss and working capital changes.
Among the top fuel cell companies in the world, many operate at a loss, and Ballard is no different. That being said, the company's adjusted EBITDA in Q2 improved 63 percent year-over-year to negative $1.2 million, benefiting from the $1.4 million increase in gross margin and the $400,000 reduction in cash operating cost. And given the anticipated revenue growth in the second half, along with improvements in gross margin and cash operating cost, Ballard forecasts positive EBITDA in both Q3 and Q4 and approximately breakeven adjusted EBITDA for the full year 2014. This is a significant feat in the fuel cell industry and is an indicator of possible profitability in upcoming years. The management has also confirmed its guidance for revenue growth of approximately 30 percent in full year of 2014.
It is not easy to place bets on a stock that has gained over 160 percent year-to-date, but it all comes down to fundamentals, and in that regard Ballard and the fuel cell industry in general, seem to have fairly strong prospects in upcoming quarters. Improving revenue and margins, a solid pipeline, and IP licensing leverage indicate Ballard is well on course to attain profitability upcoming years.
Disclosure: The author is long BLDP.
The author wrote this article themselves, and it expresses their own opinions. The author is not receiving compensation for it (other than from Seeking Alpha). The author has no business relationship with any company whose stock is mentioned in this article.