By Zoe Tan
Based on early readings of better-than-expected 2010 holiday retail sales, specialty apparel retailers will likely be upbeat heading into the new year. Though we still harbor some concerns about discretionary spending amid elevated unemployment rates in the United States and economic uncertainty in a number of overseas markets, we believe post-holiday commentary from specialty apparel retailers will call for continued sales and earnings momentum in early 2011 (likely driving much of the momentum we've seen in retail stocks the past several weeks). However, the road to fundamental improvements could have a different feel in the coming year. Much of the record earnings retailers saw in 2010 could be chalked up to steadily improving consumer demand following 2009's depressed levels, a benign inflationary environment, fixed cost reductions, and lean inventories. Though some of these will likely contribute to results again in 2011, there are a number of other topics investors should have their eyes on.
We will be attending the ICR XChange retail conference in Dana Point, Calif., on Jan. 11-13, 2011, where executives from over 120 consumer-related companies will share their takes on industry trends and/or state their financial goals for the year. Among the companies in our retail coverage universe presenting at the conference are American Eagle (NYSE:AEO), Abercrombie & Fitch (NYSE:ANF), Aeropostale (NYSE:ARO), Guess (NYSE:GES), J. Crew Group (JCG), Limited Brands (LTD), Lululemon Athletica (NASDAQ:LULU), Collective Brands (NYSE:PSS), Urban Outfitters (NASDAQ:URBN), VF Corporation (NYSE:VFC), and Vera Bradley (NASDAQ:VRA). In this report, we provide our thoughts on the key themes driving results for specialty retailers heading into 2011 and our outlook for management teams' primary discussion points at the conference.
In our view, three topics will take center stage among specialty apparel retailers in 2011: (1) international and e-commerce growth, (2) rising input costs, and (3) continued merger and acquisition activity. Faced with prospects of a prolonged economic recovery in the U.S., many specialty retailers accelerated their overseas expansion and e-commerce plans the past two years. Most retailers now have a clearer game plan, including specific strategies and financial targets, which could lead to additional near-term sales momentum. On the cost side, we believe it will be difficult to maintain peak operating margins again in 2011, as retailers start to cycle through higher input costs (transportation, material, and labor expenses) this coming spring. Additionally, we believe merger and acquisition activity will remain a consistent theme in the specialty retail sector over the next year.
International and E-Commerce Expansions Will Drive Growth in 2011
Given the lack of real-estate developments in the U.S. and inconsistent consumer spending trends, many retailers have looked to other channels and geographies for growth over the past two years. As shown in Exhibit 1a, mature retailers such as Abercrombie & Fitch and Guess, as well as apparel makers like VF Corporation, have been expanding aggressively into Asia and Europe. In particular, retailers have been flocking to China; with the largest apparel company Inditex channeling more than 50% of its new store investments into the region to capitalize on the growing middle class population. According to publicly available data on income growth rates, the population of individuals earning between $15,000 and $20,000 annually in China has grown by more than 400% (22 million people in raw numbers) over the past five years, and that number is expected to more than triple to 81 million people by 2015. In our view, well-known international brands such as Abercrombie and Zara, as well as retailers that can provide consumers with differentiated products, like Urban Outfitters and Victoria's Secret, will be able to capitalize on positive discretionary spending trends in these markets.
click to enlarge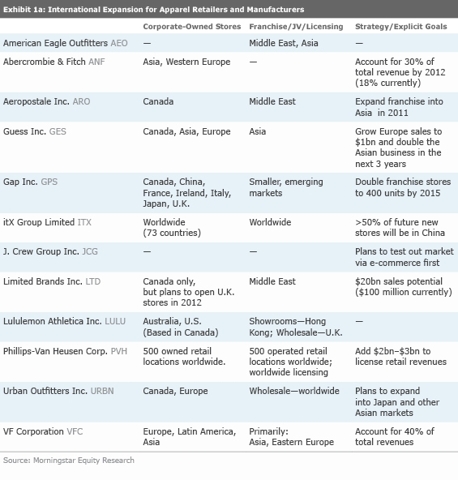 Beyond overseas expansion plans, the e-commerce channel has been a bright spot for many retailers over the past year, and will likely continue to drive growth in the near term (Exhibit 1b). With e-commerce sales at just 4% of total U.S. retail sales in 2009 (U.S. Census Bureau), we expect ongoing investments in e-commerce by nearly every retailer given the high returns and increasing interest from consumers to shop online. In addition to being a viable distribution channel, the web has proven an effective, low-cost tool to gauge consumer demand. Over the past year, Aeropostale and American Eagle tested new preteens concepts online before launching physical stores and in 2011 Urban Outfitters plans to pursue a similar approach by launching a new wedding lifestyle brand online first before opening a store later in the year. Retailers are also looking for profitable ways to leverage their online infrastructure to better serve customers. For example, Wal-Mart (NYSE:WMT) and Sears Holdings (NASDAQ:SHLD) recently launched third-party marketplaces to bring other retailers' products to their community of online users. We think investments in e-commerce will likely lead to incremental margin improvement for some retailers down the road. However, the Internet does increase consumers' awareness and price transparency, which is likely to drive competition, particularly for commodity-like goods. We think this gives low-cost leaders like Wal-Mart and retailers offering unique assortments (like Urban Outfitters) an advantage as growth in online retail sales outpaces total retail sales growth.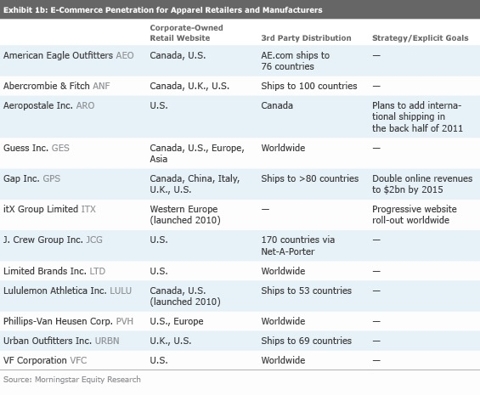 Rising Costs Will Hit Apparel Margins in Spring 2011
Over the past year, distribution expenses and commodity prices have increased meaningfully, as manufacturing demand outpaced supply following a modest recovery in consumer spending and as retailers restock inventory. According to the Journal of Commerce, the price of shipping a 40-foot dry container from China to the U.S. averaged $2,200 in 2010, up 90% from $1,100 in the prior year (see Exhibit 2). Similarly, year-over-year retail gas prices--a key metric in determining transportation cost within the U.S.--increased by 40% in early 2010 but have since pulled back to a manageable high-single-digit increase for the year. Additionally, the price of cotton (which is a primary raw material for apparel manufacturing) increased approximately 30%-50% earlier this year to $0.80-$0.90 per pound, as demand from apparel manufacturers picked up. The supply/demand imbalance was further exacerbated by bad weather in the world's largest cotton producers, including China, India, and Pakistan (which accounts for 30%, 20% and 8% of global production, respectively) in recent months, which pushed cotton prices up another 70% to $1.55 per pound by November 2010.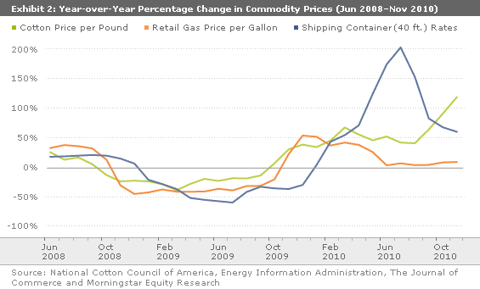 Since the lead time for apparel manufacturing is typically between six and nine months, apparel companies will start to see the impact of higher sourcing costs hit the bottom line in spring 2011, with further sourcing cost pressures projected for the fall season. Therefore, we believe operating margins in 2011 will come in slightly below the peak levels achieved during early 2010. However, there are still opportunities for some gains: we project that premium-priced companies with well-established brands like VF Corporation and Urban Outfitters will fare better, as these firms will have an easier time passing price increases on to customers who tend to be more affluent and less price sensitive. On the flip side, value players like Aeropostale and Children's Place (NASDAQ:PLCE) will likely absorb most of these cost increases in order to maintain low prices to attract consumers. Besides that, many retailers such as American Eagle and Ann Taylor (NYSE:ANN) as well as apparel manufacturers such as HanesBrands (NYSE:HBI) and VF Corporation, have stepped up distribution and production efficiencies, which will help offset part of these cost increases.
We think that the recent spike in cotton prices will impact apparel retailers differently, based on their product mix, with merchandise costs increase ranging anywhere from 3% to 10%. For example, we believe children's apparel companies such as Carter's (NYSE:CRI) will get the short end of the stick, since 80% of its merchandise is cotton-based. On the other hand, we think there is more flexibility in adult clothing (30%-40% cotton-based), where retailers such as J.C. Penney (NYSE:JCP) can tweak the product mix to include more noncotton fabric such as wool and polyester to keep costs down. Over the longer term and consistent with prior cycles, we project that cotton prices will eventually moderate as more supplies come online; prices have already started to retreat from their November 2010 peak. Cotton prices have historically averaged $0.70 per pound; we think the downward trend will continue over the back half of 2011.
The Specialty Retail Sector Will Likely Remain a Hotspot for Private Equity Acquisitions in 2011
Over the past few months, we've seen an uptick in private-equity deals in the specialty retail sector, including Bain Capital's acquisition of kids' apparel retailer Gymboree as well as TPG Capital and Leonard Green's agreement to purchase J. Crew by early 2011. These companies generate strong free cash flow and carry minimal debt on the balance sheet, which fit the typical LBO profile for private-equity suitors. With more than 1,600 funds (globally) on the road seeking aggregate commitments of $600 billion as of December 2010 (according to market research firm Preqin), we expect continued appetite for similar leveraged buyouts in 2011. More specifically, McKinsey & Co. recently estimated that the buyout specialists are sitting on as much as $100 billion that could be put to work in retail. Morningstar has developed a proprietary scoring system (as shown in Exhibit 3), which assesses each firm's feasibility of takeover based on company size, current capital structure, free cash flow generation, and management's ability and/or barriers in pursuing a possible transaction. Interestingly, several names that have been subjects of recent takeover rumors score high on our list, such as Aeropostale, Chico's (NYSE:CHS), and American Eagle.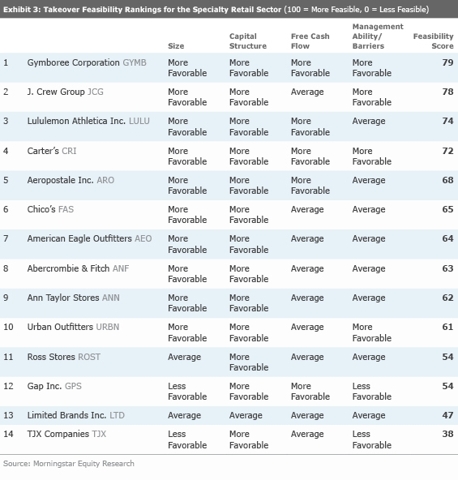 Conclusion
We believe there are a number of reasons (including a boost from international expansion and e-commerce growth) for continued near-term optimism among specialty apparel retailers, and we recognize further signs of an improving economy. At the same time, while we have become less concerned about sustainability of the top-line, our attention has turned to commodity costs, which may have more of a mixed impact on firm's margins next year. First-half 2010 orders are already booked with only modest cost increases, but there is increased uncertainty surrounding the back half of the year. Retailers are delaying orders and vendors are weighing whether to lock in materials; there is work to be done to avoid dramatic price increases, particularly for cotton-based merchandise.
At the upcoming ICR XChange conference, we believe retail management teams will discuss several ways to offset input cost pressures: (1) Although promotions may continue, most retailers appear to be holding clean inventory positions, suggesting that markdown activity should be less than last year. (2) Companies will place additional advertising and marketing behind its faster-growing (and most profitable) products/brands in an attempt to take incremental share. (3) Product mix will undoubtedly change. Shifts toward wool, polyester, sportswear other nondenim (high cotton content) products will be made in an attempt to preserve overall margins. (4) Consolidated top-line growth may become even more dependent on international markets. Some domestic brands are becoming well-known in the local Chinese marketplace, which should drive incremental gross profit dollars to firms in 2011. (5) Selective price increases will likely be inevitable.
Still, peak margins posted by women's apparel retailers like J. Crew and Ann Taylor in early 2010 have already started to tail off due to input cost pressures and decelerating top-line growth, a trend likely to continue into 2011. Additionally, we think niche players such as Limited Brands and Lululemon, which have been riding on impressive top-line and margin growth throughout 2010, will start to see some pressure as pent-up demand tails off. Therefore, trading at a price/fair value of 2.15 and 1.15, respectively, we would advise investors to wait for more opportunistic entry points before investing in these companies.
Disclosure: Morningstar licenses its indexes to certain ETF and ETN providers, including Barclays Global Investors (BGI), First Trust, and ELEMENTS, for use in exchange-traded funds and notes. These ETFs and ETNs are not sponsored, issued, or sold by Morningstar. Morningstar does not make any representation regarding the advisability of investing in ETFs or ETNs that are based on Morningstar indexes.